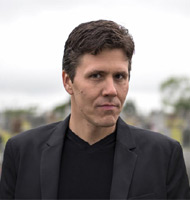 New England is full of history, mysteries, and secrets... I'm here to tell you they're more than just stories. My name is
Jeff Belanger, I'm an author, adventurer, and I have a passion to explore and share these mysteries because these legends matter in a big way. They define not only our towns and communities, but they shape who we are. We are all part of the story... we're all on the hunt for New England Legends.

Since 2013, the independently-produced New England Legends series has aired on select PBS stations, the episodes are also now available on Amazon Prime. Our shorter segments have aired on WGBY's Connecting Point program, and are available online through our Web site.