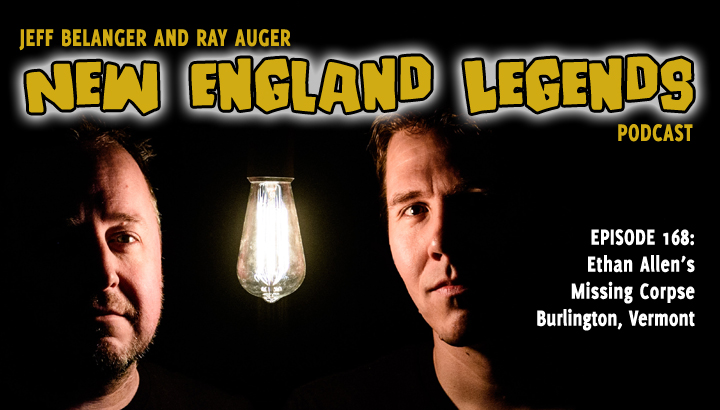 In Episode 168, Jeff Belanger and Ray Auger stroll the grounds of Green Mount Cemetery in Burlington, Vermont, searching for the mortal remains of war hero General Ethan Allen. A 42-foot-tall monument to Allen stands as the tallest structure in the cemetery, however, his bones are NOT buried there. So where IS the body of Ethan Allen today?
CALL (OR TEXT) OUR LEGEND LINE:
(617) 444-9683 – leave us a message with a question, experience, or story you want to share!
BECOME A LEGENDARY LISTENER PATRON:
https://www.patreon.com/NewEnglandLegends
CREDITS:
Produced and hosted by: Jeff Belanger and Ray Auger
Edited by: Ray Auger
Theme Music by: John Judd
SUBSCRIBE TO THE PODCAST FOR FREE:
Apple Podcasts/iTunes | Google Podcasts | Spotify | Pandora | Stitcher | Amazon Podcasts | TuneIn | iHeartRadio | SoundCloud
JOIN OUR SUPER-SECRET:
New England Legends Facebook Group
EPISODE TRANSCRIPT:
*A note on the text: Please forgive punctuation, spelling, and grammar mistakes. Like us, the transcripts ain't perfect.
[SQUEAKY METAL CEMETERY GATE]
JEFF: I thought today we'd take a walk through history, Ray.
RAY: Sounds good! It's a brisk fall day. A good day to check out Green Mount Cemetery here in Burlington, Vermont.
JEFF: I agree. The snows haven't fallen yet, so we can clearly see the grounds and monuments.
[WALKING]
RAY: This is a good-sized cemetery. Not the biggest we've seen, but it's pretty, and well maintained. (PAUSE) So who are we looking for?
JEFF: We're here searching for a Revolutionary War hero, Ray, also the guy who's considered one of the founders of Vermont. He's a fascinating historical figure. We're searching for the grave of Ethan Allen. So keep your eyes open for his stone.
RAY: Annnnd there it is.
JEFF: That was quick.
RAY: It's pretty much impossible to miss! It's over 40 feet tall and features him holding a sword in one hand and point his other hand to the sky.
[WALKING]
JEFF: Yes, here we are at the towering monument to Ethan Allen. But there's only one problem. He's NOT buried here.
[INTRO]
JEFF: Hi, I'm Jeff Belanger.
RAY: And I'm Ray Auger, and welcome to Episode 168 of the New England Legends podcast. If you give us about ten minutes, we'll give you something strange to talk about today.
JEFF: Thank you for joining us on our mission to chronicle every legend in New England one story at a time. We do that through this weekly podcast – and we do appreciate it when you share and post a review for us – it goes a long way. We also serve the mission through our free New England Legends app for your smart device, through our Web site, and through our television series on PBS and Amazon Prime.
RAY: We'd also like to thank our patreon patrons for being the backbone of what we do. We appreciate their support more than we can ever express. These legendary people kick in just $3 bucks per month to get early access to new episodes plus bonus episodes and content that no one else gets to hear. If you can help us out, head over to patreon.com/newenglandlegends to sign up.
JEFF: Also, be sure call or text our legend line anytime at 617-444-9683. We'd love it if you left our show closing on there for us.
RAY: So Jeff, we're standing below a 42-foot-tall monument with a statue of Ethan Allen at the top.
JEFF: Right.
RAY: In the middle of Green Mount Cemetery in Burlington, Vermont.
JEFF: Correct.
RAY: And he's not buried right here?
JEFF: No he's not.
RAY: Then where is he?
JEFF: That IS a mystery.
RAY: Okay, let's head back to 1789 and figure out what happened.
[TRANSITION]
RAY: It's the winter of 1789 here in Burlington, Vermont. General Ethan Allen moved his family to Burlington just two years ago because small-town life suited him much more than the growing city of Bennington that he left behind. Though he's 52 years old, he's already led a colorful life.
JEFF: To many people around these parts, Allen is a hero. He fought in the French and Indian War, he headed up the Green Mountain Boys; this unauthorized patriot militia that organized in this vague area between New York and the New Hampshire territories. New Hampshire was establishing land grants in this region and New York believed it was their land to give. So there was tension.
RAY: In 1775, The Green Mountain Boys were instrumental in the capture of the British Fort Ticonderoga on the New York side of Lake Champlain. And that propelled General Ethan Allen into the national spotlight.
JEFF: Feeling good about his victory at Fort Ticonderoga, Allen and his Green Mountain Boys along with Benedict Arnold and his troops from Massachusetts, headed north to capture Crown Point, New York, and then he got greedy when he tried to seize Montreal. Allen was captured and spent two years in prison in Cornwall, England.
RAY: By the time he gets back to America, the American Revolution is in full swing, and Allen is already hailed as a hero. The Vermont Republic had declared its independence, and now Ethan Allen is involved in the politics of this new territory. One of Ethan Allen's new duties in this region was to serve as a judge in Vermont's Banishment Act.
JEFF: The Banishment Act basically allowed Vermont to confiscate and auction property owned by known Tories, or British loyalists. Allen personally escorted some of the banished Tories to the British lines in New York. It's a dark time.
RAY: Ethan Allen is instrumental in the formation of this new Vermont territory. And he's eager to make Vermont an actual state in these forthcoming United States. Allen also tends to wear his opinions on his sleeve, which wins him both friends and enemies. When the governor of New York said Allen's actions were unjust because the governor still considered Vermont a New York territory, Ethan Allen responded with a published pamphlet saying the governor's words were filled with quote "folly and stupidity."
JEFF: He doesn't mince his words. Those who know him, consider Ethan Allen at times pretty crude and rude. But it's a book he published in 1785 that earns him the most enemies. The book is titled: Reason: the Only Oracle of Man. Reason, was an attack on Christianity and the Bible. Allen had a real problem with the power of established churches and especially priests. The solution, Allen proposed, was more of a deistic approach, where man is a free agent in the natural world.
RAY: The book was a flop in all senses. A critical flop and a financial flop. It sold only 200 copies. Of course, most of his critics were clergy, who were the very target of Allen's attacks, but still, in the late 1700s, clergy hold a lot of sway.
JEFF: So that catches us up on this colorful historic figure. He's complex. A patriot, but anti-religion. He's opinionated, but also family-minded. Like I said… complex. So small-town life here in Burlington suits Allen just fine.
[HORSE AND WAGON]
RAY: It's February 11, 1789, when Ethan Allen and one of his workers makes the 25 mile journey northwest to South Hero, Vermont. He's headed in a wagon to visit his cousin, Ebenezer Allen and pick up a load of hay.
[COCKTAIL PARTY DRINKS]
JEFF: That night, there's a small gathering at Ebenezer's home. Friends have come to chase away winter's chill with some lively discussion.
[HORSE AND CARRIAGE]
RAY: The following morning, Ethan Allen and his worker begin the carriage ride home to Burlington. After a few hours on the road, Ethan isn't feeling well. Then suddenly…. His body starts to shake. He's having some kind of fit. Then he slumps over unconscious. His driver knows there's nothing he can do for his employer out here. His best bet is to double-time it back to the house.
[FASTER HORSE CARRIAGE]
RAY: When they reach Ethan Allen's home in Burlington, he's still not conscious. They carry him into his bedroom and lay him down on the bed while his family runs to fetch the doctor. Ethan Allen survives only a few more hours before passing away, leaving behind his second wife, Fanny, and their three children.
JEFF: Four days later, Ethan Allen is given a funeral filled with all of the pomp and circumstance befitting a war hero and state founder. Though some of the newspapers extol the patriot as a great man who served the public, his clergy critics have not forgotten what he wrote about them and are quick to offer a good-riddance kind of sentiment.
RAY: Back to the funeral, though. After the public said its goodbyes the family reports holding a burial at Green Mount Cemetery here in Burlington.
JEFF: Let's head back over there and take a look.
[WALKING]
JEFF: Okay, I can see there's a headstone.
RAY: Yup, there it is. It reads:
The Corporeal part of General Ethan Allen rests beneath this stone. The 12th day of February 1789. Aged 51 years. His spirit tried the mercies of his God in whom he alone believed and strongly trusted.
JEFF: It's worth pointing out that Allen was actually 52 years of age at the time of his death. Also, that's quite a godly epitaph for someone who wrote a whole book against religion.
RAY: Good point. Still, that pretty much settles it, right? He's buried in Green Mount Cemetery right here!
JEFF: I'm not so sure. From here, we're going to jump ahead about 60 years into the future.
[TRANSITION]
JEFF: It's 1851, and not a lot had changed in Green Mount Cemetery.
RAY: No, there's more people buried here now, which makes sense.
JEFF: Right. But look over there. Notice what's NOT here?
RAY: Hey! You're right! General Ethan Allen's headstone is missing!
JEFF: It's been stolen. It will not be seen again, and we can only guess as to the reasons it went missing. A few years later, in 1858, the Vermont Legislature authorizes the construction of a grand monument. 42 feet tall on a majestic Vermont-granite column.
[CHISELING ON STONE]
JEFF: A statue of Ethan Allen sits atop the giant pillar. Of course the statue is just a guess as to what Ethan Allen looked like. We don't really know. The stone at the base reads:
Vermont to Ethan Allen. Born in Litchfield, Connecticut, 10th January AD 1737. Died in Burlington, Vermont, 12th February AD 1789 and buried near the site of this monument.
RAY: Okay, that's fair. His original headstone is missing, this massive new monument now stands here. I mean he's somewhere nearby. Close enough, right?
JEFF: Sure, close enough. Except when they were laying the foundation for this massive monument to Ethan Allen, they decided it would be proper to excavate the original grave of the hero and place his bones underneath his new tower. So they looked at the cemetery plot maps from 69 years ago.
[PAPER RUSTLING]
JEFF: They see about where Ethan Allen's plot should be. And they dig.
[DIGGING]
JEFF: And dig. They dig up the whole area and are shocked to find there's no tomb! Pretty soon there's talk of grave robbers. Which has happened in the past, of course. But there's no record of it here at Green Mount. Grave robbers tend to be sloppy. Once they get what they want they don't spend a lot of time covering their tracks. And now locals are buzzing. Where is Ethan Allen?
RAY: Another theory comes up that maybe someone close to Ethan Allen dug him up shortly after he was buried because there's no way someone so opposed to religion would want his mortal remains surrounded by all of these church-going folks.
JEFF: The plot thickens when a letter is written to the local newspaper from a man in Kalamazoo, Michigan, who claims his wife's aunt is Ayres B. Allen, the widow of Captain Hannibal Allen, General Ethan Allen's oldest son. The aunt claims Ethan Allen was buried in Bennington, Vermont, not Burlington.
RAY: The only problem with that is we can find no record of Ethan Allen's burial in Bennington short of this letter to a newspaper.
JEFF: Right. It's not a popular theory. And that leaves us scratching our heads next to his impressive monument to a guy who probably didn't really look like that figure at the top because there's no paintings or drawings of him in life. And that brings us back to today.
[TRANSITION]
RAY: With no bones or mortal remains to place under the new monument, the folks in Vermont did place a time capsule underneath the base back in 1858. But where Ethan Allen's body is buried remains unknown.
JEFF: The funny thing is, I bet Ethan Allen would love the fact that what he looks like and where he's buried is a mystery today. This is a guy who lived for speculation, whether in politics, or his philosophies, or even buying and selling land.
RAY: The crazy thing to me is that Ethan Allen isn't even the first missing historical corpse we've searched for!
JEFF: That's right! Back in episode 91 we searched for the missing corpse of Governor Enoch Lincoln from Maine.
RAY: Maybe it's a New England thing to lose bodies?
JEFF: Maybe.
RAY: Obviously history has judged this guy a hero considering Vermont calls him one of the state's founders, and they erected this giant monument to him.
JEFF: And they look past his anti-religious views so they don't offend anyone. Ethan Allen has been turned into an idea. A patriot, a founding father, and we ignore any parts of the story we don't like. We don't know what he looks like, and we don't know where his bones rest. And that mystery only adds to the man and the legend behind it.
[OUTTRO]
RAY: We love when you legendary listeners get more involved. Our super-secret Facebook group has almost 2,400 members now actively sharing strange stories and discussion. We get a lot of our story leads from you guys, so don't be shy. Reach out to us anytime!
JEFF: Please do! Also, in the latest version of our free New England Legends smaht phone app you now have the ability to check in and upload your own photos from the hundreds of locations we've covered so far. Be sure to check that out.
RAY: And of course our theme music is by John Judd. Thanks, John!
VOICEMAIL: Hi, it's Jody Maruca from Norwood. Until next time remember the bizarre is closer than you think.