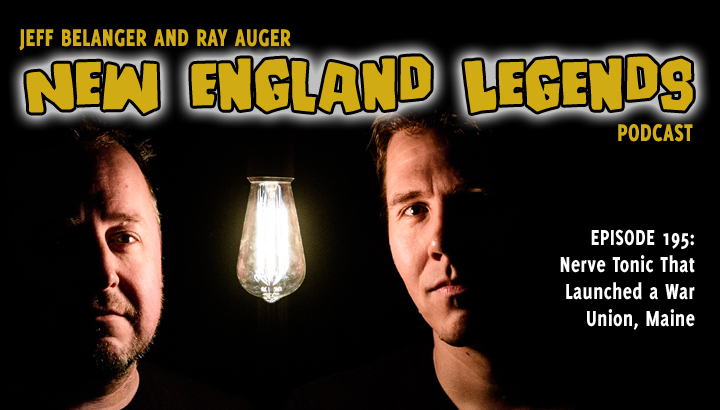 In Episode 195, Jeff Belanger and Ray Auger explore Union, Maine, tracing the steps of Dr. Augustin Thompson, a local man who developed a nerve tonic in 1876 that would eventually launch a war that continues to this day. After moving to Lowell, Massachusetts, Dr. Thompson added a key ingredient that turned his medicine into a New England staple, and eventually introduced the world to a new word that's synonymous with guts, spunk, grit, and determination.
CALL (OR TEXT) OUR LEGEND LINE:
(617) 444-9683 – leave us a message with a question, experience, or story you want to share!
BECOME A LEGENDARY LISTENER PATRON:
https://www.patreon.com/NewEnglandLegends
CREDITS:
Produced and hosted by: Jeff Belanger and Ray Auger
Edited by: Ray Auger
Theme Music by: John Judd
SUBSCRIBE TO THE PODCAST FOR FREE:
Apple Podcasts/iTunes | Google Podcasts | Spotify | Pandora | Stitcher | Amazon Podcasts | TuneIn | iHeartRadio
JOIN OUR SUPER-SECRET:
New England Legends Facebook Group
EPISODE TRANSCRIPT:
*A note on the text: Please forgive punctuation, spelling, and grammar mistakes. Like us, the transcripts ain't perfect.

[DRIVING]
RAY: There's not a lot to see here in the small town of Union, Maine, is there, Jeff?
JEFF: Nope, with a population of about 2,200 people, it's a small town for sure. But it's not too far from Rockport, Maine, and the coast…. Are you feeling okay, Ray?
RAY: I've been feeling pretty run-down lately.
JEFF: Why don't you pull up to that variety store there on the right, and I'll get you some…. Medicine.
RAY: Okay…
[CAR IDLES]
JEFF: Gimme a second, I'll be right back.
[CAR DOOR SHUTS]
[CAR IDLES]
JEFF:Okay, I found what we're looking for!
[CAR DOOR SHUTS]
[SODA CAN OPENING]
JEFF: Cheers!
RAY: We're looking for soda?!
JEFF: Not just any soda, Ray. This was once considered medicine for your nervous system, medicine that can cure fatigue, anxiety, even insanity! And what's inside this can, started a war that has been waged for over a century. A war that continues today.
[INTRO]
JEFF: I'm Jeff Belanger and welcome to episode 195 of the New England Legends podcast. If you give us about ten minutes, we'll give you something strange to talk about today.
RAY: And I'm Ray Auger. Union, Maine, is the next stop on our mission to chronicle every legend in New England one story at a time.
JEFF: We appreciate you riding along with us! There are so many ways for you to get involved with us. There's our free New England Legends app you can download on your smart phone, there's our super secret Facebook group, and of course our Web site.
RAY: And you should check out our Web site because we're now taking nominations for…
[TRUMPETS]
RAY: 2021 Best of New England! The BoNEy Awards!
JEFF: Ahhh I get it. Best of New England. BoNEy Awards.
RAY: We're looking for your nominations for your favorite: Haunted Location, Cryptid, Pizza Place, New England Beer, Coffee Shop, Ghost Tour, Legendary Location, Dive Bar, and Cemetery just to name a few. After six weeks, we'll then open up the voting on the top nominees to determine the weirdest and the best in New England as voted by you legendary listeners.
JEFF: Okay, now before we get to this unique war-starting nerve medicine, we want to take just a minute to tell you about our sponsor, Nuwati Herbals!
RAY: If you've been listening to our podcast for a while, you know we're fans of Nuwati Herbals.
JEFF: We are.
RAY: They have so many great teas that have become part of my daily routine. As many of you know, I host a morning radio show which means I have to get up and go to work when most of you are still sleeping. It also means I need to try and get myself to sleep earlier than most people, so I love Cloud Walking Tea by Nuwati Herbals. It's a great end to my day. The lavender flower, chamomile flower, lemon balm leaf, rosemary leaf, and other natural ingredients help calm me down before I need to get to sleep.
JEFF: And if you're really looking for a one-two punch to dreamland, rub a little Cloud Walking Balm on your neck, inner wrists, chest, arms, and pulse points, especially before bed. It's got many of the same ingredients as the tea, but in balm form to help you unwind and destress.
RAY: These are herbal remedies from Mother Earth. Check out the Nuwati Herbals Web site to see all of their great products AND you legendary listeners get 20% off your order when you use the promo code LEGENDS20 at checkout. Visit Nuwati Herbals dot com. That's N-U-W-A-T-I Herbals with an S dot com.
JEFF: Okay, Ray. We need to perk you up for today's adventure.
[OPENING SODA CAN]
JEFF: Drink this. You're going to need your strength.
RAY: (SIPS) Okay, I'm feeling a little better.
JEFF: Good, because we're about to head back to 1865 to meet the man who discovered a formula that would start a war.
[TRANSITION]
JEFF: It's July of 1865, and Augustin Thompson has just finished serving the Union Army in the Civil War. He was part of the men guarding the coast by the key shipbuilding city of Bath, Maine.
RAY: Augustin was born and raised here in Union, Maine, back in 1835. After serving in the Union Army, he attends Hahnemann Homeopathia College in Philadelphia, where he learns to practice medicine. With a medical degree in hand, he returns to New England, where he settles in Lowell, Massachusetts. The year is now 1876.
JEFF: Dr. Thompson's medical practice grows quickly. He's a sought-after doctor. He's also eager to leave his mark on the world of medicine, so he starts to tinker with elixirs, plant roots, and other ingredients to develop his own medicine. He's trying to come up with a formula that can cure just about anything. A universal medicine!
RAY: You need to remember that the U.S. Civil War was time for many medical innovations. Lives were saved with new amputation methods, the anesthesia inhaler came around and could sedate people while they undergo life-saving surgeries. Then there's morphine, chloroform, ether, and other chemicals finding medical use. It's a new era of medicine. Discoveries are being made all the time! So Dr. Thompson starts experimenting with this South American plant called gentian root. It's got a bitter taste, but when mixed properly, some of his patients feel better.
JEFF: The thing about Dr. Thompson is he's not just a student of medicine, he's enterprising. And pretty soon he comes up with an elixir he claims is effective against, and I quote: "paralysis, softening of the brain, nervousness, and insomnia."
RAY: That's a lot of ailments!
JEFF: It is. He calls this tonic "nerve food," and names it after a word he heard growing up in Maine. It's an Abenaki word that means dark water. There are ponds, streams, and falls bearing this name. Dr. Thompson thought it was a fit… but then again he also thought maybe that origin story wasn't sexy enough, so another version suggests he named his tonic after a Lieutenant he served with in the Civil War. A man who discovered the medical uses for this plant.
RAY: No matter the origin of the name, Dr. Thompson pedals his tonic for several years around the city of Lowell. And he must be doing something right, because his patient list is unmatched. Everyone is knocking on his door for his medical advice and his elixir. You know how most medicine tastes bad?
JEFF: Of course!
RAY: Well not this nerve food. Folks like the blend of sweetness and bitter. And pretty soon, he's selling the stuff by the case. Whether the elixir is actually curing people, or they just liked the flavor, didn't seem to matter too much. The bottles are being sold and demand is only increasing. It's 1884 when Dr. Thompson adds an ingredient that not only will cause an explosion in sales, but will ultimately be the first shot fired in an upcoming war…
[FIZZY SODA POURING OUT]
RAY: He adds soda water to his elixir. And calls it: Beverage Moxie Nerve Food.
JEFF: Which doesn't exactly roll off the tongue. But that doesn't matter because it's at this moment that Moxie soda is born. When Thompson applies for a patent in 1885, he explains that it was quote, "a liquid preparation charged with soda for the cure of paralysis, softening of the brain, and mental imbecility." It's not only being sold in bottles, but also in bulk as soda fountain syrup. And the money…
[CASH REGISTER DING]
JEFF: The money is good. Everyone wants to get some Moxie. A carbonated beverage that's a delicious blend of bitter and sweet, a drink to satisfy everyone's taste.
RAY: Buuuuut, when something is this successful, others are soon going to copy. Competitors are hungry to serve a thirsty market.
JEFF: In May of 1886, Dr. John S. Pemberton, a pharmacist down in Atlanta, Georgia, creates a syrup for his soda fountain. That product would soon be known around the world as Coca Cola. But Coca Cola sales aren't matching up with Moxie during these early days of the war.
RAY: Back in Boston, lawsuits fly when the MODOX company starts to market a carbonated beverage that sure does look, sound, and even taste similar to Moxie.
JEFF: The lawsuit kind of falters, but soon doesn't matter anyway because the Modox company goes out of business. A casualty in the soda wars. But Modox was just one company trying to copy. There's also Proxie, Noxie, and Toxie just to name a few more.
RAY: Not sure anyone would drink Toxie! Which may explain why it came and went so fast. Dr. Augustin Thompson passes away in June of 1903. But this isn't the end of Moxie. Not by a long shot. The soda wars are just beginning.
JEFF: As with any war… people take sides. Down in Atlanta, Coca Cola is exploding everywhere. By the 1920s, after its Initial Public Offerings, it's a clear cola juggernaut, but folks in New England like their Moxie, thankyouverymuch.
RAY: Battle lines are being drawn in the soda wars. The soda you drink becomes part of how you define yourself. People make it public who they endorse and who they do not. In the 1920s, Coca Cola is now the big dog, but President Calvin Coolidge? He loves Moxie.
JEFF: In full disclosure, we should point out that President Coolidge was born in Vermont and eventually became governor of Massachusetts… so Moxie was already in his blood.
RAY: Fair enough. But once Red Sox legend Ted Williams starts endorsing Moxie on the radio and in print ads, that's it. New England's got Moxie!
JEFF: It's about this time that the word Moxie enters the English lexicon to mean someone with spunk. Nerve. Character. It's a word that traces its roots to an elixir invented by a guy from Union, Maine.
RAY: I like that Moxie becomes an adjective. No one ever says, "Hey, you showed some real Coca Cola in that fight, kid."
JEFF: No they don't. The Great Depression is a difficult time for all carbonated beverages. After all, soda is a treat, and when times are lean, you stick to water. Though several soda brands are lost in the 1930s, Moxie does come out on the other side. It's more of a regional favorite compared to Coca Cola that's a global brand now, but still, Moxie survives, and that brings us back to today.
[TRANSITION]
RAY: On May 10, 2005, Moxie was designated the official soft drink of Maine. Something long overdue if you ask some folks.
JEFF: Even though it was invented and produced in Massachusetts, it was Union, Maine's son, Augustin Thompson who invented the stuff, and folks in Maine support their own.
RAY: When we think of the cola wars we think of Coke and Pepsi.
JEFF: Sure. But it's funny, Pepsi is a relative newcomer. That company started in 1965.
RAY: Still, if we have to declare a winner to the cola wars, it's Coke. They have the biggest market share out there. And they have for a long time. Sadly, back in 2018, Moxie soda became a wholly-owned subsidiary of the Coca Cola Company. So even when you're drinking Moxie, and showing the world where you're from through that trademark orange soda can, you're still supporting the big empire of the cola wars.
JEFF: And yet, even though Coke now produces it, it's still kind of tough to find Moxie soda. Not so much here in Maine, but even grocery stores don't always carry it in other states. And outside of New England it's even tougher to find. The brand survives on nostalgia.
RAY: Now, before we leave Union, Maine, we simply must visit Matthews Museum of Maine Heritage right here in town. It's not the biggest museum in the state, but it's full of all kinds of Maine goodness. But the big attraction here is of course the Moxie Wing of the museum. It's filled with old advertisements and signs for Moxie, there's a mannequin made to look like Dr. Augustin Thompson, and other memorabilia related to this legendary New England Drink that still hangs around even though the cola wars are long over.
JEFF: All of this from a drink born as an elixir that could cure almost anything. Some love it, some hate it, but no matter what, New England's got Moxie.
[OUTTRO]
RAY: Yeah we do. And you know who else has Moxie? Our patreon patrons! For just $3 bucks per month these folks not only help support a movement and growing community of legend seekers, but they get early access to new epiosdes plus bonus episodes and content that no one else gets to hear. Just head over to patreon.com/newenglandlegends to sign up.
JEFF: And be sure to visit our Web site to check out photos of Dr. Augustin Thompson, plus nominate your favorite New England favorite for a BoNEy award!
RAY: We'd like to thank our sponsor Nuwati Herbals, and our theme music is by John Judd.
JEFF: Until next time remember… the bizarre is closer than you think.