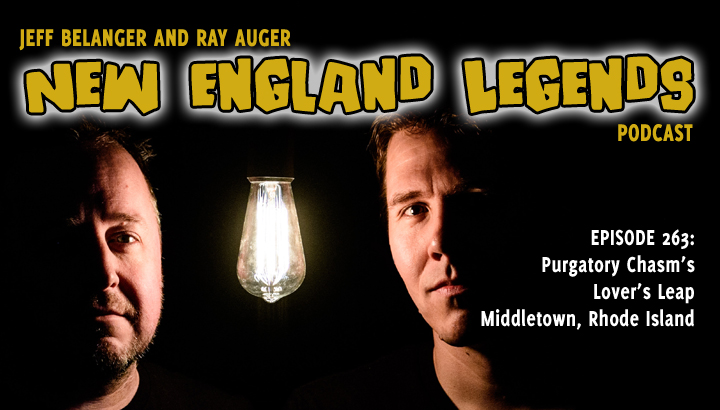 In Episode 263, Jeff Belanger and Ray Auger explore a dangerous piece of rock at Purgatory Chasm in Middletown, Rhode Island, called Lover's Leap. It was here long ago that they say a young heiress dared her would-be suitor to prove his love to her by jumping across the chasm. Will he make the jump? Will he get the girl? This was also the place where the Devil once landed after a cross-harbor leap.
CALL (OR TEXT) OUR LEGEND LINE:
(617) 444-9683 – leave us a message with a question, experience, or story you want to share!
BECOME A LEGENDARY LISTENER PATRON:
https://www.patreon.com/NewEnglandLegends
CREDITS:
Produced and hosted by: Jeff Belanger and Ray Auger
Edited by: Ray Auger
Theme Music by: John Judd
SUBSCRIBE TO THE PODCAST FOR FREE:
Apple Podcasts/iTunes | Google Podcasts | Spotify | Pandora | Stitcher | Amazon Podcasts | TuneIn | iHeartRadio
JOIN OUR SUPER-SECRET:
New England Legends Facebook Group
EPISODE TRANSCRIPT:
*A note on the text: Please forgive punctuation, spelling, and grammar mistakes. Like us, the transcripts ain't perfect.
[OCEAN WAVES]
RAY: This is a pretty spot here in Middletown, Rhode Island, Jeff.
JEFF: It is! We just parked our car at Sachuest Beach right off of Hanging Rock Road, and now we're heading toward the woods up ahead.
RAY: Okay, there's a nice grassy area with some benches that overlook the ocean, and then it turns into a bike path that runs along Tuckerman Avenue.
JEFF: There's another little parking area right here on our left.
RAY: Why didn't we park here?
JEFF: I don't have a good answer. But it's a nice day for a walk by the ocean either way. We're going cut through the back of this little parking area, and take the trail into the woods.
[WALKING IN WOODS]
RAY: We're heading toward the ocean again. There are a bunch of trees, and I can see it turns to rocks up ahead. What are we looking for?
JEFF: We're going heading toward the water, Ray, to a place where the devil once landed, and where a woman had her heart broken at a frightening landmark called Lover's Leap.
[INTRO]
JEFF: Hello, I'm Jeff Belanger.
RAY: And I'm Ray Auger. Welcome to Episode 263 of the New England Legends podcast. We're on a mission to chronicle every legend in New England one story at a time. We're glad you're with us.
JEFF: We are! We're a community of legend seekers who are always looking out for new strange stories. We appreciate when you get involved. Feel free to reach out to us anytime through our Web site where you can find an archive of all of our past episodes, video clips from the New England Legends television series on Amazon Prime, dates and places to see me or Ray live, and you can also find a link to get my brand-new 2023 Haunted New England calendar with stories by yours truly and photography by the great Frank Grace. These are limited edition, like last year, once they're gone, they're gone.
RAY: Before we go looking for Lover's Leap here in Middletown, Rhode Island, we want to take just a minute to tell you about our sponsor, Nuwati Herbals!
JEFF: Since we're exploring the story of lovers this week, we thought we should remind you about a Nuwati Herbals tea called Share My Blanket!
RAY: This unique tea from Nuwati Herbals is for everybody with a sweetheart. It's got all natural ingredients like Green Tea Leaf, Maca Maca Root, Ginko Leaf, Horny Goat Weed, Cinnamon Bark Chips, Licorice Root, and more.
JEFF: You couldn't resist mentioning the horny goat weed, could you?
RAY: I'm reading it right off the jar!
JEFF: Ingredients made to get your blood AND circulation flowing. You serve it warm, share a cup with your special someone, and if nothing else it's a conversation starter. What kind of tea are you serving me? Your special someone may ask. It's called Share My Blanket from Nuwati Herbals, you'll say. Why is it called that? Your sweetheart may ask. And you take it from there.
RAY: Nuwati Herbals has so many great teas, balms, oils, and more. Their products have become part of our lives for sure.
JEFF: Let Nuwati Herbals help support your healthy lifestyle. Check out the Nuwati Herbals Web site to see all of their great products AND you get 20% off your order when you use the promo code LEGENDS20 at checkout. Visit Nuwati Herbals dot com. That's N-U-W-A-T-I Herbals with an S dot com.
RAY: So, Jeff, this isn't the only Purgatory Chasm in New England.
JEFF: No, it's not. There's the Purgatory Chasm in Sutton, Massachusetts, too.
RAY: I've been to the one in Sutton with the kids. And they say the Devil was there too.
JEFF: That's right!
RAY: There are a few signs up on some of the rocks at the one in Sutton. I remember one called The Devil's Corncrib.
JEFF: I've seen that! Old Scratch gets around, doesn't he?
RAY: He does.
JEFF: The Devil was here too. In fact, way back on Episode 48 of the podcast, this is where the story ended after the Devil left his footprint in North Kingstown, Rhode Island.
RAY: I sort of remember that. But in that episode we stayed in the North Kingstown side of the harbor.
JEFF: We did. So this time we get to check out the Middletown side.
[WALKING THROUGH WOODS]
[OCEAN WAVES GETTING CLOSER]
RAY: We've walked maybe 30 yards into the woods since the parking lot, and the ground is starting to change from dirt to solid rock. And I can see up ahead that the trees continue to thin out.
JEFF: We're approaching the stone bluffs and our destination. A place called Lover's Leap.
RAY: Woah! Check that out!
JEFF: This is it, Ray. Lover's Leap.
RAY: There's this huge crack in the cliffs. At its widest it looks like it's maybe 10 to 12 feet. The crack heads inland about 120 feet until it dwindles to nothing where the crack ends. And it's about 40 to 50 feet down to the water below. I have to believe a fall down there could easily be fatal. At the very least you'd be broken up pretty badly.
JEFF: Agreed. Our plan is to stay up here at the top. BUT to get to the bottom of the story…
RAY: HAAAA I see what you did there…
JEFF: Let's head back to 1848.
[TRANSITION]
RAY: It's the summer of 1848, and there's a beautiful young heiress living in nearby Newport. Like all the wealthy, single women living around here these days, she's a socialite. She attends all of the parties to see and be seen.
JEFF: Newport has had the reputation of being an exclusive playground for the rich for over a century now. The wealthy come here to summer. It's swanky for sure.
RAY: At one of these summer parties, this young heiress catches the eye of a gentleman about her age, who also comes from a wealthy family, and finds himself in Newport for the summer.
JEFF: It's a tale as old as time. Boy meets girl, and soon the boy is smitten with the enchanting young heiress.
RAY: The thing is, the girl feels the same. She really likes this boy, too. But she hides it from him.
JEFF: Playing hard to get, I take it?
RAY: She is. She'll flirt, then pretend she isn't interested in his advances. This goes on for much of the summer.
JEFF: By late August, the heiress allows her suitor to take her to Middletown for a picnic.
[OCEAN WAVES]
JEFF: While strolling the beach, they spot a trail leading up to some stone bluffs overlooking the ocean. Thinking that must be a pretty spot, the two take a walk up the trail that leads to the cliffs.
RAY: On the walk, the young man once again professes his love for the girl. He explains how much he cares, how he could provide for her, and how they'd be happy together.
JEFF: But the girl, coy as ever, is still playing hard to get.
RAY: They stroll right up to this giant crack down through the cliffs. They both lean to peak over the side, all the way down to the swirling ocean below.
JEFF: It's a pretty spot, but also dangerous.
RAY: The young man continues to explain how happy they could be together if she'd only consent to a proper engagement. But the heiress doesn't seem to be paying much attention to the young man. She's just gazing in wonder down at the chasm below.
JEFF: Suddenly, the girls face lights up! She tells her young suitor that he can prove his love to her by leaping across the divide to the other side.
RAY: The young man's shoulder slump. He sighs. And now he's backing up. Oh man, it looks like he's going to try and make the jump!
JEFF: He's back from the edge maybe 20 feet or so.
[RUNNING FOOTSTEPS]
JEFF: He's running for the edge. I don't think I can watch this…
[RUNNING STOPS/SILENCE FOR A SECOND]
[THUMP]
RAY/JEFF: He made it!
RAY: He did it. He just landed on the other side.
JEFF: Huh. Look at him, Ray.
RAY: He just tipped his hat, smiled, and he's walking away on the other side of the chasm. I guess he figures he doesn't need these headaches after all.
JEFF: The girl's smile is quickly fading. I think she just realized she's being dumped. She pushed the coy act too far.
RAY: And that brings us back to today.
[TRANSITION]
JEFF: They say the young heiress never recovered from the dumping. She mourned for the one who got away for the rest of her life. And today, they call this giant crack in the rocks: Lover's Leap because of the young man who jumped across.
RAY: I feel like we've all kind of been there on this one, huh?
JEFF: Yeah, playing hard to get works for about five minutes. Who has time for games when it comes to love, right?
RAY: Exactly. Okay, the last time we talked about Purgatory Chasm in Middletown, Rhode Island, was way back in Episode 48. When the Devil left his mark in North Kingstown, Rhode Island.
JEFF: In North Kingstown, there's an odd landmark called Devil's Foot Rock, located just off of Devil's Foot Road, that bears a couple of strange holes in it. One looks almost like a cloven horse hoof that goes down maybe 6 inches into the rock, then there are two other small, almost human-like holes ahead of it going toward the end of the rock.
RAY: It was here that they say a Native woman ran after killing a man in Wickford. She knew if she was caught, she'd be killed. As she was hiding by that rock in North Kingstown, suddenly a dashing Englishman appeared walking right for her. Knowing she was out of time and luck, she yelled out for the one deity who could help her. She yelled "Help me Hobomocko!"
JEFF: Hobomocko is a Native deity who is a kind of creator god. He could help you, but he could also kill you. It depended on his mood.
RAY: The dashing Englishman suddenly transformed into Hobomocko, he scooped up the maiden under his arm, thundered down that rock leaving those footprints, and leaped high into the air. While air born, he throws the maiden down to her death in the ocean below. Hobomocko continues over the harbor, over Jamestown, over Newport, and lands 14 miles away here at Purgatory Chasm in Middletown. So two legends for the price of one this week. The devil was here, and we have Lover's Leap.
JEFF: To be fair, we don't know much about the backstory of the two young lovers who broke up here. We DO know that people were calling the geological feature Lover's Leap as far back as the mid-1800s because there's an old photo of the place from the Joshua A. Williams Photography Rooms of Newport, Rhode Island. The photo isn't dated, but Williams identified the landmark as Purgatory or the Lover's Leap. Williams died in 1892, and was most active as a photographer in Newport between 1847 to 1885. Which is why we set our date in 1848.
RAY: We've heard of other Lover's Leap stories where two star-crossed lovers leap to their death from some high spot because their families forbid them from being together.
JEFF: Right. Romeo and Juliet playing out again and again all over the world, really.
RAY: I like how this one is different. In this spot in Middletown, Rhode Island, a lover took a dangerous leap across a chasm, not to prove his love, but to get away from what surely would have been a toxic relationship.
[OUTTRO]
JEFF: Kenny Rogers said it best. Know when to hold 'em, know when to fold 'em, know when to walk away, and know when to run.
RAY: And that brings us to After the Legend where we take a deeper dive into this week's story, and sometimes we might veer of course.
JEFF: After the Legend is brought to you by our Patreon Patrons! This group of insiders keep us going AND growing. They enjoy our show and want to help us out a little more. And we appreciate it! For just $3 bucks per month, they get access to new episodes, plus bonus episodes and content that no one else gets to hear. If you can help us out with our hosting, production, marketing, and other costs associated with bringing you a new episode each week just head over to Patreon.com/NewEnglandLegends to sign up.
Please be sure to subscribe to our podcast because it's free! And share your favorite episodes on social media. If you enjoy spending some time with us each week, your friends will too. Be sure to join our super secret Facebook community, just search for New England Legends, and follow us on social media.
We'd like to thank our sponsor, Nuwati Herbals, we'd like to thank our patreon patrons, and our theme music is by John Judd.
Until next time remember… the bizarre is closer than you think.