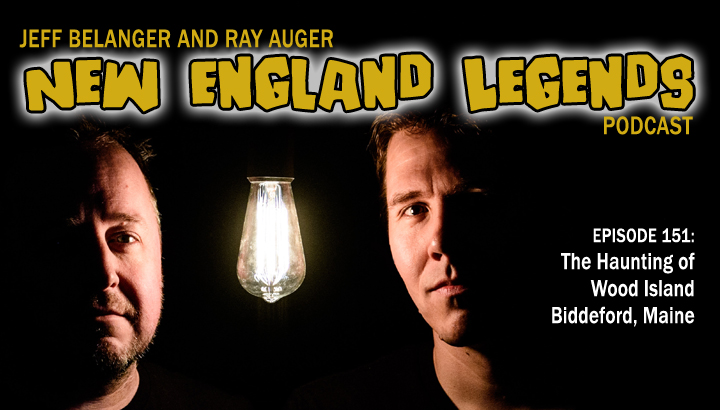 In Episode 151, Jeff Belanger and Ray Auger take a boat out to Wood Island off the coast of Biddeford, Maine, to the scene of a murder-suicide that occurred June 1, 1896 — a day that will haunt the island forever. The lighthouse keeper's quarters is said to be haunted as is the entire island.
CALL (OR TEXT) OUR LEGEND LINE:
(617) 444-9683 – leave us a message with a question, experience, or story you want to share!
BECOME A LEGENDARY LISTENER PATRON:
https://www.patreon.com/NewEnglandLegends
CREDITS:
Produced and hosted by: Jeff Belanger and Ray Auger
Edited by: Ray Auger
Additional Voice Talent: Jim Harold and Michael Legge
Theme Music by: John Judd
SUBSCRIBE TO THE PODCAST FOR FREE:
Apple Podcasts/iTunes | Google Podcasts | Spotify | Stitcher | TuneIn | iHeartRadio | SoundCloud
JOIN OUR SUPER-SECRET:
New England Legends Facebook Group
EPISODE TRANSCRIPT:
*A note on the text: Please forgive punctuation, spelling, and grammar mistakes. Like us, the transcripts ain't perfect.
[SEA GULLS AND OCEAN]
RAY: Summer is a great time to hit the coast of southern Maine.
JEFF: Ray, I couldn't agree with you more. And if we're going to keep our appointment with a ghost, we need to pop a ride on this boat here in Biddeford. Ahoy, captain!
RAY: This isn't a very big boat, Jeff.
[MOTOR BOAT ON OCEAN]
JEFF: No. First, we're not fishing for sharks.
RAY: Riiiight, so we're not gonna need a bigger boat.
JEFF: And second, we're not going very far. (PAUSE) We're heading to that island just ahead to explore the scene of a murder, and look for the ghosts of the haunted Wood Island Lighthouse.
[INTRO]
JEFF: Hi, I'm Jeff Belanger.
RAY: And I'm Ray Auger. Welcome to Episode 151 of the New England Legends podcast. If you give us about ten minutes, we'll give you something wicked strange to talk about today.
JEFF: Thank you for joining us on our mission to chronicle every legend in New England one story at a time, and we can't do that without the help of our patreon patrons. Did you know that for just $3 bucks per month you'll get early access to new episodes, plus bonus episodes and content that no one else gets to hear. We really appreciate your support, because that's how we grow. Just head over toe patreon.com/newenglandlegends to sign up.
RAY: Also, we love it when you get in touch with us either through our Web site, our super-secret Facebook group that has almost 2000 members sharing stories, or when you call or text our legend line anytime at 617-444-9683.
JEFF: We'd love it if you called and left our show closing on our voicemail so we can hear YOU on a future episode.
[OCEAN AND MOTORBOAT]
RAY: We're pulling up to Wood Island, which is just over a mile from the Biddeford, mainland. The island itself is about half a mile long and maybe a quarter of a mile wide. And I can see why they call it Wood Island – there's plenty of trees here. The lighthouse sits at the far-eastern side as a navigation point for ships piloting Saco Bay. But Jeff, you're saying this is also the site of a murder?
JEFF: A murder most foul. And not just a murder most foul, but a murder suicide.
RAY: No wonder this light house is haunted. To figure out how we got here, let's head back to 1806 and set this up.
[TRANSITION]
RAY: It's 1806, and shipping around Saco Bay is big business. Combine more ships with notoriously tricky weather, and it's clear this region needs a lighthouse. So the U.S. government purchases 8 acres of land on the eastern end of Wood Island, which is part of Massachusetts.
[SAWING HAMMERING]
JEFF: When the wooden lighthouse is finished, it's 45 feet tall and features a set of hanging spider lamps and an eclipser, so from a distance it's seen as a flashing light. Notice the wooden shingles down the side of the structure?
RAY: That makes sense, there's plenty of wood to work with around these parts.
JEFF: But there's a problem.
RAY: Annnnd I bet that problem rhymes with "weather."
JEFF: That it does.
[WINDY STORM]
JEFF: The weather on this island can be rough. The wooden tower is pounded by the elements, and it soon becomes clear, this isn't going to work for the long haul.
RAY: So we jump ahead to 1857. In 1820, Maine became an official state, meaning Wood Island is now in Maine territory and no longer Massachusetts. And now, the Lighthouse tower is rebuilt from granite, a fancy new lens is added to the light, and now everyone is feeling better about this important lighthouse withstanding harsh New England weather.
[OCEAN UNDER NEXT TWO LINES]
JEFF: Storms and lighthouse keepers come and go. Though this job is mundane, it's also a matter of life and death. Ships, their crew, and expensive cargo are all counting on this light being lit in darkness and bad weather. So on calm days, lighthouse keepers like Uncle Eben Emerson polish the metal, and sweep the steps clean. But there's exciting moments as well, like in 1865, when Emerson becomes a hero when he rescues the crew from the wrecked brig Edyth Ann.
RAY: There's also the heroism of lighthouse keeper Thomas Orcutt and his family. In 1887 the schooner Cora Van Gilder grounded near Wood Island. The rescue isn't a challenge for the other sailors in the vicinity, because the ship is just stuck. It's not sinking. But when rescuers learn that the wife of the schooner's captain is on board and has smallpox, they abandon the rescue attempts. But not Thomas Orcutt. He not only rescues the captain wife, but brings her back to his home where his family nurses her back to health.
JEFF: That's the life of a lighthouse and its keepers. Long stretches of nothing, and a few moments to shine as heroes, or some intense drama when something goes horribly wrong.
[THUNDERSTORM]
RAY: And on Wood Island, something is about to go horribly wrong. It's June 1st, 1896, and we're walking along the southern edge of the island. There are two sets of buildings nearby, and besides the lighthouse and the keeper's quarters, these are the only other structures on the island.
JEFF: There's a small house that looks okay, but these other buildings are kind of in sad shape. They look like some small barns or maybe fancy chicken coops.
RAY: Fancy chicken coops is pretty much what these structures were meant to be, but two 24-year-old men have been calling one of these shacks home. William Moses and Howard Hobbs live in one of the shacks. They're both local fisherman.
JEFF: Yesterday, both Moses and Hobbs spent the day in nearby Old Orchard, where the men went on a real bender.
[GUYS DRINKING AND YELLING]
JEFF: By the late afternoon, the men are good and drunk, enough so that they catch the attention of a deputy sheriff who threatens to lock them up if they don't tone it down. The men heed the warning and keep quiet the rest of the night.
RAY: But by noon the next day, the two men are back at the bottle when they hop in their row boat to head back to their shack on Wood Island. They make a stop at Hill's Beach, then reach their own shores around 4:30 in the afternoon.
JEFF: When the men arrive, Fred Milliken and his young step-son are waiting nearby as Fred's wife watches from their front door.
MILLIKEN: Howard, I want to see you a minute.
JEFF: Milliken says.
HOWARD: Alright.
JEFF: Howard Hobbs replies. But he doesn't stop to talk, he just keeps on walking with his buddy back to their nearby shack. When they get inside, the drunken Hobbs picks up his rifle and says to Moses…
HOWARD: Come on, we'll go over to Fred's.
JEFF: Moses tries to convince Howard to leave the rifle. He tells him you don't want to take that along.
HOWARD: Yes I do.
JEFF: Is the reply.
RAY: The two men walk back outside and meet Fred Milliken by their gate.
MILLIKEN: Is that gun loaded?
RAY: Milliken asks.
HOWARD: (Laughs) It's not loaded.
MILLIKEN: I'll see whether it is or not!
RAY: Milliken takes two steps toward Howard and that's when Hobbs raising the rifle to his shoulder.
[RIFLE SHOT]
MILLIKEN: He shot me!
RAY: Fred grabs his chest and stumbles. Mrs. Milliken comes running to her husband's aid. Both she and Moses help the wounded man into the house and onto the bed. Mrs. Milliken can see this is a serious wound. He's bleeding badly. She sends Moses and her son in the boat to the mainland to fetch a doctor.
JEFF: Meanwhile, the gravity of what just happened has sobered up Howard Hobbs considerably. He's trying to help the situation as best he can… but guilt is gnawing at him from the inside like some wild animal.
HOWARD: Is there anything I can do to help?
MILLIKEN: My boots are hurting my feet. Would you pull them off?
JEFF: Howard moves to Milliken's feet and starts removing his boots.
HOWARD: It was all your fault, Fred. If you hadn't started to take the gun away from me, I wouldn't have fired.
MILLIKEN: (groans and is losing consciousness)
JEFF: That's when Howard stands up, picks up his rifle that he'd just leaned against the bed, and Mrs. Milliken offers to take it from him.
HOWARD: No you don't! You can't have that gun. Don't you come toward me for if you do, I will put a bullet through you too.
MILLIKEN: (MOANING) Don't kill her, Howard, she has never done you any harm.
RAY: Hobbs doesn't shoot Mrs. Milliken. Instead, he follows her instructions to head over to Lighthouse keeper Orcutt's home and tell him what happened. A short while later, Orcutt and Hobbs return to learn that Fred Milliken has just passed away. That's when Howard Hobbs approaches the widow Milliken.
HOWARD: Do you know what I'm going to do now? (PAUSE) I am going home and will take this gun and put a hole right through there.
RAY: He points to his temple, then walks away back to his shack. Mrs. Milliken turns back to tend to her husband's corpse. Fred Milliken lived about 45 minutes after he was shot. (PAUSE) Moments later, from nearby…
[MUFFLED RIFLE SHOT]
RAY: another gunshot rings out. Mrs. Milliken doesn't bother to investigate to see if Howard Hobbs has just kept his word. Somehow she knows he's gone too.
JEFF: When the doctor arrives from the mainland a short while later, he learns there's no rush for medical help. Fred Milliken has passed away. And there's now a second dead man to tend to. Moses finds the body of his roommate dead in his bed, with blood spilling out of his temple. The murder suicide will haunt this island forever. And that brings us back to today.
[TRANSITION]
RAY: Okay, I have questions.
JEFF: Me too.
RAY: Was this some drunken misjudgment on the part of Howard Hobbs, or was there some beef between Hobbs and Milliken?
JEFF: We know that Milliken owned the property where Hobbes and Moses were living, and that the pair had not paid their rent in quite some time. Milliken had recently told some associates on the mainland that he intended to evict them on June first. But even Moses later testified that there was no quarrel beyond that. This seems to be a case of poor, drunken judgement. The case is ultimately ruled an accident, and considering all of the affected parties were dead, there was no further inquest.
RAY: We've said before it seems like every lighthouse is haunted.
JEFF: It seems that way. We know it's a lonely life out here on the island, but add that routine loneliness to a murder suicide, and you've got a recipe for a haunting.
RAY: Inside the old lightkeeper's quarters, strange sounds have been reported at all hours of the day and night, as if some presence is crying out for attention. There's even a ghostly dog that's been sighted there. Then there's the reports from the other parts of the island, including the vicinity of the old house foundation on the south side of the island.
JEFF: Though the shacks and house are long gone, people still report seeing wispy apparitions flitting along the shore, and maybe just maybe that sound in the distance isn't a summer thunderstorm brewing.
[RIFLE SHOT IN DISTANCE]
JEFF: Maybe it's that horrific scene playing out one more time and haunting Wood Island forever.
[OUTTRO]
RAY: So many haunted lighthouses. I feel like we could do an entire series just on those!
JEFF: We probably could. You can't live in New England and not feel some kind of connection to the ocean. Even our landlocked friends in Vermont can hear the siren call from over the mountains.
RAY: We love it when you guys tell others about our show. Please consider posting a review for us, or tells your friends on social media. So many of our story ideas come from you folks in our community. So keep them coming!
JEFF: We'd like to thank Jim Harold from the Paranormal Podcast and Michael Legge for both lending their voice acting talents this week. And our theme music is by John Judd.
VOICEMAIL: This is Peter in Augusta, Maine, reminding everyone that the bizarre is closer than you think.