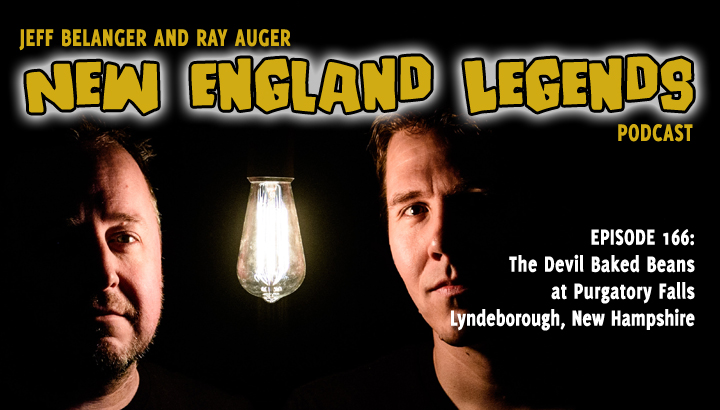 In Episode 166, Jeff Belanger and Ray Auger hike up to Purgatory Falls in Lyndeborough, New Hampshire, searching for the Devil's Footprint and the Devil's Bean Pot. How were these unique stone features formed? They say Old Scratch came calling one day, and tried to cook lunch for some local ministers.
CALL (OR TEXT) OUR LEGEND LINE:
(617) 444-9683 – leave us a message with a question, experience, or story you want to share!
BECOME A LEGENDARY LISTENER PATRON:
https://www.patreon.com/NewEnglandLegends
CREDITS:
Produced and hosted by: Jeff Belanger and Ray Auger
Edited by: Ray Auger
Additional Voice Talent: Michael Legge
Theme Music by: John Judd
SUBSCRIBE TO THE PODCAST FOR FREE:
Apple Podcasts/iTunes | Google Podcasts | Spotify | Pandora | Stitcher | Amazon Podcasts | TuneIn | iHeartRadio | SoundCloud
JOIN OUR SUPER-SECRET:
New England Legends Facebook Group
EPISODE TRANSCRIPT:
*A note on the text: Please forgive punctuation, spelling, and grammar mistakes. Like us, the transcripts ain't perfect.
[WATERFALLS]
JEFF: This may be the last day of the season for a picnic here in Lyndeborough, New Hampshire, Ray.
RAY: Yeah, it's getting colder, and a lot of the fall leaves have already dropped.
JEFF: Still, Purgatory Falls is a pretty spot.
RAY: That it is. The falls are gorgeous coming down those rocks into the brook bellow. So what's on the menu?
JEFF: Check this out….
[POT LID COMING OFF POT]
JEFF: This is my Nana's recipe for Boston Baked Beans.
RAY: Man oh man, they look and smell delicious!
JEFF: Yes sir. And a fitting meal for this spot, too.
RAY: Why's that?
JEFF: Because it was right here that they say some clergy once experienced a meal of beans cooked and served by the devil.
[INTRO]
JEFF: Hello, I'm Jeff Belanger.
RAY: And I'm Ray Auger, and welcome to Episode 166 of the New England Legends podcast. If you give us about ten minutes, we'll give you something strange to talk about today.
JEFF: We appreciate you joining us on our mission to chronicle every single legend in New England one story at a time. And we don't just do that through this weekly podcast. There's also the New England Legends television series. Our Halloween special episode just went live on Amazon Prime. You can watch it right now, as well as all of our other episodes. In the Halloween special we explore the haunted Bowman Mansion in Vermont, Edith Wharton's the Mount in the Berkshires of Massachusetts, we dive into the origins of this awesome holiday, and explore why we love to be scared. Please give it a watch as soon as you can.
RAY: We'd also like to thank our patreon patrons who help us do what we do. These legendary people kick in just $3 bucks per month, though some choose to give more because they're amazing, and they get early access to new episodes, plus bonus episodes that no one else gets to hear. They help us with all of our hosting, production, and promotion costs. So thank you. If you want to become a bigger part of the movement, head over to patreon.com/newenglandlegends to sign up.
JEFF: I guess with an ominous name like Purgatory Falls, we should be too surprised the devil isn't too far behind.
RAY: As we've learned over the years, the devil has left his mark all over New England. So of course he's been here in New Hampshire as well.
JEFF: So Purgatory Falls is actually a series of three waterfalls that run along Purgatory Brook. The Brook stretches a little over five miles from the upper falls in the north, down to where it dumps into the Souhegan River in the town of Milford in the south.
RAY: Back in the early 1900s, these falls and the surrounding lands were a popular tourist area. There was a dance hall here, picnic areas, bowling, and hiking trails that followed the falls. At some point as many as 2,000 people would gather here at once for celebrations and holidays.
JEFF: It's the upper purgatory falls area where we find two formations in the rock where they say the devil left a mark that can still be seen today.
[WALKING IN WOODS]
RAY: Okay, that's weird. There's a large impression, almost the size of a bathtub in one rock, but really deep, and a few feet away there's a much smaller, almost half-oval type of impression.
JEFF: That is exactly what we're looking for, and to find out how they got here, let's head back to 1788 and set this up.
[TRANSITION]
RAY: It's October of 1788, and these are the earliest days of the Town of Lyndeborough.
JEFF: That's right, this town was only incorporated a few decades ago. This is very much an agricultural town. There are blueberries, strawberries, apple orchards, and of course maple syrup.
RAY: By all accounts this is small-town New England. These folks are farmers, and they go to church on Sunday. But one day in the fall, a rather dashing gentleman arrives in town.
[WALKING ON A ROAD]
RAY: His fine clothes, his fancy cane, his hat, all make him look like he'd be more at home at some London high society luncheon as opposed to the simple streets of Lyndeborough.
JEFF: There's definitely something strange about this gentleman. The downtown of Lyndeborough, if you can call it that, is really just a few cross streets, but there's the meeting house, and this gentleman seems pretty interested in this building most of all. He approaches three ministers gathered near the building.
GENTLEMAN: Good day, gentleman, I've come a great distance because I've heard so much about your Sunday meetings.
JEFF: The ministers seem flattered, if not a little confused.
RAY: Right, the ministers are used to catering to the spiritual needs of their small town. They're also farmers when they're not preaching. So it's not like people come from far away to hear them speak. Still, the strange gentleman continues his flattery.
GENTLEMAN: I would like the honor of talking scripture with you over lunch.
RAY: The three gathered ministers smile and say thank you, but there's no need. The stranger is welcome to join them for service this coming Sunday.
GENTLEMAN: No, no, I won't hear it! I make a wonderful pot of beans that you simply must try.
JEFF: The three ministers finally agree to take the strange gentleman up on his lunch offer. I mean, what minister can resist a bean supper?
GENTLEMAN: Perfect! We shall meet on the morrow at a pretty spot by the lovely falls in your town.
JEFF: The ministers know the spot well, and agree. The following day, noon approaches and the men hike up the trail by the brook.
[HIKING IN THE WOODS]
[WATERFALLS]
JEFF: As the ministers approach the falls they see the dashing gentleman standing on a rock ledge above them.
GENTLEMAN: Welcome, my friends! I was just about to prepare lunch. (evil laugh)
[THUNDER CLAP]
RAY: The ministers fall under some kind of spell. They're standing there, mouths open. They seem to be frozen in place, just watching the gentleman above them.
GENTLEMAN: (LAUGHS AGAIN)
[ROARING FIRE]
RAY: Fires from the very depths of hell are now shooting up through the rock where the gentleman is mixing the beans.
JEFF: Still, the ministers are just staring. If they can comprehend what's going on, I'm sure it's now clear exactly who this dashing gent really is. The Devil has come calling to Lyndeborough.
RAY: The fires of hell are cooking the beans pretty quick. But the flames are so hot, the rock is starting to melt around the devil's bean pot. And look at the devil's back foot!
JEFF: It looks like his cloven hoof is sinking into the rock!
RAY: The intense heat has turned the rock molten. And the devil and his bean pot are slowly sinking.
GENTLEMAN: (FRUSTRATED ROAR)
RAY: And suddenly…
[BOOM]
RAY: The beans explode, shooting out in a firework-like rain of legumes. Hell's fires stop, and the devil is gone.
JEFF: Covered in beans and blinking in disbelief, the three ministers regain their composure at what just happened. Ray, you have some beans right there on your face too.
RAY: Thanks. (SMACK FINGERS TASTING THEM)
JEFF: How do they taste?
RAY: Not good.
JEFF: I guess the devil isn't a good cook. And that brings us back to today.
[TRANSITION]
[WATERFALL]
JEFF: If we head up the hill a little bit, we can still see the bowl-like impression that's about ten feet deep. It's almost like an oval-shaped column straight down…
RAY: Right, this is what they call the Devil's Bean Pot.
JEFF: And just a few feet behind that…
RAY: I see it! It looks almost like a triangular cloven hoof print.
JEFF: And that would be the Devil's Footprint.
RAY: Which makes this the third devil's footprint we've covered. There's the devil's footprint in Manchester, Maine, and the devil's footprint in North Kingstown, Rhode Island.
JEFF: Old Scratch gets around New England, doesn't he?
RAY: It was August of 1889 that H.A. Hutchinson turned this land that he owned into a formal picnic area. For the next thirty years, this became a popular spot. The falls are pretty, the air is clean, who wouldn't want to spend the day here?
JEFF: I agree. And with so many people walking by, these two depressions in the rock really beg for an explanation. You can't miss the devil's bean pot – it really sticks out! And the footprint is also pretty clear. But how did they get here?
RAY: Obviously the devil came here to cook baked beans and melted the rocks.
JEFF: Right! Add to that the name Purgatory Brook and Purgatory Falls, and you have two Catholic boys like us just a little nervous.
[OUTTRO]
RAY: The devil, purgatory, it's almost Halloween, yeah Jeff, that makes me a little bit nervous.
JEFF: Speaking of Halloween, our first ever virtual Halloween party is this Saturday, October 24th. Tickets are just $5 bucks and go to benefit the Old Colony History Museum. You can find a link to buy tickets from our Web site or on our super-secret Facebook page.
RAY: Next week is our Halloween special podcast! We can't wait to take you through a killer haunt in Massachusetts. Be sure to download our free New England Legends app, and also, please tell a friend or two about our show or post a review. We appreciate it.
JEFF: We'd like to thank Michael Legge for lending his voice acting talents this week – not the first time he's voiced the devil for us. And out theme music is by John Judd.
VOICEMAIL: Hi, this is John Gately from Framingham, Massachusetts until next time remember the bizarre. It's closer than you think.