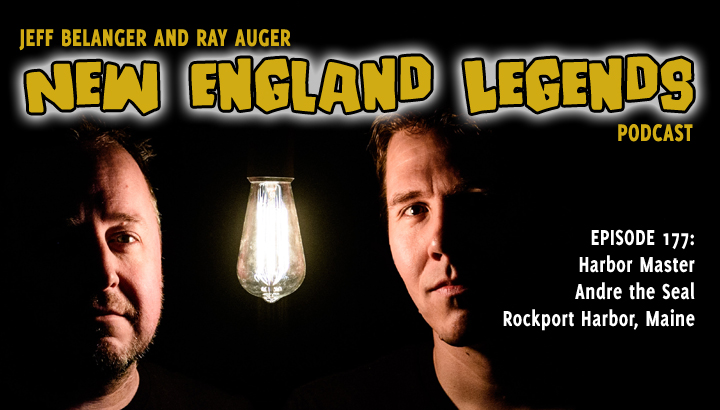 In Episode 177, Jeff Belanger and Ray Auger explore the shores of Rockport Harbor in Maine, searching for the legend of a seal who stole the hearts of locals and tourists from 1961 to 1986. Andre the seal was adopted by Harry Goodridge when he was two days old, then became a local fixture. His story led to books, a statue, and even a Hollywood movie. But not everyone loved Andre.
CALL (OR TEXT) OUR LEGEND LINE:
(617) 444-9683 – leave us a message with a question, experience, or story you want to share!
BECOME A LEGENDARY LISTENER PATRON:
https://www.patreon.com/NewEnglandLegends
CREDITS:
Produced and hosted by: Jeff Belanger and Ray Auger
Edited by: Ray Auger
Theme Music by: John Judd
SUBSCRIBE TO THE PODCAST FOR FREE:
Apple Podcasts/iTunes | Google Podcasts | Spotify | Pandora | Stitcher | Amazon Podcasts | TuneIn | iHeartRadio | SoundCloud
JOIN OUR SUPER-SECRET:
New England Legends Facebook Group
EPISODE TRANSCRIPT:
*A note on the text: Please forgive punctuation, spelling, and grammar mistakes. Like us, the transcripts ain't perfect.
[OCEAN WAVES ON THE SHORE / SEAGULLS]
RAY: I like visiting the shores of Maine in the early winter. There's no crowds, it's kind of peaceful.
JEFF: There's a definite charm to harbor towns like Rockport in January. All of the business owners and locals have to keep their smiles up all summer for the tourists, but now… now they get to relax a bit and just be themselves. Let their hair down.
[HARBOR SEALS BARKING]
RAY: Check out the harbor seals down there by the rocks.
JEFF: They're adorable, aren't they? They're like this big amorphous blob with a cute face. Those soulful eyes, the dog-like nose, the whiskers.
JEFF: They even bark like dogs. Harbor seals are actually what we're looking for here at Rockport Harbor, Ray.
RAY: Then that was easy. We found them.
JEFF: Right, but we're not looking for just any seal. We're looking for the specific animal who served as the unofficial Harbor Master of Rockport. We're here searching for Andre the Seal.
[INTRO]
JEFF: I'm Jeff Belanger and welcome to Episode 177 of the New England Legends podcast. If you give us about ten minutes, we'll give you something strange to talk about today.
RAY: And I'm Ray Auger. Rockport, Maine, is the next stop on our mission to chronicle every legend in New England one story at a time. We do that through this weekly podcast, so please subscribe and share, we do it through the New England Legends television series on PBS and Amazon Prime, through our super-secret Facebook group, and through our New England Legends app for your smart device – that you can download right now for free.
JEFF: Before we start the search for Andre the Seal, we want to take a minute to tell you about our sponsor, Nuwati Herbals. It's a new year, a new you, if you're looking to make some healthy changes, what better place to start than what you put inside of you.
RAY: Jeff, you know I have a sweet tooth.
JEFF: Don't we all!
RAY: I live for those sugary coffees and hot cocoas, but this year, I found something even better: Nuwati Herbals has RootBerry Tea. Go ahead and smell this loose tea.
JEFF: It smells like root beer!
RAY: It does! It's got green tea, sarsaparilla, ginger, honey granules for some sweetness, and root beer extract. I sip this in the mid-afternoon and get that warm, sweet kick I'm craving without all of the calories and artificial sugar.
JEFF: I also like some of their remedy teas. If I'm feeling a little run down, I pour a cup of Nuwati Herbals Healer Tea, or if I'm talking too much…
RAY: (INTERRUPTING) When does THAT ever happen?
JEFF: Good point. But when my throat is scratchy, I'll have a cup of their Howling Wolf tea.
RAY: These are Native American-inspired products. Herbal remedies from Mother Earth. Please support the people who are supporting us. AND our legendary listeners get 20% off your order when you use the promo code LEGENDS20 at checkout. Visit Nuwati Herbals dot com. That's N-U-W-A-T-I Herbals with an S dot com.
[FADE IN OCEAN SOUNDS]
JEFF: Okay, Ray, if we walk up here just a little ways in the Rockport Marine Park… it should be right about…
[WALKING IN SNOW]
JEFF: And there it is.
RAY: I see what looks like a life-sized statue of a seal in granite on a stone slab facing the water. It almost looks like the seal's face is smiling. There's a little plaque on the stone that reads: Andre the Seal. Sculpture by Jane Wasey, 1978. So it's safe to safe we've at least found where Andre was. And clearly he was important enough to get his own granite statue.
JEFF: To find out how this statue got here, and to meet the big personality behind it, let's lead back to 1961 and set this up.
[TRANSITION]
JEFF: It's May 16th, 1961 and right around the Robinson's Rock area of Penobscot Bay, a mother Harbor seal has just given birth.
[HARBOR SEAL BARKING] [OCEAN SOUNDS]
JEFF: But for reasons we'll never know, the mother abandons her helpless pup after a day.
RAY: Though this story could have had a tragic ending, along comes Rockport's Harbor Master, a man named Harry Goodridge, who finds the little seal pup. (PAUSE) Not seeing any mother seal around, and finding the pup weak from hunger, Goodridge decides to scoop him up, take him back to his house just up the hill from the harbor, and see what he can do to help.
JEFF: In the coming days and weeks, Goodridge feeds and raises the little seal and names him Andre. Pretty quickly, Andre becomes part of the Goodridge family.
RAY: In addition to Andre, Harry has five children ages 7 to 19, and a harbor seal is NOT the first animal their dad brought home. He's taken in a robin he named Reuben, a pigeon named Walter, and a sea gull he named Sam Segal. There were even other seals in the past who came through, but there was something special about Andre.
JEFF: Maybe it's because Andre was adopted so young, or maybe it was the animal's sweet disposition, either way, Andre took to human life. He'd watch TV in the living room with the Goodridge family, and he'd go for rides in the family station wagon, sticking his nose out the window like a dog. In the winter, the seal loved riding on snow sleds with the kids. But, the seal would also wander back down to the water to swim.
RAY: When the following summer rolls around, Harry takes the one-year-old Andre to the harbor with him each day. He even teaches the seal a few tricks like shaking hands, hiding his head in mock shame behind his flipper, hitting a ball into a hoop with his nose, and jumping through a motorcycle tire. And the next thing you know…
[CROWD NOISE]
RAY: Crowds of tourists start to gather by the docks to take pictures and see the seal.
[CAMERA CLICKS]
RAY: The local newspapers start taking notice too, and suddenly… a star is born.
JEFF: Andre would come and go in the water all day long, but was always happy to pose for pictures and get some food from his friend, Harry. And at night, Harry would bring him back to his house to sleep inside away from predators.
RAY: Harry figures at some point Andre is going to swim off into the wild and not come back. But each day, he's proven wrong. Andre likes Harry and his family, he likes the tourists near the docks, and seems to like the spotlight.
JEFF: Buuuut there's a bit of a problem.
RAY: What's that?
JEFF: Andre is so used to people that he thinks all of them are his friend.
RAY: I guess that makes sense. They take his picture, shake his flipper, and give him treats.
JEFF: Right. Some summer nights, Andre is all too happy to spend the night sleeping on some of the boats in the harbor. And not all of the fishermen were Andre fans.
RAY: Got it.
JEFF: Other times Andre would tug playfully on the oars of boats out for a little fishing in the harbor. And while that was great fun for Andre the seal, the fishermen didn't take kindly to a harbor seal messing with their boat and scaring off any potential fish.
RAY: And when fishing is part of your livelihood…
JEFF: Yeah, some folks kind of have it in for Andre. And that has Harbor Master Harry Goodridge nervous. Andre is family now.
[WINTER WIND]
RAY: As winter approaches, and the harbor ice begins to solidify, Harry's concern for his seal friend grows. That's when he makes a phone call to the New England Aquarium in Boston. After explaining the situation, the aquarium agrees to take Andre for the winter.
[CAR STARTING AND DRIVING OFF]
RAY: So Harry loads Andre into the back of the family station wagon, and drives him down to Boston.
[SPRING BIRDS, ETC.]
RAY: When Spring comes a few months later…
[CAR STARTING AND DRIVING OFF]
RAY: Harry drives back down to Boston. He loads Andre back into the station wagon, then drives him to a nearby harbor just north of Boston. Harry walks Andre down to the water, points north and tells him to go home.
[SPLASH]
JEFF: After watching Andre swim off in the water, Harry jumps back in his station wagon, unsure if he'll ever see Andre again. But he does know the seal has to fend for himself. He is, after all, a wild animal. (BEAT) When Harry gets home to Rockport, he gets back to his harbor master duties and his daily life. But a few days later he's shocked.
[SEAL BARKING]
JEFF: Andre has returned to Rockport Harbor for the summer. All on his own.
RAY: Here's the crazy thing about harbor seals… they're not migratory animals. They stay put. Local biologists are baffled. But Harry Goodridge is not. Andre is family. And he's smart. He spends the summer wow-ing tourists, posing for more pictures, and even inspires an author to write a book about him.
JEFF: The following winter… the same thing. Harry drives Andre down to the New England Aquarium for the winter, then in the spring he brings him to the nearby ocean and drives home. But now, local media are waiting by the water for the return of Andre. And sure enough, the harbor seal swims home again.
RAY: Each spring, the same story plays out. One year, Andre showed up after only four days, another year it was two weeks, but Andre always came home. He's a summer fixture in Rockport Harbor year after year. Folks come down to the docks, and Harry and Andre put on a little show. It's nothing formal, they don't charge for tickets, and there's no exact schedule. People show up, and Andre performs.
JEFF: Andre is 19 years old when he gets the honor of serving in Harry's daughter's wedding. The 26 year-old bride is getting married on a float in the harbor. When it comes time for the best man to hand over the ring, on cue, Andre dives into the water where a diver was waiting with the wedding ring, the seal snatches up the box, and jumps back onto the harbor float, then waddles over to the best man to hand him the ring, just like they rehearsed. There's no end to Andre's charm.
RAY: It's 1986 when Harry realizes his friend Andre the seal is mostly blind from cataracts. Still, Andre performs as much as he can. But then it's June 14th when Andre is hanging out on Robinson's Rock in Rockport Harbor. That's when a younger, tougher seal approaches ready for a turf war.
[SEALS BARKING / SPALSHING]
RAY: The fight is vicious, and leaves Andre badly wounded and scarred. After that, Andre slips into the water and swims off.
JEFF: A month later, Harry Goodridge gets a tip about a seal found dead in this out-of-the-way spot near the harbor. When Harry checks the scene, he finds Andre has passed away. The famous seal found a quiet, secluded place to die. And that brings us back to today.
[TRANSITION]
JEFF: The granite statue of Andre the Seal was put in place while Andre was still alive. This is no monument or headstone, it's a celebration of everything the harbor seal embodied.
RAY: In 1994, Paramount Pictures put out a feature length family film about Andre in a film called… appropriately enough… Andre.
JEFF: For 25 years Andre served as the unofficial harbor master of Rockport Harbor. A whole generation of people grew up knowing the playful seal, and though his memory is fading as more decades pass since his death, we have this statue right here in the Rockport Marine Park to at least urge passers-by to ask the question: Who is Andre?
[OUTTRO]
RAY: I love stories of real animals that rise to legend status. It's great how this seal could steal the hearts of an entire region.
JEFF: Once something becomes immortalized in a statue, it seems to automatically reach legend status. If you want to see a picture of Andre the seal, just head over to our Web site and click on episode 177.
RAY: We'd also love it if you legendary listeners would consider becoming one of our beloved patreon patrons. For just $3 bucks per month you get early access to new episodes plus bonus episodes and content that no one else gets to hear. Just head over to patreon.com/newenglandlegends to sign up.
JEFF: We'd like to thank our sponsor Nuwati Herbals, and our theme music is by John Judd.
RAY: Until next time remember… the bizarre is closer than you think.