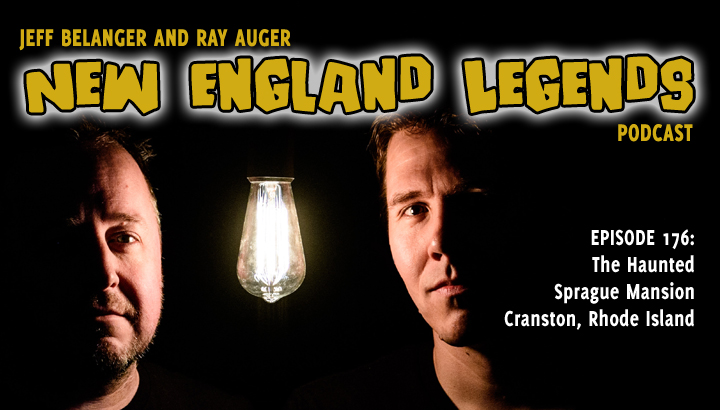 In Episode 176, Jeff Belanger and Ray Auger return to the scene of a New Year's Eve murder in Cranston, Rhode Island, in search of the events that lead to the haunting of the Governor Sprague Mansion. The accused man was hanged in 1845, but posthumously pardoned in 2011. So who done it? And who haunts the Sprague Mansion today?
CALL (OR TEXT) OUR LEGEND LINE:
(617) 444-9683 – leave us a message with a question, experience, or story you want to share!
BECOME A LEGENDARY LISTENER PATRON:
https://www.patreon.com/NewEnglandLegends
CREDITS:
Produced and hosted by: Jeff Belanger and Ray Auger
Edited by: Ray Auger
Theme Music by: John Judd
SUBSCRIBE TO THE PODCAST FOR FREE:
Apple Podcasts/iTunes | Google Podcasts | Spotify | Pandora | Stitcher | Amazon Podcasts | TuneIn | iHeartRadio | SoundCloud
JOIN OUR SUPER-SECRET:
New England Legends Facebook Group
EPISODE TRANSCRIPT:
*A note on the text: Please forgive punctuation, spelling, and grammar mistakes. Like us, the transcripts ain't perfect.
[WALKING IN SNOW]
JEFF: It's the last day of the year, we only have hours until it's January, so let me be the first to wish you a happy New Year, Ray!
RAY: Happy New Year to you too, Jeff. Although, I'm not sure walking through the parking lot of the old Cranston Print Works building in Rhode Island is the most festive place we could be right now.
JEFF: Probably not. Still, it's quiet out here today. And considering how desolate 2020 has felt for all of us, maybe this is the perfect place to leave the year behind.
RAY: Here's to better days ahead for all of us. This building does have a bit of a spooky vibe. Is this why we're here?
JEFF: This building, and that mansion across the street, play a central role in a New Year's Eve murder that led to a haunting. We're in Cranston looking for the ghosts of the Sprague Mansion.
[INTRO]
JEFF: I'm Jeff Belanger.
RAY: And I'm Ray Auger, and welcome to Episode 176 of the New England Legends podcast. If you give us about ten minutes, we'll give you something strange to talk about today.
JEFF: Cranston, Rhode Island, is the next stop on our mission to chronicle every legend in New England one story at a time. If you don't already subscribe to our podcast, please do because it's free, and we don't want you to miss a thing. Before we jump into this story of murder and ghosts, we want to take a minute to tell you about our awesome sponsor, Nuwati Herbals.
RAY: It's a new year, so we know many of you are going to make an effort to live a more healthy and clean lifestyle. We can't think of a better place to start, than Nuwati Herbals.
JEFF: Maybe it's time to put away those sugary, frothy, and expensive designer lattes and coffees, and swap them for some natural teas. When I'm feeling run-down, I pour myself a hot cup of The Healer Tea, or if I'm winding down for the day, I love Nuwati Herbals Cloud Walking Tea.
RAY: The New Year is all about self-care. Taking care of yourself inside and outside. You have to try a bath with Nuwati Herbals Wash My Pain Away Bath Salts. These are Native American-inspired products good for the mind, body, and soul. Herbal remedies from Mother Earth.
JEFF: Please support the people who are supporting us. AND our legendary listeners get 20% off your order when you use the promo code LEGENDS20 at checkout. Visit Nuwati Herbals dot com. That's N-U-W-A-T-I Herbals with an S dot com.
RAY: Make it your New Year's resolution. So, Jeff, we're in Cranston, Rhode Island, on New Year's Eve looking for the scene of a murder that led to a haunting?
JEFF: That we are. This is the story of one of the most powerful families in Rhode Island history. The Spragues were wealthy, they owned the print works, and they were influential, considering members of this family were state reps, and one was United States Congressman and then a governor of Rhode Island. They built that big mansion over there in 1790. They liked living close to their business interests, which would be the Print Works factory right over there. William Sprague III served as a United States Congressman from 1835 to 1837, then he was elected the Governor of Rhode Island in 1838, but that political career was cut short after an ugly murder that took place right nearby. Today, the big white mansion still stands as a testament to this family's wealth and power… and if we're to believe years of eye witness accounts, someone or something may still be lurking in the old mansion.
RAY: So you're saying the Governor Sprague mansion is haunted?
JEFF: That's what they say. And to figure out how that happened, we're going to head back to December of 1843.
[TRANSITION]
RAY: It's the afternoon of December 31st, 1843 here in Cranston. It's New Year's Eve, and Amasa Sprague has just left his family's mansion to go tend to his cattle.
[DOOR CLOSES]
[WALKING IN THE SNOW]
RAY: As Amasa walks across the street, then along the banks of the Pocasset River, he had some time to reflect on the year that's almost over, and think about the year ahead. As he walks, he's thinking about how events have turned out for he and his brother, William. Both brothers were elected to state legislature years earlier, but while William went on to a much bigger spotlight. Back then, it was agreed that Amasa would focus on the family businesses like the Print Works, the family's orchard, vineyard, their railroad, and the villages of mill houses they owned to house some of their employees, while William would press ahead with his political aspirations. He was already governor. Maybe one day he'd be president!
JEFF: Maybe Amasa was also reflecting on an argument he had a few days ago with John Gordon, the brother of a local store owner who had a shop right near the Print Works Mill. Maybe Amasa was doubting the recent actions he took against the store… only for a second before shaking it off. After all, business is business.
RAY: Amasa strolls along the banks of the river. It's a path he'd walked countless times before, and then he approaches the footbridge to cross the water to the other side.
[FOOTSTEPS]
RAY: Amasa is almost across the bridge when a man jumps out of hiding and starts beating him all over his body. In the confusion, Amasa can't tell if there's one man or more.
[FIST FIGHT]
RAY: Amasa tries to defend himself. But he's being hit from all over. A man pulls out a pistol. Amasa instinctively covers his face.
[PISTOL SHOT]
RAY: The bullet tears through Amasa's wrist. But there's no time to focus on the searing pain right now. He has to get away. Has to try and run for his life. That's when a man swings a club toward his head.
[THUD]
RAY: Everything goes black. Amasa's skull is crushed in. And the culprit… or culprits run off leaving the steaming, bloodied, and beaten corpse of Amasa Sprague behind.
[FOOTSTEPS RUNNING OFF]
JEFF: Back at the Sprague Mansion, Amasa's family can see the sun is setting. It's getting dark. Amasa should have been home by now. That's when they hear a frantic knock at the door.
[KNOCK]
JEFF: Some local men discovered the body of Amasa and carried him back to the mansion. Inside, they lay down his corpse to the horror of Amasa's wife and four children. It's a sight none of them will ever forget.
[FUNERAL ORGAN]
RAY: The funeral is held here in the mansion's front parlor. Given the prestige of the Sprague family, everyone in town is in attendance. And it doesn't take long for the rumor mill to start spitting out a suspect: John Gordon.
JEFF: John Gordon and his brother, Nicholas, are Irish immigrants who opened a store near the Sprague's Print Works. About a year ago, Nicholas applied for a license to sell booze in his store. The city of Cranston approved the license, but pretty quickly that created a problem for the Spragues. You see, their employees from the Print Works would stop by Gordon's store during lunch, buy liquor, and come back to their jobs drunk. So a few weeks ago, Amasa Sprague used the family's political influence to make sure the liquor license was revoked. John Gordon didn't like that one bit, and a few days ago, folks saw John give Amasa an earful about it.
RAY: And that's all it took…. John Gordon was angry about his brother losing the liquor license and all of that revenue, the two men were arguing just a few days ago, and then you add in the general anti-Irish sentiment of the times, and it's pretty quick that John Gordon is arrested for murder.
[JUDGE GAVEL]
JEFF: It's more or less a kangaroo court. The evidence is weak, and everyone knows it. Amasa's brother, William oversees the investigation. The only witness he can "find" – and I'm putting find in air quotes – is a local prostitute who claims she saw John Gordon murder Amasa Sprague by the bridge. She also couldn't tell which Gordon brother was John and which was Nicholas. But that doesn't seem to matter much to the jury. John Gordon is found guilty, and sentenced to hang.
RAY: The public is outraged at how quickly and unjustly John Gordon is sentenced to die with no evidence but an argument a few days before Amasa's New Year's Eve murder. The only person who seems happy with the outcome is William Sprague.
JEFF: And suddenly, people are starting to wonder. Few people believed John Gordon was actually guilty, but why was William so quick to make sure the man hanged? How come William took in Amasa's wife and children so fast after his brother's death? Was it because he's doing right by his brother, or because he's feeling guilty? More information is coming out about other arguments involving Amasa. Arguments between Amasa and his brother William over the direction of their businesses. Amasa was content to keep their business interests in Rhode Island where he could easily manage them, and William wanted to spread out and conquer the country and then the world. Could greed have been a motive for William to have his brother murdered on New Year's eve?
RAY: There's also a conspiracy theory that suggests maybe the Freemasons may have been behind the murder of Amasa Sprague.
JEFF: The Masons? Why?
RAY: Back in 1808, a Masonic Lodge opened up in Pawtuxet, the next town over from Cranston. That itself wasn't a big deal until about 1826, when a Mason named William Morgan published this expose on Masonic secrets. On September 11th of that same year, Morgan disappeared and was never seen again. Of course, everyone suspected the Masons were behind the abduction and murder because their secrets were exposed, but no one could prove anything. No matter, the public impression of the Masons began to sour after that. In 1832, when Amasa and William were both members of the Rhode Island General Assembly, both brothers helped pass legislation outlawing the Masons in Rhode Island. Could the Masons have waited a decade to murder Amasa to send a message to William who was now a prominent politician?
JEFF: Revenge is a dish best served cold, I guess.
RAY: It was mainly a conspiracy theory. Most people seemed to suspect William of the murder. And that dark cloud hung over William and this mansion ever since. And that brings us back to today.
[TRANSITION]
RAY: After Amasa Sprague's murder, the Sprague family fortunes didn't hang around very long. During the Financial Panic of 1873, the Spragues lost much of their wealth. By 1888, the family had to sell their mansion and all of their holdings, and the Spragues sort of faded into the yellowing pages of history after that. But the mansion is still here. And so are the Print Works buildings.
JEFF: The mansion has had a haunted reputation for decades now. Back in the 1960s, the building was in rough shape from neglect. There were plans to tear it down, but a local resident helped raise over $100,000 dollars to buy and restore the Governor Sprague Mansion. It seems like those renovations may have stirred up something supernatural.
RAY: When something bumps in the night, it's easy to connect those unexplained dots to the most tragic events associate with this property.
JEFF: Like the brutal murder of Amasa Sprague.
RAY: Right. But in reality, we don't know who or what might be behind those phantom footsteps. Or if those darting shadows are Sprague family members, servants who once worked here, or someone else entirely. Or maybe even the ghost of old John Gordon, who may never have stepped foot inside this mansion in life, but may haunt it in death as revenge for his unjust hanging.
JEFF: On February 14, 1845, John Gordon became the last person executed by the state of Rhode Island. In 2011, he was posthumously pardoned. And while that pardon makes some effort to right a wrong, it's more than a century and a half too late. Still we have an unsolved New Year's Eve murder, and a man who was hanged for a crime he didn't commit. No matter how many years go by, THAT will haunt us.
[OUTTRO]
RAY: We'd love it if you would haunt us! Post a review of our podcast, share your favorite episode on your social media, download our free New England Legends app right now for your smart phone, or call or text our legend line anytime at 617-444-9683. You can even leave our show closing on our voicemail.
JEFF: If you want even more legends and discussion, then you should join our growing group of patreon patrons! They get early access to new episodes, plus bonus episodes and content that no one else gets to hear. Just head over to patreon.com/newenglandlegends to sign up. It's just $3 bucks per month, and it helps us out a lot.
RAY: We'd like to thank our sponsor Nuwati Herbals, we'd like to thank you legendary listeners for riding along with us another year. We hope you all have a happy and healthy new year. And of course our theme music is by John Judd.
VOICEMAIL: Hey you guys this is Mark Dietz from Erie, Pennsylvania. Just want to say I love your podcast and the bizarre is only a podcast away. Keep up the good work. Thanks.