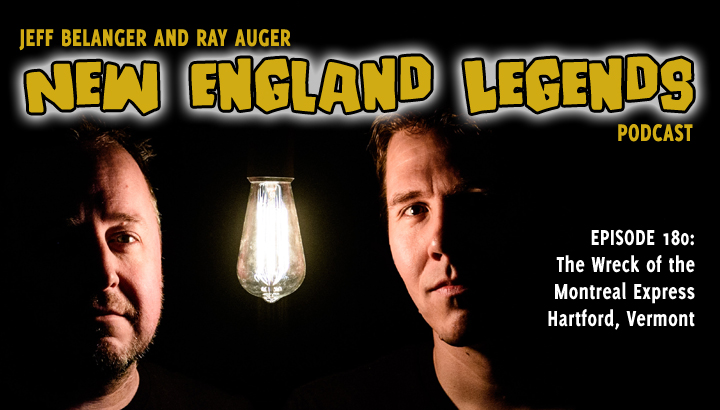 In Episode 180, Jeff Belanger and Ray Auger travel to the banks of the White River in Hartford, Vermont, searching for ghostly legends that dates back to 1887, when the Montreal Express train jumped the track just before bridge. The event led to a horrific loss of life, it changed the way the rail system operates, and left a stain on this region that can never be washed away.
CALL (OR TEXT) OUR LEGEND LINE:
(617) 444-9683 – leave us a message with a question, experience, or story you want to share!
BECOME A LEGENDARY LISTENER PATRON:
https://www.patreon.com/NewEnglandLegends
CREDITS:
Produced and hosted by: Jeff Belanger and Ray Auger
Edited by: Ray Auger
Theme Music by: John Judd
SUBSCRIBE TO THE PODCAST FOR FREE:
Apple Podcasts/iTunes | Google Podcasts | Spotify | Pandora | Stitcher | Amazon Podcasts | TuneIn | iHeartRadio
JOIN OUR SUPER-SECRET:
New England Legends Facebook Group
EPISODE TRANSCRIPT:
*A note on the text: Please forgive punctuation, spelling, and grammar mistakes. Like us, the transcripts ain't perfect.
[DRIVING]
JEFF: So we'll pick up Vermont Route 14 north here, and follow the White River.
RAY: It looks like we're leaving the small town of White River Junction, Vermont. How far up are we going?
JEFF: Just about four miles up is our destination. We'll pass through the town of Hartford, Vermont, and then it's mostly river and forest from there. (PAUSE) Keep your eyes open for a train bridge over the river.
RAY: Okay, there's a bridge coming up on our left.
JEFF: That's what we're looking for! Let's pull the car over here and get out.
[CAR STOPS, DOORS CLOSE]
JEFF: Ray, this may be one of the most haunted and haunting sites in all of eastern Vermont. We're standing on the banks of the White River looking for ghosts who date back to a train wreck.
[INTRO]
JEFF: Hello, I'm Jeff Belanger.
RAY: And I'm Ray Auger, and welcome to episode 180 of the New England Legends podcast. If you give us about ten minutes, we'll give you something strange to talk about today.
JEFF: We're so glad you're riding along with us on our mission to chronicle every legend in New England one story at a time. If you're new to this journey, please subscribe to our podcast. It's free! You can find us on Apple Podcasts, Google Podcasts, Pandora, Stitcher, Amazon, or wherever you listen to your podcasts. And please do us a favor and post a review for us. It goes a long way in helping others find us and share these stories.
RAY: You know who else is riding along with us?
JEFF: Who?
RAY: Our sponsor, Nuwati Herbals!
JEFF: Of course!
RAY: It's a New Year, I'm hopeful that with the vaccine for Covid, that maybe we're on our way out of this dark chapter of world history. And I'm ready to start looking and feeling better! I've been enjoying a bunch of different Nuwati Herbals teas these past few months, and now trying out their Toxaway Tea.
JEFF: The clean out the old system, right?
RAY: Toxaway is a loose tea that include: green tea leaf, fennel seeds, rhubarb root, ginger root, juniper berries, cloves, and a host of other ingredients that helps support a full-body detox.
JEFF: I may have packed on a few holiday pounds, and so I've been drinking Nuwati Herbals SeeLessO'Me loose tea.
RAY: Ha! Great name!
JEFF: If you follow me on Instagram, you've seen I've been hiking outside more this winter. And exercising more around my house. SeeLeeO'Me is a great addition to my healthier life. It tastes great, and keeps me satisfied during the mid-afternoon lull when I so badly want to reach for sugar.
RAY: Nuwati Herbals. Native American-inspired products. Herbal remedies from Mother Earth. Please support the people who are supporting us. AND our legendary listeners get 20% off your order when you use the promo code LEGENDS20 at checkout. Visit Nuwati Herbals dot com. That's N-U-W-A-T-I Herbals with an S dot com.
[RIVER RUNNING]
JEFF: Okay, Ray, let's walk along the banks of the White River here in Hartford, Vermont.
[WALKING]
RAY: It's pretty cold out here today. Winter is in full swing in Vermont. (BEAT) Okay, the train bridge is pretty rusty, but it looks like plenty of other railroad bridges I've seen. And though it's wide enough to be a river, you can see it's pretty shallow. Any kind of boat would have a hard time bottoming out in the shallow waters around the bridge.
JEFF: Of course, the bridge didn't always look like that. This is the place where a horrible wreck occurred, but sometimes it takes a disaster to change the way we do business, and make things safer for all of us.
RAY: Sad but true.
JEFF: To witness this disaster, we're going to head back to the winter of 1887 and set this up.
[TRANSITION]
RAY: It's February 4th, 1887. 7:00PM on-the-nose when the Boston-Montreal Night Express train pulls out of Boston heading north.
[TRAIN CHUGGING]
RAY: Carnaval is coming up in Montreal this coming Monday, and some people are heading north to take part in the experience. The train makes stops at Lowell and Lawrence, Massachusetts, then chugs north to Concord, New Hampshire. There are 37 passengers on board. Twelve are in the sleeper car, a couple of men are in the smoker car, and the rest are in the coach cars.
JEFF: Pulling the train is the engine, the E.H. Baker, a 45-ton tender. There's also a baggage car in the train heading north.
[TRAIN SLOWLY COMES TO A STOP]
JEFF: It's just after midnight when The E.H. Baker pulls into the station at White River Junction, Vermont.
RAY: Buuuut there's a problem.
JEFF: What's that?
RAY: The E.H. Baker is supposed to meet a train coming in from New York City. The schedule calls for the Baker to take on those additional New York passenger cars before heading north. But the New York train is running late. So… they wait.
JEFF: And wait…
RAY: And wait.
[TRAIN APPROACHING AND STOPPING]
RAY: Finally the New York train arrives an hour and twenty minutes late. The crew of the E.H. Baker train are not happy, but what can you do? As quickly as they can, they get the New York passenger coach car and sleeper car un-coupled. The work is difficult considering how cold it is outside. The fingers of the crew are slow to move due to the frigid temperatures, but they manage to get the job done. With the additional cars hooked up to the E.H. Baker, the new train—officially train number 50—rolls out of White River Junction at 2:10 AM.
[TRAIN LEAVING STATION]
JEFF: There are now 115 passengers on board now, and 12 crewmen heading north. The train picks up speed to about 25 miles per hour, as the porters fill the cast iron stoves in the uninsulated passenger cars with coal to make them as warm as possible. There are lamps hanging from the ceiling as well. Both whale oil and kerosene lanterns offer light to the passengers who are all settling in for the long ride.
RAY: Outside there isn't a cloud in the sky. The temperature is below zero, and the moon is shining brightly on the Vermont landscape. The experienced train crew are looking forward to an uneventful ride north.
JEFF: The engineer is tempted to keep his speed up considering their late start, but just four miles out of White River Junction, a 30-degree curve is coming up before the West Hartford Bridge—the bridge that will take Train Number 50 across the White River. Resisting temptation, the engineer slows the train to about 12 miles per hour for the crossing.
[THUMPING SOUND UNDER THE TRAIN]
RAY: Suddenly, the passenger car starts to sway back and forth, and now the car is being jostled. It's a rumble the passengers haven't heard before. But the conductor, who is making his way up from the smoker car, immediately knows what that sound and motion means…. The wheels of the passenger car are NOT on the rails! They're running over the wooden railroad ties. The conductor dives for the overhead cord that rings the alert bell in the engine.
JEFF: The train's engine is almost across the 640-foot-long West Hartford bridge when the emergency stop alarm bell rings.
[ALARM BELL]
JEFF: The engineer looks out the window to the rear of the train and watches in horror as the rear-most sleeper car is teetering off the bridge. As if in slow motion, the sleeper car leans and then falls more than 40 feet to the shallow icy waters below.
RAY: The rear sleeper car sets off a chain reaction of destruction as it pulls the next sleeper car down with it, then the two coach cars from the middle of the train also tumble over the side. Car-by-car, they tumble off the bridge down to the icy river below. Thankfully, after the fourth car fell, the coupling between the next two train cars breaks, leaving the smoker car, baggage car, engine and tender intact on the bridge. With the E.H. Baker engine now stopped on the bridge, this nightmare is far from over.
[BLAZING FIRE]
JEFF: The crew scrambles onto the thick ice covering the shallow river to see what they can do to help, and now they now see a new horror unfolding right in front of them. The wood stoves and oil lamps inside the passenger cars had been filled just ten minutes ago, and now they're quickly engulfing the fallen cars in flames.
RAY: The engineer and train's fireman race toward the burning cars as an inferno greets them. Most of the passengers had survived the forty-foot drop, but some are pinned by debris, others are now trapped behind a growing wall of flame. The engineer witnesses a tear-filled, older man stuck and partially crushed under wreckage watching the flames get closer as he hands his watch and some other personal belongings to his young son. It's awful, but this is no time to stare. Some survivors are squeezing themselves out of train windows and pulling other survivors to safety. The train's brakeman runs to a nearby house and borrows a horse and wagon to race for help four miles back at White River Junction.
JEFF: Those able to help are throwing snow on the burning cars desperately trying to buy time for the people trapped inside. Windows are smashed which offers a way to escape for some, but also oxygen to accelerate the fire inside. Fully engulfed in flames, the heat is too intense for survivors to help anymore. In another minute, any screams and cries for help from inside the cars stop. Anyone still inside the four cars, have no chance of survival.
RAY: Just twenty minutes after the derailment, it's over. 32 passengers and 5 crew members are dead. 50 are injured. For the survivors, there's another big problem. Temperatures are about 20 degrees below zero. Everyone has to find shelter right now, or risk dying from hypothermia. There's the Pingree family house near the southern end of the bridge, and the Paine farm near the northern end. Both homes are immediately turned into field hospitals, shelters, and morgues. When help arrives from White River Junction a short while later, all they can do is tend to the injured, and recover the charred bodies of the dead.
JEFF: It's 8:30 in the morning, when the E.H. Baker train pulls away from the West Hartford Bridge and continues its journey north with a heavy heart… And that brings us back to today.
[TRANSITION]
RAY: This is so tragic, Jeff. Do we know what caused the accident?
JEFF: This horrible disaster was thoroughly investigated. It was determined that a broken rail about 200 feet before the bridge set off a chain-reaction of disaster. We'll never know if the cold weather and some earlier train snapped that section of track before the Number 50 arrived, or if the Number 50's wheels hit it in just the wrong way, or what. But once the rail broke and the rear car's wheels left the track, it set off an unstoppable chain of events.
RAY: And at the worst possible time. With a 640-foot-long bridge just 200 feet away, there's no way to react and stop the train in time. If this had happened in an open field many more lives would have been spared. Possibly every life.
JEFF: Sometimes it takes a disaster to change an entire industry. Remember the story of the HMS Titanic?
RAY: Sure, there weren't enough lifeboats for the passengers and crew. More than 1500 people died when the ship sank. But after that horrible tragedy, maritime laws changed so passenger ships were required to carry enough lifeboats for everyone on board.
JEFF: That's right. It's like the entire world looked at that accident and said: never again! After 9-11, the doors to passenger plane cockpits were reinforced so no hijackers could force their way in again. The whole industry changed. And that's what happened here as well. If we head across the road to where we parked. Check out this plaque on the side of the road.
RAY: Okay, It reads: Disastrous Train Wreck. At 2:10 AM on February 5, 1887 the last car of The Montreal Express derailed causing three cars to fall from the bridge and crash on the ice of the White River 45 feet below. Embers from the coal stoves ignited the spilled oil of the lanterns and fire consumed the wreckage. As a direct result of the wreck, oil lanterns and coal stoves were abolished on railroad trains, and electric lights and steam heat were adopted.
JEFF: It's a shame that sometimes a bunch of people need to die in order to affect change. But sometimes, that's how we learn.
RAY: Though the Pingree and Paine houses are now gone, the area around the bridge is still haunted. I tell you what, when you know what happened right here, and when you see that bridge today… it haunts me too.
[OUTTRO]
JEFF: Between the sign and the story, let's hope we never forgot. It's worth pointing out that different sources list slightly different numbers as far as deaths go on this disaster. Some sources include those who died from their injuries a few days later, others only account for those dead by morning. We checked multiple newspaper accounts from the day.
RAY: If you'd like to see some pictures from the Montreal Express train wreck, you should head to our Web site and click on Episode 180. On our Web site you can also check out our entire archive of shows, video clips from the New England Legends television series that you can watch right now on Amazon Prime, you'll find episode transcripts for the deaf, and a link to our super secret Facebook Group where thousands of other legend seekers are sharing some great stories and experiences.
JEFF: We'd also love it if you'd join our growing list of Patreon patrons! These legendary listeners get early access to new episodes, plus bonus episodes and content that no one else gets to hear. Just this past week we sent out a bunch of New England Legends window clings and stickers to our patrons, because they're the backbone of what we do. Want in on it? It's just $3 bucks per month. Head over to patreon.com/newenglandlegends to sign up.
RAY: We do appreciate our patrons.
JEFF: We also appreciate our sponsor, Nuwati Herbals, and our theme music is by John Judd.
RAY: Until next time remember… the bizarre is closer than you think.