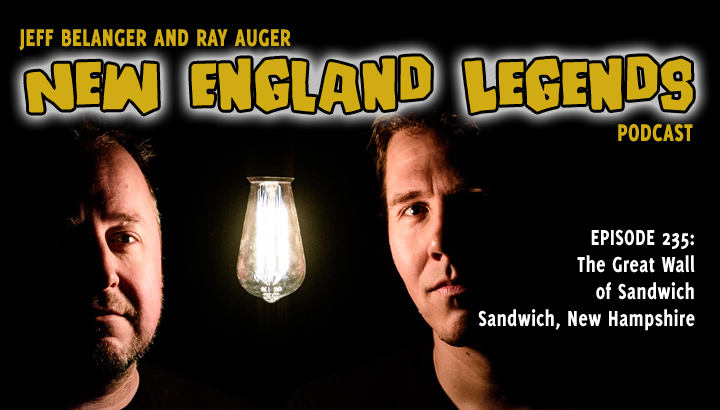 In Episode 235, Jeff Belanger and Ray Auger explore the Great Wall of Sandwich, New Hampshire. Built in the 1870s by inventor and business mogul Isaac Adams, this roadside oddity was built out of spite. As a youth, he vowed to return to Sandwich one day and buy up every farm in town.
CALL (OR TEXT) OUR LEGEND LINE:
(617) 444-9683 – leave us a message with a question, experience, or story you want to share!
BECOME A LEGENDARY LISTENER PATRON:
https://www.patreon.com/NewEnglandLegends
CREDITS:
Produced and hosted by: Jeff Belanger and Ray Auger
Edited by: Ray Auger
Additional Voice Talent: Tim Weisberg
Theme Music by: John Judd
SUBSCRIBE TO THE PODCAST FOR FREE:
Apple Podcasts/iTunes | Google Podcasts | Spotify | Pandora | Stitcher | Amazon Podcasts | TuneIn | iHeartRadio
JOIN OUR SUPER-SECRET:
New England Legends Facebook Group
EPISODE TRANSCRIPT:
*A note on the text: Please forgive punctuation, spelling, and grammar mistakes. Like us, the transcripts ain't perfect.
[CAR DRIVING]
RAY: I'm getting hungry, Jeff. Can we stop for lunch soon?
JEFF: We can. And we're in the perfect town for a mid-day meal. Welcome to Sandwich, New Hampshire, Ray!
RAY: (GROAN) I get it. SANDWICH. There's also a Sandwich, Massachusetts, out on the Cape.
JEFF: That's true, but today our destination is the town of Sandwich in central New Hampshire. Make a right up here onto Little Pond Road.
[BLINKAH]
RAY: Okay, got it.
JEFF: And what we're looking for is just ahead on the left.
RAY: Wow! Okay, I see a huge stone wall running along the side of the road. There's a big stone pillar at the beginning with a white statue on top.
JEFF: Pull over here, because this is what we're here to see. We're in Sandwich, New Hampshire, to visit the Great Wall of Sandwich, a roadside oddity built out of spite.
[INTRO]
JEFF: Hi, I'm Jeff Belanger and welcome to Episode 235 of the New England Legends podcast. If you give us about ten minutes, we'll give you something strange to talk about today.
RAY: And I'm Ray Auger, thank you for joining us on our mission to chronicle every legend in New England one story at a time. Most of our story leads come from you! Like this one! Thanks to Jack Sengstaken for tipping us off. If you've got a weird local story you think we should check out, please do get in touch with us through our Web site, through social media, or in our super secret Facebook group.
JEFF: Be sure to tune in after the credits at the end of the episode for a new segment we've recently added to the podcast we call the post-legend-riff. Now before we get to this great wall of spite in Sandwich, we want to take just a minute to thank our patreon patrons!
RAY: Our patreon patrons are a special group of people who help keep our podcast going and growing. They help with our hosting costs, production and marketing costs, and everything else it takes to keep us bringing you a new podcast for 235 weeks in a row now. For just $3 bucks per month they get early access to new episodes, plus bonus episodes and content that no one else gets to hear.
JEFF: We'd appreciate your support. You know that great content isn't free, and most people aren't going to sign up. If you can help the cause, please head over to patreon.com/newenglandlegends. You can also find links on our Web site.
RAY: Okay, Jeff. This wall in Sandwich looks rather stately.
JEFF: It does.
RAY: Now, there's thousands of miles of stone walls in New England.
JEFF: Sure. There's one in my back yard. The old colonial-era walls are everywhere. Colonists settled this land, found endless supplies of rocks, and had to move them if they're going to farm, build homes, and things like that. Those old stone walls often marked property lines.
RAY: Right, but those walls are maybe knee-high and sit in a pile. Sometimes people took the time to make them neat and square, but mostly they're just thrown together. This wall in Sandwich looks nothing like those.
JEFF: No, it doesn't.
RAY: This Great Wall is five or six feet tall, depending on where you're standing. It's ten feet wide. And clearly square and well-built. And it runs about 1,000 feet down Little Pond Road, before turning northwest into the woods. The whole wall sits on private property, but there's plenty you can see from here on the street.
JEFF: Plus, there's this large stone pillar at the beginning with a white statue at the top.
RAY: The statue is a robed figure leaning forward with an outstretched arm.
JEFF: That statue is of Niobe. Niobe is from Greek mythology. She's the daughter of Tantalus, and the wife of Amphion, a son of Zeus.
RAY: And you said earlier that all of this was built out of spite?
JEFF: That's what they say. To find out how this wall got here, and who built it, we're going to head back to 1824 and meet Isaac Adams.
[TRANSITION]
RAY: It's the summer of 1824, and a 22-year-old local boy named Isaac Adams isn't doing well.
JEFF: Why's that?
RAY: To answer that, we should offer a little more background on him. Isaac was born in Rochester, New Hampshire. His father died when Isaac was young, leaving his widow behind with five children to care for. So by age nine, Isaac was sent to live with his uncle. The young boy had no formal schooling, but loved to learn, and he loved books and literature. When he turned 12, Isaac spent the next three years working at a cotton mill in Dover, New Hampshire, before taking an apprenticeship with a cabinet maker, which is what eventually landed him in the town of Sandwich here in the summer of 1824.
JEFF: Isaac is ambitious. Focused. He's got big-dreams. Sandwich isn't big enough for Isaac and his dreams, and that rubs a few people the wrong way.
RAY: If he can just get to Boston, maybe he can make those big city dreams and plans happen, and start a new life for himself. The only problem is… Isaac… is broke.
JEFF: With no savings to his name, Isaac reaches out to his wealthy boss…
[KNOCK KNOCK KNOCK]
JEFF: To ask for a loan. …
[DOOR SLAM]
JEFF: That does NOT go well. In a fit of rage, Isaac yells through the closed door…
ISAAC: I can work my way to Boston and I shall do so, and when I come back, I will be able to purchase your farm, if not all the farms in Sandwich!
RAY: So Isaac scrimps and saves. He skips meals in order to pool enough money to get himself to Boston.
[HORSE AND CARRIAGE]
[CROWD NOISE IN BOSTON]
RAY: Isaac arrives in Boston knowing no one, and nearly penniless. But he quickly finds work with a machinist. After two years, he finds himself working for a machine shop that services most of the printing presses in the city.
[OLD PRINTING PRESS UNDER NEXT LINES]
RAY: While fixing up the printing presses, Isaac can't help but see flaws in their design. His brain is working overtime dreaming up ways that these machines could be better. Faster. More efficient.
[STEAM HISS]
JEFF: Isaac designs and develops a steam-powered press that revolutionizes the industry. It speeds up production significantly. Faster production means lower costs of books, making the printed word that he loves so much, available to more people. By 1828, the 26 year-old Isaac Adams is on his way to fortune.
RAY: In the coming decades, hundreds of print shops around the world acquire an Adams Steam Press. And Isaac Adams is growing very wealthy. Isaac buys real estate in Boston. But he never stops thinking about the small town of Sandwich, New Hampshire.
JEFF: In fact, Isaac sends his son, Isaac Junior, to boarding school at the Sandwich Academy. We know from a letter to his son, that Isaac is a hard-ass, who has no problem pressuring his children. This is what Isaac wrote to his son.
ISAAC: If you read the Bible, you will find a law by which stubborn children were to be stoned to death! This law is supposed by many to have been decreed by God himself… I could say a deal more on this subject, but I think you will perceive from the above that all wise and good people always have deemed it absolutely necessary to prosperity that children should love and obey their parents.
RAY: While his son trembles in fear at school, Adams is growing richer and more powerful. He'll go on to serve on the Massachusetts Senate, and even tries to run for Mayor of Boston. He has ambitions, but seems to lack the temperament needed to navigate politics.
JEFF: Judging by his letter, I can see why. It's 1859 when Isaac Adams sells his steam press patent for $100,000 and turns his manufacturing company over to his youngest son. Isaac is determined to keep his word about buying up the farms back in Sandwich where he plans to retire.
[HORSE CARRIAGE]
RAY: And boy does he keep his word! Isaac, his wife Anna, and their three youngest children move back to Sandwich. First he buys the old Clough House on the Sandwich Academy land. In the coming years he'll expand the house, plus build other buildings on the property.
JEFF: He's also buying land. Lots of it. In the coming years he'll buy up 2,600 acres in Sandwich and the neighboring town of Moultonborough. Adams sees himself as a bit of land baron now. Lord of his castle. He hires groundskeepers, and pays top dollar to have statues and landscaping placed around his vast property.
RAY: Having acquired several statues in Europe, Adams wants some of these works proudly displayed. And that's when he comes up with an idea for a wall. A great wall that will encompass his entire property and feature these statues on top of the wall for all to see.
[HAMMERING ON STONE]
RAY: Pretty soon 100 men and 50 yoke of oxen are hard at work bringing in the stones, and constructing the wall.
JEFF: Meanwhile, Isaac is getting involved in local politics. He's stubborn, and vengeful. He's carried that grudge since he first left Sandwich. He wants to run this town. He's elected selectman, Representative to the General Court, Moderator of the Town Meeting, and Treasurer of the School Fund Note, which oversees funds for the poor. He's ambitious, and doesn't take kindly to criticism.
RAY: Back home, though, Isaac has his own troubles. He and his wife are known to have had some epic quarrels. Anna has been seen more than once chasing her husband out of the house waving her broom at him.
JEFF: Isaac wants things his way, not matter what logic or anything else may dictate. He even looks into building a canal to connect Little Pond on his property to Lake Winnipesaukee. His idea was to make Little Pond a salt water pond so he could raise lobsters and other salt water fish. No matter how many people told him this will never work, the stubborn Isaac never stopped thinking about his own supply of fresh lobsters. Though he didn't get his salt water pond, he did get his Great Wall, and that brings us back to today.
[TRANSITION]
JEFF: Though the town's memory of Isaac Adams faded over time, his wall remained. This big, audacious wall. There were even rumors that the wall is so wide so he could ride his horse and carriage on it to show off to the world.
RAY: That's funny, but doesn't make much sense. First, how would you get the horse and carriage up there? And second, there are many segmented breaks in this big wall. You couldn't ride on it very far.
JEFF: Though the other statues are all gone now, Niobe remains. But even this statue feels a bit like a middle finger to the people of Sandwich.
RAY: How so?
JEFF: According to Greek Mythology, Niobe was punished by Apollo because she had excessive pride in her children.
RAY: We all know someone like that.
JEFF: So the interpretation is that maybe Isaac Adams saw himself as Apollo, and the people of Sandwich are his children. Niobe is there to look down on them from her high pedestal. That is until 1941.
RAY: What happened in 1941?
JEFF: Back in 1941, a hurricane reached this part of New Hampshire and toppled the statue, breaking it into hundreds of pieces. Those pieces were saved in a nearby barn and sat there for 70 years until they were sort of re-discovered and reassembled so she could be placed once again on the pedestal by the Great Wall of Sandwich.
RAY: There's something so permanent about stonework. Building something big out of stone, in a way, makes you immortal. It stands long after you're gone as a testament to your greatness. It forces people to look at what you made and ask the question: who built this and why?
[OUTTRO]
JEFF: And who can blame us if we not only wonder about the backstory behind these large projects, but maybe over speculate.
RAY: Roadside oddities have a way of doing that. They stand out, which is part of the point.
JEFF: Speaking of standing out, our super-secret Facebook has almost 7,000 members now. It's a great group of people sharing weird stories, pictures from their own legend trips, and all kinds of other content you may enjoy. It's free to join us there. And you should also download or free smartphone app so you don't miss a thing we have going on.
RAY: We'd like to thank Tim Weisberg from Spooky Southcoast Radio for lending his voice acting talents this week, and our theme music is by John Judd.
JEFF: Are you ready for a little post-legend riff?
Until next time remember… the bizarre is closer than you think.