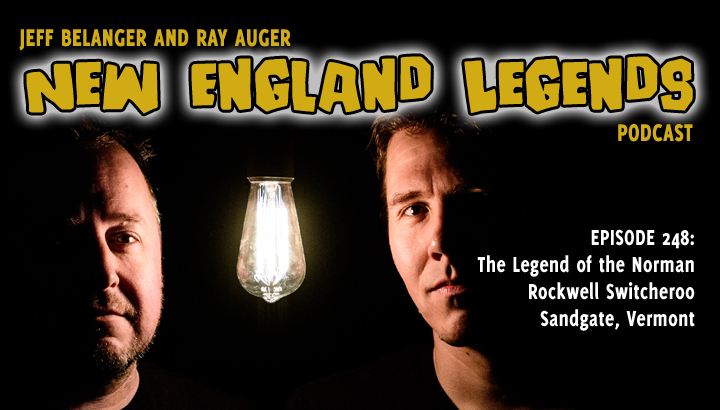 In Episode 248, Jeff Belanger and Ray Auger head to Sandgate, Vermont, to try and solve the mystery of a Norman Rockwell masterpiece painting called "Breaking Home Ties" that was proudly displayed in the Norman Rockwell museum between 2002 and 2006. The only problem is the museum painting was a fake. What happened to the original?
CALL (OR TEXT) OUR LEGEND LINE:
(617) 444-9683 – leave us a message with a question, experience, or story you want to share!
BECOME A LEGENDARY LISTENER PATRON:
https://www.patreon.com/NewEnglandLegends
CREDITS:
Produced and hosted by: Jeff Belanger and Ray Auger
Edited by: Ray Auger
Theme Music by: John Judd
SUBSCRIBE TO THE PODCAST FOR FREE:
Apple Podcasts/iTunes | Google Podcasts | Spotify | Pandora | Stitcher | Amazon Podcasts | TuneIn | iHeartRadio
JOIN OUR SUPER-SECRET:
New England Legends Facebook Group
EPISODE TRANSCRIPT:
*A note on the text: Please forgive punctuation, spelling, and grammar mistakes. Like us, the transcripts ain't perfect.
[MYSTERY MUSIC]
RAY: I can tell by the music there's a mystery to solve in these hills of eastern Vermont.
JEFF: There is indeed, Ray. We've come to the small town of Sandgate, Vermont, because a crime was perpetrated here decades ago.
RAY: Ooooo true crime. Always a winner with podcast fans. Are we talking murder? Grand theft? Something worse?
JEFF: We're here to investigate a painting that rocked the art collecting world. A painting by a legendary artist who once called New England home, in fact he's buried in Stockbridge, Massachusetts.
RAY: Hmmmm I THINK I know who you're talking about.
JEFF: Between 2002 and 2005, a donated Norman Rockwell masterpiece called "Breaking Home Ties" was displayed in the Norman Rockwell Museum in Stockbridge… but it turns out that painting… was a forgery.
[INTRO]
JEFF: Hello, I'm Jeff Belanger.
RAY: And I'm Ray Auger, and welcome to Episode 248 of the New England Legends podcast. Thank you for joining us on our mission to chronicle every legend in New England one story at a time.
JEFF: Be sure to keep listening after this week's story to After the Legend where we take a deeper dive into this topic, and occasionally swim into unrelated waters.
RAY: Also, maybe we should say, welcome to the AWARD-WIINNING New England Legends podcast!
JEFF: That's right!
RAY: This past week our podcast won its first Communicator Award. There were more than 4,000 entries from all over the world for the 28th annual awards judged by industry leaders in print, audio, and video mediums. We're deeply honored to be ranked among the best. So thank you!
JEFF: Hear hear!
RAY: Before we try to solve this mystery of a counterfeit Normal Rockwell masterpiece, we want to take a minute to tell you about our sponsor Nuwati Herbals!
JEFF: Actually, Ray, I think our friends at Nuwati Herbals have a message for us….
NUWATI: This is Rod Jackson, founder of Nuwati Herbals, checking in to congratulate Jeff and Ray for winning the 2022 Communicator Award for the New England Legends podcast. Our company has been a proud sponsor of this incredible podcast for quite some time. We know that you both will keep winning awards as the legend continues.
RAY: Thank you, Rod! We couldn't do what we do without the support of you and Kimberly, and everyone at Nuwati Herbals.
JEFF: Since we ARE award-winning storytellers, it's no surprise we often sip Storyteller Tea from Nuwati Herbals. The all-natural herbs and ingredients help us stay focused and remembering all the details. Storyteller tea has ingredients like green tea leaf, Hawthorn Flowers and Hawthorn berries…
RAY: Nathaniel Hawthorne… THERE was a New England Legendary storyteller.
JEFF: True, the Hawthorn berry is spelled slightly different, but we know what they mean. Did you know in Celtic mythology the Hawthorn is one of the most sacred trees? It's also known as a fairy tree, and it symbolizes love and protection. Because Nuwati Herbals understands that great stories need to be protected and nourished before they're shared.
RAY: Let Nuwati Herbals help support your healthy lifestyle. Check out the Nuwati Herbals Web site to see all of their great products AND you get 20% off your order when you use the promo code LEGENDS20 at checkout. Visit Nuwati Herbals dot com. That's N-U-W-A-T-I Herbals with an S dot com.
JEFF: Ray, are you ready to try and solve this art caper?
RAY: I am. So, when I think of Norman Rockwell, I think of those iconic Saturday Evening Post covers.
JEFF: No doubt. Rockwell painted 323 original paintings for the Saturday Evening Post over his long and storied career. His first cover published in 1916, and his last was in 1963. So almost half a century of covers. Rockwell painted for other publications and projects too, right up until the end of his life in 1978 when he died at age 84 at his home in Stockbridge, Massachusetts.
RAY: So what brings us to Sandgate, Vermont?
JEFF: We're standing outside the home of another artist named Don Trachte. Trachte was famous in his own right. He took over the Henry comic strip after its creator died in 1948. Trachte continued to work on the syndicated comic strip until 1995 when he retired and the comic went into reruns.
RAY: Ohhhh I remember the Henry comic strip. I always thought it felt kind of old fashioned in a Family Circus kind of way.
JEFF: Henry was discontinued in 2018. I've always been in awe of people who can draw and paint. It's a talent I completely lack, but would love to have.
RAY: I get it. I can't draw either.
JEFF: Don Trachte had a bunch of artist friends in this region. People like Grandma Moses, Mead Schaeffer, and…. Norma Rockwell who was once a neighbor to Trachte in Arlington, Vermont, the next town to the south of Sandgate. In fact, Trachte was a model for Normal Rockwell a few times. They all admired each other's work quite a bit. Anyway, to solve this Rockwell forgery caper, let's head back to 1962.
[TRANSITION]
RAY: It's the summer of 1962 here in western Vermont. Life is pretty simple. You work hard. You deal with the seasons and the weather. You try to make a better life for your kids than you had for yourself. In short, life around here looks like… well… it looks like a Norman Rockwell painting.
JEFF: It does, which makes sense considering Norman Rockwell lived in Arlington, Vermont, from 1931 to 1953. Those were some prolific years for the famous painter. Many a Saturday Evening Post covers were painted right around here.
RAY: Rockwell is already a national treasure, and as you can imagine, folks in Arlington and the surrounding towns are proud to call him one of their own. Even though Rockwell was born in New York City, folks in western Vermont are willing to look past that.
[DOOR OPEN / DINGLE BELL]
JEFF: Don Trachte has just walked in to a local art gallery, one that proudly displays a Norman Rockwell original. A painting called "Breaking Home Ties," which graced the cover of the Saturday Evening Post on September 25, 1954. Ray, take a look at this masterpiece.
RAY: Wow… Man, there's a whole story in this painting. There's an older man wearing blue jeans and a blue denim shirt sitting hunched over on the running board of the family truck. He's holding his hat in his hand, a cigarette hangs from his mouth and he's looking off to nothing in particular. You can tell he's stoic, but deep in thought. Sitting next to him is a boy, sitting up straight, wearing a tan suit and tie, looking off in the other direction, presumably waiting for a train because he has a train ticket sticking out of his pocket. There's a collie dog sitting at the boy's feet resting his head on the boy's knee, and there's a suitcase between the boy's feet with a red sticker that says "State U." on it.
JEFF: It's incredible how Rockwell has captured the emotion of this moment.
RAY: Yeah, you don't need to be an art snob to see that this working class father is sending his boy off to college. Probably the first person in his family to go to college. There's pride and sadness. It's all there in this 44-inch by 44-inch painting.
JEFF: We're not the only people enamored by Rockwell's "Breaking Home Ties," painting. Don Trachte is mesmerized too. (PAUSE) He's so mesmerized, it looks like he's going to purchase his friend's painting.
[CASH REGISTER DING]
JEFF: Trachte hands over $900 dollars…
[DOOR OPEN / DINGLE BELL]
JEFF: And walks out the proud owner of a Rockwell masterpiece.
RAY: $900 is a LOT of money for a piece of art.
JEFF: It is. No question.
RAY: But this art means a great deal to Don. His friend painted it. It's a masterwork from an American treasure. Even if the high price causes a little rift in his home about the extravagant spending, he still believes it's worth it.
JEFF: Back at his Sandgate, Vermont, home, Don hangs his new art treasure on his wall in his studio. It's inspiring to see such a master work nearby as he spends his days drawing the Henry comic strip for newspapers all over the country.
RAY: It's two years later, and demand for Norman Rockwell originals is only getting bigger. An art collector reaches out to Don Trachte and offers him $35,000 for his "Breaking Home Ties" painting.
JEFF: So his $900 investment from just two years ago is now worth $35,000?!
RAY: That's right.
JEFF: The stock market couldn't offer a return like that in its best years! That's amazing!
RAY: Normal Rockwell thinks so too. Rockwell tells Trachte he's a fool not to take the money. Don's wife also seems eager for them to cash in. I mean, they're not poor, but the life of a cartoonist doesn't exactly make the family overly wealthy either.
JEFF: For Don, this painting represents more than just money. It's an artistic treasure. It was created by his friend. It means more to him to have it on his wall. It's Don's most prized possession. So the wall of his home studio is where the painting remains.
RAY: From here we jump ahead another eight years. It's 1973, and though the Henry comic is going quite well, and life in Sandgate, Vermont is good for Don, his marriage is NOT doing well. Don and his wife are going through a divorce. And as can happen during these troubled times, couples will argue as they divide up their assets. Don is most concerned with his Norman Rockwell painting, and seven other original paintings he's acquired from some of his artist friends.
JEFF: This is difficult, right? If the Rockwell painting was worth $35,000 eight years ago, who knows what it could be worth today in 1973! Plus seven other originals? Let's say all of them together are appraised at $500,000 – a number I'm truly pulling out of the air. Don Trachte paid nowhere near that amount for them, and the only way they're worth that hefty sum is if someone is willing to pay it.
RAY: Right, I follow you.
JEFF: So if you and I were getting divorced, it would follow that I could buy out your half of the paintings for $250,000.
RAY: Checking your math… yeah, that sounds about right.
JEFF: What if I don't have anywhere near that kind of money to buy you out? Plus, we still have the house to divide, and everything else.
RAY: I see your point. It's not like a retirement fund that has a certain amount of money in it, and we each take half.
JEFF: Exactly. Ultimately it's decided that the eight paintings will become the possession of their four children. It's an agreement both people can live with…
[JUDGE GAVEL THREE TIMES]
JEFF: So it's decided in court, and life goes back to the new normal for the divorced family. Don goes back to drawing Henry, and admiring the Norman Rockwell painting that he no longer technically owns.
RAY: From here, we're going to jump ahead almost three decades to 2002. The Henry comic strip stopped in 1995, and Don has mostly been living the retired life. Now 86 year-old, Don Trachte and his family agree to loan his "Breaking Home Ties" painting for display in the Norman Rockwell Museum in Stockbridge, Massachusetts.
JEFF: The Rockwell Museum is thrilled to display such a masterpiece. And museum patrons are thrilled to see it up close! But…
RAY: What?!
JEFF: Nah, I'm sure it's nothing.
RAY: Come onnnn, what's going on?
JEFF: Well, some of the experts are concerned. Some of the colors seem a little off from the original Saturday Evening Post cover.
RAY: Couldn't that be the printing? Coloring wasn't perfect on those printing presses back in 1954.
JEFF: That's true. I'm sure it's nothing, but, some have their doubts about this painting. Still, it hangs on these hallowed halls for the next four years. Some so-called experts may have their doubts, but the patrons love seeing the work. Some even suspect the curator of the Rockwell museum of maybe making a forgery and hiding away the original for private sale. Rumors will fly when there's doubts, I suppose.
RAY: Don Trachte dies May 4th, 2005. He was 89 years old.
JEFF: Meanwhile, Don's children hang on to the family homestead in Sandgate, Vermont. It still means something to them. It's almost a year later in March of 2006, when Don's children are cleaning up their father's old studio. That's when Trachte's sons Dave and Don, Jr. notice a strange gap in the wood paneling of one of the walls in the studio. When they give it a shove, a false wall suddenly slides open….
[SLIDING DOOR]
JEFF: And there before them are eight original paintings, including Norman Rockwell's "Breaking Home Ties." The brothers' mouths hang open as it dawns on them everything that has happened. And THAT brings us back to today.
[TRANSITION]
RAY: So the painting in the Rockwell Museum in Stockbridge WAS a forgery!
JEFF: It was. Don Trachte painted replicas of those original paintings, we suspect, because he didn't want to lose them to his estranged wife in the divorce. And perhaps he was concerned his children, being the legal owners, might do something foolish. We'll never know. Don never left a note explaining why. He took the secret to his grave.
RAY: Okay… ready for this?
JEFF: I'm ready.
RAY: In 2006, months after finding it, the Trachte children sold Norman Rockwell's "Breaking Home Ties," at auction for $15.4 million dollars. The highest price ever paid for a Rockwell original at the time.
JEFF: It sounds to me like they didn't do anything foolish.
RAY: No, they got rich!
JEFF: Art is so subjective. I could look at one piece of art and be moved to tears, you might look at the same thing and say, "Meh!" One piece of art could be worth millions of dollars to me, while that same piece of art, you might pay someone $20 to take it off your wall and throw it away for you.
RAY: I get that. "Breaking Home Ties," meant the world to Don Trachte. He paid a hefty sum for it, and took great pains to duplicate the work in order to keep from losing it, but in the end… you can't take it with you when you die.
[OUTTRO]
JEFF: No, you can't take it with you. And that brings us to After the Legend, where we take a deeper dive into this week's story, and sometimes we veer of course. It's tough to tell.
RAY: After the Legend is sponsored by Seaside Shadows!
JEFF: Seaside Shadows offers a blend of history and mystery on their guided tours of southern New England. We can't think of a better way to walk into a community's past, than through its ghostly tales and legends. Joining us again this week from Seaside Shadows to tell us about another New England true crime mystery is company founder, author, historian, and storyteller, Courtney Reardon!
COURTNEY: Hey Jeff and Ray, thanks for having me back. We definitely have some true crime tales down in southeastern New England. In fact, in the 1890s, there was a case so bizarre that locals and historians alike are still trying to make sense of what happened. After the tragedy of Maryann Sheffield's death from childbirth, she left behind a toddler and a newborn with her husband, Frank, an impoverished school teacher. Unbeknownst to her, prior to her passing, her beloved and recently incurred blunt force trauma to the head at the workplace via the school bell. Her death and that injury set the Sheffield family on a path of tormented lives and heinous outcomes such as… well, no spoilers. You'll find out when you join us on a Seaside Shadows tour of Elm Grove Cemetery in Mystic.
RAY: Head over to SeasideShadows.com to learn about all of their upcoming events and tours, including an Evening with the Haunted Collector, John Zaffis! There's always something new going on at SeasideShadows.com, and you can book your experience right online. Start your tour of local legends, lore, and true history.
Please be sure to subscribe to our podcast wherever you get your podcasts, because it's free! And be sure to share these episodes with a friend or two. It's how our community continues to grow.
We'd like to thank our sponsors, Nuwati Herbals and Seaside Shadows, we'd like to thank our patreon patrons – head over to patreon.com/newengland legends to get early access to new episodes, plus bonus episodes and content that no one else gets to hear, and our theme music is by John Judd.
Until next time remember… the bizarre is closer than you think.