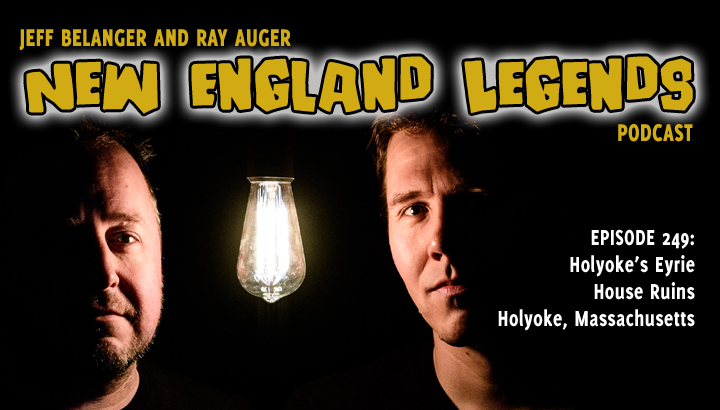 In Episode 249, Jeff Belanger and Ray Auger hike up Mt. Nonotuck in Holyoke, Massachusetts, in search of the Eyrie House Ruins. The site was a once-popular hotel and resort in the latter half of the 1800s featuring live music, a menagerie of exotic animals, and incredible views. But a horrible tragedy took away owner William Street's castle in a single night back on April 13th, 1901. There was a funeral pyre that went horribly wrong.
CALL (OR TEXT) OUR LEGEND LINE:
(617) 444-9683 – leave us a message with a question, experience, or story you want to share!
BECOME A LEGENDARY LISTENER PATRON:
https://www.patreon.com/NewEnglandLegends
CREDITS:
Produced and hosted by: Jeff Belanger and Ray Auger
Edited by: Ray Auger
Theme Music by: John Judd
SUBSCRIBE TO THE PODCAST FOR FREE:
Apple Podcasts/iTunes | Google Podcasts | Spotify | Pandora | Stitcher | Amazon Podcasts | TuneIn | iHeartRadio
JOIN OUR SUPER-SECRET:
New England Legends Facebook Group
EPISODE TRANSCRIPT:
*A note on the text: Please forgive punctuation, spelling, and grammar mistakes. Like us, the transcripts ain't perfect.
[WALKING THROUGH THE WOODS]
RAY: It's a great day for a stroll here in the woods of Holyoke, Massachusetts, Jeff.
JEFF: It is. This path will take us up a hill to a pretty spot that overlooks the nearby Connecticut River, and the Mt. Tom mountain range.
RAY: Woah… I think I see our destination up ahead.
JEFF: Yup, that's it.
RAY: There are big stone walls and stone archways. It almost looks like an old castle. And I can see some stone cellar holes up here too. Whatever this building was, it was pretty big! And clearly it hasn't been a building for a long time. It's spooky just standing here.
JEFF: It is. Ray, we've come to the woods of Holyoke to explore the haunting Eyrie House Ruins.
[INTRO]
JEFF: Hi, I'm Jeff Belanger, and welcome to Episode 249 of the New England Legends podcast.
RAY: And I'm Ray Auger. Thanks for joining us on our mission to chronicle every legend in New England one story at a time. We're a community of legend seekers who love sharing stories through this podcast, through the New England Legends television series, and on our Web site. We're glad you're with us.
JEFF: Did you know on our Web site there's an archive of every episode of our show with related photos, there's video clips, plus a calendar that tells you were you can see Ray perform with his band The Pub Kings, and all of the conferences and stops on my ongoing Story Tour?
RAY: It's worth a visit for sure. And be sure to keep listening to After the Legend, the second half of the podcast where we take a deeper dive and SOMETIMES get distracted. Now, before we explore these spooky ruins in the woods of Holyoke, Massachusetts, we want to take just a minute to tell you about our sponsor, Nuwati Herbals!
JEFF: Nuwati Herbals has so many great, all-natural products that have become part of my daily life. Anyone who has listened for a while knows I don't drink coffee. I never have, but I love tea! And Nuwati Herbals has some of the best. The Healer Tea, Storyteller Tea, and their Cloud Walking Tea just to name a few! And… I have it on the highest authority that two NEW tea flavors will be available soon. Keep your eye out for Blueberry Cinnamon and Peach 'Nilla! BUT they also have some great all-natural products you should keep around the house. Like their Moccasin Tracks Balm.
Pronounced: Call-en-jullah, Mull-yen
RAY: Right! Moccasin Tracks Balm from Nuwati Herbals was originally developed for burns and minor skin irritations. It's great for that, but you should also keep some Moccasin Tracks Balm in the kitchen for the times you forget that frying pan is still hot! The sooner you put it on the burn, the better. The white willow bark helps with the pain and the Calendula, Mullein and Plantain help to soothe and promote healing. Moccasin Tracks is also great for bug bites, rashes, cold sores, diaper rash… it's amazing how many skin conditions this will sooth.
JEFF: Let Nuwati Herbals help support your healthy lifestyle. Check out the Nuwati Herbals Web site to see all of their great products AND you get 20% off your order when you use the promo code LEGENDS20 at checkout. Visit Nuwati Herbals dot com. That's N-U-W-A-T-I Herbals with an S dot com.
RAY: Okay, Jeff, first, Holyoke, Massachusetts, is the birthplace of volleyball.
JEFF: I didn't know that. But I did know nearby Springfield, Massachusetts, is the birthplace of basketball.
RAY: Two huge international sports were born within miles of each other. Volleyball was invented in Holyoke by William G. Morgan in 1895 at the local YMCA. Today the town is home to the International Volleyball Hall of Fame.
JEFF: Hmmm… I wonder if Morgan ever spent any time at the Eyrie House Inn? He was around at the right time.
RAY: I see the spelling on the trail sign. It looks like it should be pronounced Eerie.
JEFF: I see that. It's spelled E-Y-R-I-E… but pronounced Airy. The word refers to the large nest of a bird of prey –like an eagle.
RAY: No matter how you spell it, this place IS eerie.
JEFF: Fair enough. There's something about the way nature slowly creeps, crawls, and grows into and around buildings once we walk away. Almost like nature's trying to swallow these buildings back down into the earth. So the Eyrie House was once a hotel and resort. A popular one too! People came here for fine dining, the views, and the pretty setting. But it was all lost in a single act… a funeral pyre that marked the end of an era. Let's head back to 1861 and see this once-great hotel.
[TRANSITION]
RAY: It's the early summer of 1861. President Abraham Lincoln just took office back in March, and the Civil War began back in April. The nation is at war with itself, but here in Holyoke, Massachusetts, far from the front lines, folks are trying to keep things business as usual.
Pronounced: Non-a-tuck
JEFF: 22 year old William Street and his business partner, Hiram Farnum, want to get away from it all as much as the next person, so they lease 10 acres of land on the summit of Mt. Nonotuck in Holyoke, and they start building a hotel.
[HAMMERING SAWING]
RAY: Boy, this hotel isn't very large at all. It's more like a small house! Hold this measuring tape, Jeff.
JEFF: Okay.
RAY Okay, it's 26 feet wide By 22 feet. This place is really small!
JEFF: It is, it's basically a place to sleep while you take in the beauty. William Street calls this place Eyrie House, a home in the clouds at the top of the mountain. The hotel officially opens July 4th 1861. Room and board is $1 per day or $5 dollars per week.
RAY: This IS a pretty spot. And another benefit is that on hottest summer days, there's often a breeze up here at the top of Mt. Nonotuck. Pretty soon, picnickers and others make their way to this remote building.
JEFF: By August, after an argument, Hiram Farnum quits the business leaving it to William Street to manage on his own. Street purchases the land he was leasing, and sees a bright future ahead.
RAY: Between the live bands Street brings up here, and the views, the Eyrie House is looking like a success.
[SPRINGS SOUNDS]
[HAMMERING AND SAWING]
RAY: In the coming years, William Street builds on to the Eyrie House. The crowds are growing as does the reputation. There's still live music, and upwards of one hundred people per day are coming up here to walk the grounds, have picnics, listen to the bands, and experience the Eyrie House.
JEFF: It's 1866, when Street adds something new for visitors to see…
[MONKEY SCREECH]
RAY: Wait… is that a monkey?!
JEFF: It IS a monkey. Street fancies himself a collector of animals, and now he's building a menagerie up here on Mt. Nonotuck.
[HAMMERING AND SAWING]
RAY: More years go by, as do more expansions. Street also buys more land on Mt. Nonotuck. By the late 1870s, the Eyrie House now also features a pavilion that can hold 400 people. And now there's a horse stable too. The hotel has doubled in size and now features 25 guest rooms. In the coming years, an 80-seat dining room is added, as are promenades, and even the menagerie is growing. There's a bear…
[BEAR GROWL]
RAY: And an alligator!
[ALLIGATOR GROWL]
JEFF: Is this really a good idea to add a bear and an alligator?
RAY: William Street seems to think so. (BEAT) In the off-season, Street lives up here mostly alone taking care of the property. He enjoys his dual life as a hermit in the winter, and then hotel host in the summer. Eyrie House offers the best of both lives.
[WINTER SOUNDS BLEND INTO SPRING SOUNDS]
RAY: More winters and springs pass. It's now 1893, and the Eyrie House Inn is getting rough around the edges. The New England seasons are taking their toll on the old wooden structure, and William Street is frugal. He's not keeping up the place as much as he should. This place is Street's castle! He doesn't see the flaws, but when enough rotted boards and problems are pointed out to him, he figures maybe it's time the Eyrie House starts to LOOK like a castle.
[STONE HAMMERING]
JEFF: Tons of stones and cement are carted up to the top of Mt. Nonotuck. Imposing walls with stone archways are built on part of the hill just below the existing wooden structure. The plan is to make this four-story, stone inn. Fireproof. Castle Like. Including a cog railway to bring up visitors. The construction will take years to complete.
RAY: Part of the reason for this substantial investment has to do with competition. The Mt. Tom Summit House and Railway Park opens in 1897. There's also Prospect House at the top of Mt. Holyoke just across the Connecticut River. There's more options for people. More places they can go for their leisure time.
JEFF: The pressure is on William Street. He's got to make the Eyrie House even bigger and better.
[WINTER SOUNDS BLEND INTO SPRING SOUNDS]
JEFF: It's now the Spring of 1901. April 13th. Though 13 is an unlucky number, William Street isn't superstitious. But he's got some dark work to do today. Two of his horses have recently died. Because there's so much rock in the ground, he can't dig a hole for the horses, so his plan is to drag their bodies to a small clearing away from the stables and pavillion… chop up some wood…
[CHOP CHOP CHOP]
JEFF: And build a funeral pyre to burn the horses bodies.
[BLAZING FIRE SLOWLY FADES]
RAY: With the bodies burned, and the grisly work finished, William shovels some of the embers toward the middle of the pyre, and he retires back up to the Eyrie House Inn for the night. Being so early in the season, he's the only person on the mountain tonight.
[CRICKETS]
RAY: It's 8PM when William notices a strange orange glow outside of his window. It's unlike any light he's seen before, especially at night. When he walks to his window to get a better look, his mouth drops in horror when he sees the monster coming up the hill.
JEFF: Oh no!
RAY: There's a raging fire quickly climbing up the hill and heading toward the Eyrie House Inn. William knows there's no time to waste.
[BLAZING FIRE]
[RUNNING DOOR OPENS]
JEFF: William grabs a shovel and any other tools he can to try and fight the blaze. He's trying to divert the burn away from the hotel. Realizing he's not going to win this fight, he races back into the hotel building to rescue whatever items he can.
[RUNNING]
RAY: Meanwhile, this blaze can be seen in Northampton, Easthampton, and Holyoke. There's nothing locals can do but watch as the entire 900-foot mountain is engulfed in flames.
JEFF: Inside the Eyrie House, William grabs a telescope, some souvenirs, and bedding. In his escape from the mountain, William burns he hand badly. But he races down the mountain with his precious few items from the hotel and his life.
RAY: By morning, Mt. Nonotuck and the Eyrie House Inn lie in ashes. William Street realizes that his funeral pyre must not have been completely extinguished. An ember must have caught on a breeze, and set the blaze in motion.
JEFF: Even worse, the ever-frugal William Street was grossly underinsured on his property. There's over $10,000 in damage, and he's only insured for $2,000. He'll have nowhere near the money it would take to rebuild. There's nothing for William Street to do but walk away. He finds himself a shack out in the woods, and lives the rest of his days as a hermit. The ruins of Eyrie House Inn are left to nature. And that brings us back to today.
[TRANSITION]
RAY: The Mt. Tom Reservation Commission made attempts to purchase William Street's land to make it part of their new nature preserve. When no agreement could be reached, The Mt. Tom group took the land by eminent domain. They deposited $5000 into an escrow account in William Street's name, but being too proud, Street never took the money. Street died in 1917 at the age of 78. He never cashed that check.
JEFF: The Springfield Sunday Republican newspaper covers the story the day after the blaze. The article claims that by 11 PM, the entire Inn was ashes, and the mountain burned itself out soon after.
RAY: If you'd like to visit the ruins, there's a well-marked trail in the Mt. Tom Reservation that takes you to the top.
JEFF: Not only do you have to contend with nature, poison ivy, and the snakes who like to duck in and out of the stone walls, but some say you can still feel the presence of old William Street's ghost still walking the grounds of his former hotel, still waiting to take in guests once more.
[OUTTRO]
RAY: The stone ruins, the history… sometimes it feels like certain places just have memories, doesn't it?
JEFF: It does, and that brings us to After the Legend sponsored by Seaside Shadows!
RAY: Seaside Shadows offers a blend of history and mystery on their guided tours of southern New England. Joining us again this week from Seaside Shadows to tell us about another New England true crime mystery is company founder, author, historian, and storyteller, Courtney Reardon!
COURTNEY_249: Hey Jeff and Ray, thanks for having me. Funeral practices definitely have a storied history in New England, and it seems like all of them come with some kind of eerily memorable happening. In historic Concord, Massachusetts, the same funeral home has been in use for over two centuries and is seated at the base of Sleepy Hollow Cemetery. Some of Concord's most famous residents such as Emerson, Alcott, and Hawthorne, all took a final carriage ride up the ridge to their final resting place in a carriage still kept by the noted funeral parlor today. And sometimes, it's still in use if need be. Each of the noted authors had their own fascination with death and the afterlife, claiming various spiritual experiences before their own end. From corpse finding to spooky tales, on our Concord tours, we walk in the footsteps of their tales of life, death, and what comes after.
JEFF: Head over to SeasideShadows.com to learn about all of their upcoming events and tours, murder mystery dinners, pub crawls, and more. There's always something new going on at SeasideShadows.com, now open in Westerly, Rhode Island and Concord, Massachusetts! You can book your experience right online at SeasideShadows.com. Start your tour of local legends, lore, and true history.
Please be sure to subscribe to our podcast wherever you get your podcasts, because it's free! And be sure to share these episodes with a friend or two. It's how our community continues to grow.
We'd like to thank our sponsors, Nuwati Herbals and Seaside Shadows, we'd like to thank our patreon patrons – head over to patreon.com/newengland legends to get early access to new episodes, plus bonus episodes and content that no one else gets to hear, and our theme music is by John Judd.
Until next time remember… the bizarre is closer than you think.