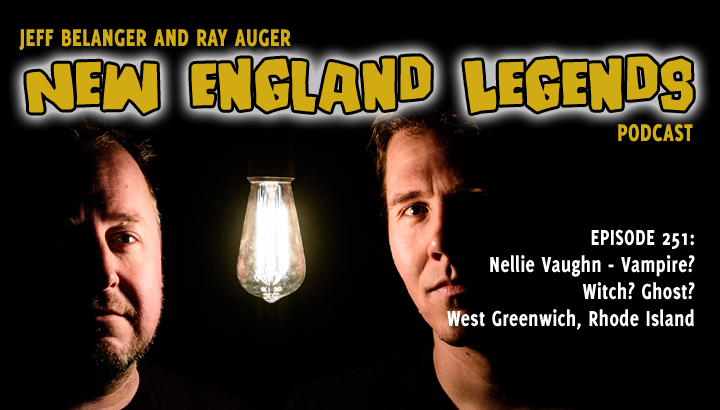 In Episode 251, Jeff Belanger and Ray Auger explore Plain Meeting House Cemetery in West Greenwich, Rhode Island, searching for the lost grave of Nellie Vaughn. Some say she was a vampire. Others claim she was a witch. More believe her restless spirit still haunts this boneyard trying to right a wrong from decades ago. Could this be a case of mistaken identity?
CALL (OR TEXT) OUR LEGEND LINE:
(617) 444-9683 – leave us a message with a question, experience, or story you want to share!
BECOME A LEGENDARY LISTENER PATRON:
https://www.patreon.com/NewEnglandLegends
CREDITS:
Produced and hosted by: Jeff Belanger and Ray Auger
Edited by: Ray Auger
Theme Music by: John Judd
SUBSCRIBE TO THE PODCAST FOR FREE:
Apple Podcasts/iTunes | Google Podcasts | Spotify | Pandora | Stitcher | Amazon Podcasts | TuneIn | iHeartRadio
JOIN OUR SUPER-SECRET:
New England Legends Facebook Group
EPISODE TRANSCRIPT:
*A note on the text: Please forgive punctuation, spelling, and grammar mistakes. Like us, the transcripts ain't perfect.
RAY: What is it about these old New England boneyards, Jeff?
JEFF: There's definitely a vibe to them, Ray. The old headstones, the strange epitaphs, and of course the fact there's hundreds of dead bodies just six feet down below us.
RAY: Right. There's THAT.
JEFF: Some headstones become tourist attractions because someone famous or even infamous is buried there. Other headstones become iconic because of what they say.
RAY: Is that why we've come to the Plain Meeting House Cemetery in West Greenwich, Rhode Island? Because there's a famous headstone here?
JEFF: Yes and no.
RAY: What do you mean?
JEFF: There WAS a famous headstone here, but it's been vandalized so many times, it's been removed. They say there was a witch and a vampire buried here and now the whole place is haunted. And that headstone once bore the ominous epitaph: I am waiting and watching for you.
[INTRO]
JEFF: I'm Jeff Belanger, and welcome to Episode 251 of the New England Legends podcast.
RAY: And I'm Ray Auger. Thank you for joining us on our mission to chronicle every legend in New England one story at a time. We're always on the hunt for tales of ghosts, monsters, eccentric people, odd history, true crime, roadside oddities, and other weirdness in New England. And we get most of our story leads from you! So please reach out to us anytime through our Web site, our social media, or through our super secret Facebook group. And be sure to keep listening to After the Legend, the second half of this podcast.
JEFF: Ray, Father's Day is coming up soon.
RAY: It is.
JEFF: We're both dads.
RAY: We are.
JEFF: And this month we were named Number 2 in Podcast Magazine's Top 50 Dads in Podcasting! There's a really cool 4-page interview and article on us in their latest edition. So thanks for that.
RAY: It's an honor to be in there for sure. Before we go looking for witches and vampires in this Rhode Island cemetery, we want to take just a minute to tell you about our sponsor, Nuwati Herbals!
JEFF: This is a BIG week for Nuwati Herbals!
RAY: Why's that?
JEFF: Because this week they officially launch two NEW tea flavors just in time for summer! Kimberly and Rod from Nuwati have told us some of the first batch is on the way to us and I can't wait!
RAY: First, there's Blueberry Cinnamon. A BERRY good blend….
JEFF I get it!
RAY: It's got real blueberries, cinnamon, of course, green tea leaf, and other natural ingredients. Blueberries have antioxidants, and they're so good for you. Try a cup with your breakfast.
JEFF: And then there's Peach Nilla – which contains peach, of course, vanilla, lemon balm leaf, and other natural ingredients. This tea is also naturally caffeine free and perfect whether you want it hot or cold. Ray, we're New England guys.
RAY: We are.
JEFF: But our friends in the south know how to make better ice tea. The trick is if you're going to add sugar, you need to add it while the tea is hot, because the sugar melts and blends better. Then cool it down with ice, and enjoy. There's a pro tip.
RAY: Nuwati Herbals also has many other flavored teas that are perfect for every mood. You've got to get to their Web site and try them for yourselves.
JEFF: Let Nuwati Herbals help support your healthy lifestyle. Check out the Nuwati Herbals Web site to see all of their great products AND you get 20% off your order when you use the promo code LEGENDS20 at checkout. Visit Nuwati Herbals dot com. That's N-U-W-A-T-I Herbals with an S dot com.
RAY: Okay, so we're at Plain Meeting House Cemetery in West Greenwich, Rhode Island.
JEFF: We are.
RAY: It's called Plain Meeting House Cemetery because it sits right next to Plain Meeting House.
JEFF: Yup. You can't miss the Meeting House.
RAY: And it's well named! That building is as plain and plain can be. It's a simple rectangle. Not very big. One story, with two doors on one side, and four windows on each of the two long sides.
JEFF: It was built in 1822 as a meeting house to be used by all local Christian congregations. And though Plain is a good description of what it looks like, it's called Plain because it was built on the plain of West Greenwich Center. The church who used the building most often was the West Greenwich Baptist Church, which is why this cemetery is sometimes called the West Greenwich Baptist Church and Cemetery.
RAY: Got it.
JEFF: But we're not here for the Meeting House, we're here for the graves. One grave in particular. We're looking for the final resting place of Nellie Vaughn. Some say she was a witch! Others a vampire! They say grass and flowers won't grow on the gravesite. That it's sinking into the ground because her body isn't there!
RAY: Wow. Okay, let's look for her headstone.
JEFF: That isn't there anymore either! To figure out what happened, let's head back to 1889…
[TRANSITION]
[WINTER WIND]
RAY: It's March of 1889 here in West Greenwich, Rhode Island. It's been a cold winter, but Spring is finally coming around. At the Vaughn household, 19 year-old Ellen is sick.
[WOMAN COUGHING]
RAY: Though her given name is Ellen, everyone calls her Nellie. She's been sick for a few days, and it's getting worse. Her parents George and Ellen are concerned.
JEFF: Her family and neighbors are worried that this could be the wasting disease. Consumption. Or tuberculosis as it's more formally known. There's been plenty of it going around over the years in this area. Whole families have been wiped out. Anytime someone so much as coughs, everyone's nerves get jittery.
[WOMAN COUGHING]
RAY: There she goes again. It's late March, and Nellie is only getting worse. The family physician pays the Vaughns a visit. He doesn't believe Nellie has consumption. The doctor believes it's pneumonia… which can be just as deadly.
JEFF: As the days go by, Nellie's condition deteriorates. She's gasping for breath as she slowly drowns in her own sickness. It's March 31st when Nellie draws her last breath.
[RASPY SIGH]
JEFF: Heartbroken, the family bury her on their farm.
RAY: The spring of 1889 turns to summer, and then to fall. The Vaughn family is doing their best to move on without their beloved Nellie. However, Nellie's story isn't over yet. Though she's buried, Nellie's mother petitions the town of West Greenwich to exhume her daughter and move the body to the Plain Cemetery. On October 26th… permission is granted.
[DIG DIG DIG]
JEFF: So Nellie is exhumed and moved. The superstitious sort may call that a bad omen. Some figure bodies need to stay buried where they're buried. But obviously it's the family making these decisions. They're being both respectful and careful.
[DIG DIG DIG]
JEFF: At Plain Cemetery, Nellie Vaughn is reinterred into the grounds, and a headstone is placed for her marker. Ray, read the inscription.
RAY: Okay, it says… Nellie L. Daughter of George B. and Ellen Vaughn. Died March 31, 1889, in the 19th year of her age. Woah… this last line is ominous. It says: I am waiting and watching for you.
JEFF: Creepy, right?
RAY: Very creepy. Still, everything else about this headstone looks pretty basic as far as size and shape. It fits in here at the Plain Cemetery.
JEFF: It does.
RAY: Sooooo…. Earlier you said we were looking for a vampire or a witch?
JEFF: I did. Our next stop is to jump ahead in time 75 years.
[TRANSITION]
[SCHOOL BELL]
JEFF: It's October of 1964, and class is in session at Coventry High School. Ray, you know how hard it is to keep the attention of students.
RAY: Of course! It's an endless battle for teachers. I gave my teachers their fair share of aggravation in my school years.
JEFF: It's no different here at Coventry High. Sometimes you gotta dangle a carrot. For one teacher… that carrot is spooky local stories. This teacher spins the yarn that there was once a local girl back in the late 1800s. People believed she was a vampire. That she would feed on her victims in the night. They even dug up her body! It's all true, this teacher told her class. It was in the newspapers. They burned her heart on a rock to try and break the vampires curse. She's watching and waiting for you…
RAY: Year after year her students hear that story. And some get curious. Curious enough to go searching.
[SQUEELING CAR TIRES]
RAY: One night a bunch of kids from the Coventry soccer team pulls in to Plain Meeting House Cemetery. And there they find the grave of Nellie Vaughn. And there's the inscription at the bottom: I am waiting and watching for you.
JEFF: The kids notice the grass doesn't seem to grow on Nellie's grave. And there appears to be a depression in the ground. Almost like the grave has sunk in!
RAY: As more years go by, more kids come searching for Nellie's grave. Some break off chunks of the headstone as a souvenir. Others are more destructive and break the stone, knocking it over. Everyone is intrigued by the vampire or witch that is Nellie Vaughn… and that brings us back to today.
[TRANSITION]
JEFF: Okay, so there's a lot to unpack here.
RAY: This story sounds familiar.
JEFF: It should!
RAY: Exhuming the body. Burning the heart. We've heard this before.
JEFF: We sure have. Back in Episode 84 of the podcast, we explored the story of Mercy Brown, the Rhode Island Vampire from Exeter, Rhode Islands, which of course is the next town south of West Greenwich.
RAY: So was Nellie Vaughn believed to be a vampire?
JEFF: Okay, quick refresher on vampires for those who are new to New England Legends. Long before Twilight, Count Von Count from Sesame Street, Nosfaratu, and Bram Stoker's Dracula, vampires of folklore were walking corpses who fed on the vitality of the living. They're around in times of plagues, especially consumption. When medical science doesn't have an answer… folklore always does. Stop the vampire, and you may break the curse.
RAY: Right. When you're scared and desperate, you'll try anything to save your loved ones and yourself. We've seen it before.
JEFF: Mercy Brown wasn't a vampire either. She was a young woman sick with tuberculosis, in a family that was hit hard by this plague so they tried something extreme. No one believed Nellie Vaughn was a vampire at the time of her burial, or shortly thereafter, which is the critical time period for someone to accuse you of being a vampire. After you're in the ground for a few years, you're not usually a suspect anymore.
RAY: So it sounds like this school teacher was telling pieces of the correct story of Mercy Brown. But either through a miscue, or something else, students identified Nellie Vaughn as being the vampire instead of Mercy Brown.
JEFF: That's pretty much what happened. So many people came here looking over the years, that her grave was trampled. Grass didn't grow. And eventually the headstone was vandalized so many times that they took it down. Today Nellie Vaughn has no marker.
RAY: There are plenty of old burials here at Plain Cemetery.
JEFF: There are.
RAY: And like most self-respecting New England Cemeteries, this one also has a haunted reputation. There are reports of the apparition of a ghostly woman in old-time dress floating through the boneyard. Many assume it's Nellie Vaughn's restless spirit, angry that her body had been moved from its original resting place on the family farm. Or that she's angry that her grave has been desecrated. Or that her spirit is around to right the wrong of calling her a vampire.
JEFF: This gets to the heart of a legend. They're living, breathing, entities. They're born, they can relocate, marry, and die. But a legend can only die if we stop talking about it.
RAY: If not for this teacher's story and mistaken identity, Nellie Vaughn would have been just another name in a sea of gravestones.
JEFF: She would.
RAY: But there's still that epitaph. "I am waiting and watching for you."
JEFF: The funny thing about that epitaph is it's not unique. Other headstones around New England have used it, or one like it. Those kinds of epitaphs got trendy, but then seemed creepy later. Add a good story behind those ominous words, and you've got a legend we're still talking about today.
[OUTTRO]
RAY: These stories are worth talking about for so many reasons. And that brings us to After the Legend sponsored by our friends at Seaside Shadows!
JEFF: Seaside Shadows offers a blend of history and mystery on their guided tours of southern New England. Joining us again this week from Seaside Shadows to tell us about their new Westerly, Rhode Island tour is company founder, author, historian, and storyteller, Courtney Reardon!
COURTNEY_251: Hey Jeff and Ray, thanks for having me. Rhode Island certainly has no shortage of spooky tales about witches, vampires, and ghosts, and in fact that's exactly why we're opening a brand new tour location in historic Westerly, Rhode Island, this summer. Just down the road from Masquamecut Beach, the booming little city on the banks of the Pawcatuck River, is abundant with supernatural tales. We hope you can join us on our Seaside Shadows ghost tour of Westerly as we walk through the quiet Wilcox Park and reflect on the importance of the Babcock and Wilcox families industrialization with steam boilers. And the granite industry forming monuments and gravesites throughout the country. And know the small town also has some supernatural secrets that will be told by lantern light. Westerly's tales of pirate treasure, true crime, bonafide witches, terrifying shipwrecks, and true paranormal encounters will be told in our brand new ghost tour.
RAY: SeasideShadows.com is the place to find out about all of their tours, both in person, and virtual, their events, and murder mystery dinner. Follow them on social media, and head over to SeasideShadows.com to start your tour of local New England legends, lore, and true history.
Please be sure to subscribe to our podcast wherever you get your podcasts, because it's free! And be sure to share these episodes with a friend or two. It's how our community continues to grow.
We'd like to thank our sponsors, Nuwati Herbals and Seaside Shadows, we'd like to thank our patreon patrons – head over to patreon.com/newengland legends to get early access to new episodes, plus bonus episodes and content that no one else gets to hear. And our theme music is by John Judd.
Until next time remember… the bizarre is closer than you think.