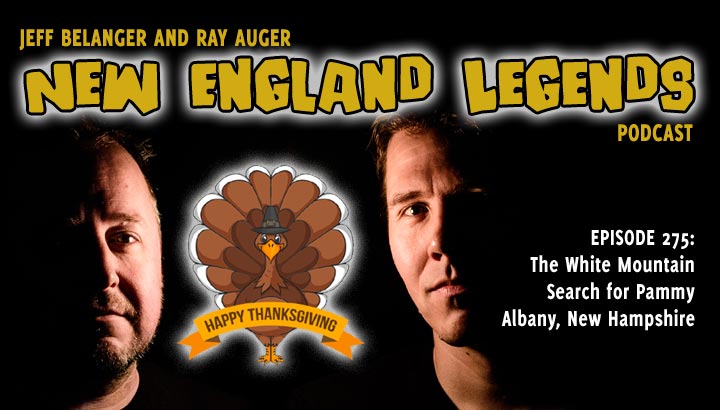 In Episode 275 – the Thanksgiving Special – Jeff Belanger and Ray Auger search the White Mountains near Albany, New Hampshire, for Pamela Hollingworth, a five-year-old girl who went missing back in the Autumn of 1941. What followed was one of the largest and most closely-watched search parties to ever grace the region. For days New Englanders held their breath waiting for news of little Pammy's fate.
BECOME A LEGENDARY LISTENER PATRON:
https://www.patreon.com/NewEnglandLegends
CREDITS:
Produced and hosted by: Jeff Belanger and Ray Auger
Edited by: Ray Auger
Theme Music by: John Judd
SUBSCRIBE TO THE PODCAST FOR FREE:
Apple Podcasts/iTunes | Google Podcasts | Spotify | Pandora | Stitcher | Amazon Podcasts | TuneIn | iHeartRadio
JOIN OUR SUPER-SECRET:
New England Legends Facebook Group
EPISODE TRANSCRIPT:
*A note on the text: Please forgive punctuation, spelling, and grammar mistakes. Like us, the transcripts ain't perfect.
[TURKEY GOBBLE]
[WALKING IN WOODS]
JEFF: Happy Thanksgiving, Ray!
RAY: Happy Thanksgiving to you too, Jeff. Did you see that wild turkey just run by?
JEFF: I did! They always seem extra nervous this time of year. But wild turkeys aren't an uncommon site up here in the White Mountains of New Hampshire.
RAY: That's true. So we're standing next to Iona Lake in the small town of Albany, New Hampshire. Right off of Route 16. It's not that large of a lake, but it's pretty, nestled here in the White Mountains.
JEFF: It is. There are places to picnic nearby, and of course many thousands of acres of forest and mountains where you can get… lost.
RAY: Hmmmm is that why we're here? Was something lost around here?
JEFF: Not just something. Someone. We've come to Albany, New Hampshire, to search for Pamela Hollingworth, a five -year-old-girl who went missing.
[INTRO]
JEFF: I'm Jeff Belanger.
RAY: And I'm Ray Auger, and welcome to Episode 275—the Thanksgiving Special—of the New England Legends podcast. Thanks for joining us on our mission to chronicle every legend in New England one story at a time.
JEFF: We're thankful for you! We are. And if you appreciate us in your lives each week, we'd love it if you'd post a review for us on Apple Podcasts, or share an episode on your social media, or tell a friend or two about our show. YOU are the way we grow. And not only can you subscribe to our podcast wherever you get your podcasts, you can also listen to us each week on WMRC MyFM 101.3 radio in Milford, Massachusetts. If you know a local radio station who would like to broadcast our episodes, have them reach out. It's free!
RAY: Before we go searching for little lost Pamela Hollingworth, we want to take just a minute to tell you about our sponsor, Nuwati Herbals!
JEFF: And before we thank Nuwati Herbals for not only having our backs for so many episodes now, and for all of their great teas and other all-natural products, Nuwati Herbals founder Rod Jackson has a message for us.
ROD: Kimberly and I want to thank both Jeff and Ray for all you do to promote Nuwati Herbals. And to all the thousands of New England Legends podcast listeners, we appreciate your support and the many orders you've sent in. The entire Nuwati team wishes everyone a safe, healthy, and happy Thanksgiving.
RAY: Thank you, Rod! To you, Kimberly, and everyone at Nuwati Herbals, we appreciate you as well. Please support the people who are supporting us. The holidays are here, don't forget that Nuwati Herbals makes many great gifts for the people in your lives.
JEFF: Let Nuwati Herbals help support your healthy lifestyle. Check out the Nuwati Herbals Web site to see all of their great products AND you get 20% off your order when you use the promo code LEGENDS20 at checkout. Visit Nuwati Herbals dot com. That's N-U-W-A-T-I Herbals with an S dot com.
[WALKING IN THE WOODS]
RAY: Okay, Jeff. We're both dads.
JEFF: We are.
RAY: I can't think of anything worse than to have one of your kids go missing.
JEFF: I agree. We've all been in a grocery store or department store, and your kid is right behind you.
RAY: Yep. You turn around for a second to look at something, and when you look back, your kid is gone. Your heart starts to race. You start yelling out their name. You're sweating.
JEFF: My kid's been kidnapped! She fell into something. And then…
RAY: And then they come out from behind some clothes rack giggling.
JEFF: Right. Missing for 30 or 40 seconds in a crowded store.
RAY: Right. But, we're out here in the woods of Albany, New Hampshire, looking for a lost little girl? That's an entirely different experience.
JEFF: It is. The woods have animals, dangerous pitfalls, and unpredictable weather. So let's head back to 1941, and search for this lost, little girl.
[TRANSITION]
[DRIVING ON ROAD]
RAY: It's Sunday, September 28th, 1941, and the Hollingworth family is taking a ride up north from their Dunstable, Massachusetts, home. Dunstable sits on the border of New Hampshire between Pepperell and Lowell.
JEFF: The skies are clear, the air is just brisk enough for early fall. And it's prime leaf-peeping weather. In New Hampshire, the colors are beginning to peak.
RAY: At the wheel of the family car is Joe Holligworth, beside him is his wife, Blanche, his mother-in-law, Minnie, and his father, also named Joe are also in the care. In tow are his 9-year-old son, Ted, and 5-year-old daughter, Pamela who everyone calls Pammy. The plan is to head to White Ledge Forest Park in the White Mountains of New Hampshire for a picnic. He's going to grill some steaks while the family admires the foliage.
[CAR STOPS]
JEFF: But when Joe asks one of the park attendants about grilling, he learns White Ledge Forest Park doesn't allow it. Too bad.
[CAR DRIVING]
JEFF: Still, Joe is undeterred. He's going to make this a great family picnic. So they head further north just a few miles to the shore of Iona Lake where they can cook and enjoy the scenery.
[SIZZLING STEAKS]
RAY: Joe cooks the steaks while the kids play by the water. After lunch, Joe takes some pictures of the kids.
JEFF: Look at the big smiles.
[RUNNING FOOTSTEPS]
JEFF: After the photos, the kids scamper off to the lake to fill their water bottles.
[RUNNING FOOTSTEPS]
JEFF: Annnnd they're back.
RAY: The grown-ups are sitting around their picnic area chatting, while the two children run back down to the lake. It's a perfect New England fall day. The leaves are glorious. Explosions of reds and yellows and orange. Even for us locals who see this a lot, it really is an impressive site.
JEFF: It's easy to lose track of time staring at the beauty of nature. But pretty soon, young Ted comes skipping back toward his family.
RAY: Joe is the first to notice Ted's sister isn't with him. When he asks his son where Pammy is, Ted is confused. He had assumed his sister wandered back to her family. No big deal, they'd only been gone a few minutes. So Joe heads down to the lakeside where it meets the stream. She must be near there. It's about 2:30 in the afternoon.
[JOGGING]
RAY: But when Joe reaches the water's edge… there's no sign of Pammy.
JEFF: Joe is walking up the hill next to the stream and calling out for his daughter.
[JOE: Pammmy! Pammmmmy!]
JEFF: But there's no sign of Pamela. Joe quickly rounds up his family so they can spread out and search for the five-year-old girl. Joe asks some of the other picnickers in the park to drive to the ranger station to fetch the authorities.
RAY: This is scary. But… how far could she have gone? It's only been a few minutes?
JEFF: Right, but even 10 or 15 minutes of her wandering in the wrong direction can put her pretty far from here. Pretty soon, other people in the park also join the search. Five-year-old Pamela has blue eyes, brown hair that's braided and tied with a blue ribbon, and she weighs about 45 pounds. She's wearing green corduroy overalls with red sneakers.
RAY: Let's join the search.
[WALKING IN WOODS]
JEFF/RAY: Pammy! Pamela!
RAY: I'm sure we'll find her. With all of these people looking now? And the authorities on their way. I'm sure it won't be long.
[WALKING IN WOODS]
JEFF: It's 3:30. It's been an hour and no sign of young Pamela. More people are arriving to join the search.
RAY: I think any of us who are parents can only imagine how scary this is. Who wouldn't volunteer to help search for the missing child?
JEFF: 4:30…. 5:30…. Ray, it's getting dark and the temperature is dropping.
RAY: Pammmy!
JEFF: As night falls, Mr. and Mrs. Hollingworth are now in full panic mode. Pammy has been missing for hours. There are bears in these woods and other predators. Or what if she was kidnapped? Every horrible possibility is on the table right now.
RAY: More people are arriving to help in the search. They're bringing flashlights and lanterns, plus food and water for the search party.
JEFF: 7:30 PM… 8:30 PM. As the temperature dips into the 40s and then 30s, everyone is getting concerned. By midnight, it's 32 degrees. Freezing. Still, the search party isn't giving up hope.
RAY: One local doctor who is helping with the search makes the point that unlike adults who tend to sit down and rest when they're lost, children tend to keep moving. When they keep moving, they can stay warmer. Plus, hypothermia is a bigger risk in water and bad weather. When your skin gets wet, it's tougher to warm up. Thankfully, tonight is dry,
[WALKING IN WOODS]
JEFF: 4:00 in the morning… 5:00 in the morning… day is breaking and there's no sign of young Pamela. No one has so much as found a footprint.
RAY: It's noon on September 29th. Joe Hollingworth is forced to take a break from searching. He's got an infection on his shoulder, and he can barely stand up from exhaustion.
[TRUCKS DRIVING]
RAY: Scores of additional men are pulling into the area around Iona Lake. 100 soldiers from Fort Devins in Massachusetts, have arrived to help in the search. 50 WPA and NYA workers are here to help. And more concerned locals keep arriving by the car-load.
[OLD PROPELLER AIRPLANES]
RAY: And now, two airplanes are circling overhead to see if they can spot the young girl from the air.
[DOGS SNIFFING AND BARKING]
RAY: And bloodhounds have been brought in to see if they can track down Pamela.
JEFF: It's afternoon. 24 hours since Pamela has gone missing, and I'd estimate there are about 500 people searching for her now. A campsite has been setup at nearby White Ledge. The U.S. Forest Service arrives with a truck featuring a huge loudspeaker. Joe jumps on board to call to his daughter over the booming speakers.
[JOE]: Pammy, this is your daddy speaking. If you can hear me, go to the men in the woods who are looking for you. If you are stuck anywhere, yell and these men will come to you.
JEFF: Mr. Hollingworth tells his daughter through the megaphone not to be scared, but meanwhile, he's petrified.
RAY: Maps are drawn. An area of 4 and a half square miles have been thoroughly searched with no sign of young Pamela.
JEFF: Think about this. Walking two miles per hour in the woods is a pretty normal pace. I'm sure that Pamela has walked in some circles and double-backed, but still, if she walked for 8 of the last 24 hours, she could be 16 miles away right now.
[WIND THROUGH TREES]
JEFF: Night is falling as is the temperature. Just before dusk someone discovers a small set of footprints by the lakeside. They look fresh. Some volunteers follow the prints for about a quarter of a mile before they see no other trace. It's night now. The temperature is 24 degrees. It's below freezing. As the search party shivers in their tents, they can only imagine what it must be like for a five year old, 45-pound girl out there in the cold.
RAY: It's Tuesday when we hit the 48-hour mark since Pamela went missing. She's out there with no food or water, and not much clothes for the colder nights. As night falls… so too does the rain.
[RAIN]
RAY: By Wednesday morning, overnight rain had soaked the region. A cold front has moved in, and the temperature is 20 degrees. Some of the volunteers are losing any hope of finding Pammy alive. At this point, this may be a recovery operation.
JEFF: Meanwhile, the rest of the Hollingworth family are staying at a lodge in nearby Conway, New Hampshire, waiting for any kind of word on their lost daughter. Joe is still helping with the search. He's not leaving here without his daughter. 500 grown men can cover a lot of square miles. Why have they not found her yet?
RAY: Word of Pamela's disappearance is flooding the local newspapers and radio stations. Everyone is concerned. It's Wednesday, October first, when a tip come in to authorities. It seems a local woman claims she saw a girl wandering by the road a few days earlier. And now thoughts of a possible kidnapping boil to the forefront. Police had a suspect in mind, too. A 33-year-old North Conway man who had previously been arrested for sexual offenses. The police bring him in for questioning, but they have nothing on him other than the fact that he has a criminal past. So they're forced to let him go.
JEFF: It's Thursday. Day 5. It's cold and cloudy. Hopes of a rescue are almost gone. Three conservation officers head out onto the waters of Iona Lake to drag the waters looking for a body.
[ROW BOAT ON THE WATER]
RAY: The fact that the officers find nothing after hours of searching is both a blessing and a curse.
JEFF: It's Friday, Day 6. A local sheriff adds a new theory. That maybe Pamela wandered onto the road, was struck and killed by a motorist, who panicked and hid the body.
RAY: That's awful! But yes, it could explain the girl completely disappearing. More optimistic people in the rescue party figure that if Pamela is still alive, she must have taken shelter somewhere. An old barn, cave, or any other kind of structure. So the search moves to nearby houses and other properties. Plus, time for the search party is running out. By Sunday, the soldiers will need to return to their base, as will many of the other volunteers.
JEFF: But before everyone gives up hope of a rescue or recovery of Pamela's body. Saturday arrives with about 1,000 volunteers from the Lowell, Massachusetts, area—the Hollingworth's hometown region.
[WALKING IN WOODS]
RAY: Authorities estimate there are about 1,500 people searching for Pammy… or her remains right now. But the search is taking its toll. One volunteer suffers a heart attack. Dozens are being treated for cuts and bruises. But the worst part… there's still no sign of Pammy or her body.
JEFF: Sunday. Day 7. It's been a week since Pamela went missing. By the late afternoon, the search parties are breaking up to go home. A small set of footprints were found on a trail, but no child was found. The thought is that maybe in a few more weeks, when the leaves fall, there will be more visibility to look for her body.
RAY: The other side of that coin is that falling leaves may obscure the girl's body. Every prospect right now is awful.
JEFF: It's Monday. October 6th. Day 8 of the search. Police are chasing more leads. One woman said she recalls seeing a little girl sitting by the side of the road a few days ago. Which only furthers a local sheriff's belief that Pamela may have been struck by a car and left for dead by the side of the road, or hidden out of panic. It's a dark day. There's just no way a 45 pound girl could survive eight days without food, shelter, and very little clothes in freezing temperatures.
RAY: Still, there are a few volunteers out in the woods still searching. Joe Hollingworth hasn't given up either. Though even Joe has to face the reality of just how bad these odds are.
[WALKING IN THE WOODS]
JEFF: It's about 5:00 PM. Two volunteers, Bill Matson and Rusty Rumazzo with the Civilian Conservation Corps are hiking along the Middle Sister Trail on the north side of Mount Chocorua. With the sun setting, they need to call it a day and head back down the trail. But that's when the pair hear something.
[Hi! Hi!]
[WALKING IN THE WOODS STOPS]
JEFF: Bill and Rusty run toward the sound…. Come on, Ray. Let's follow them.
[RUNNING IN THE WOODS]
RAY: I… I can't believe it! Is that?
JEFF: I think it is! Her clothes are tattered, but she's standing up and looks to be fine! It's Pammy!
RAY: Bill and Rusty radio to base camp that Pammy has been found alive! Joe hops in one of the military jeeps that's been helping out with the search.
[JEEP DRIVING]
RAY: The Jeep takes Joe as far up the trail as it can, until Joe hops out and sprints the rest of the way up the trail until he scoops up his daughter and carries her back down the mountain. An ambulance takes young Pammy and her dad to the hospital in North Conway. Her feet have some bad frostbite, but she's going to be okay…. And that brings us back to today.
[TRANSITION]
JEFF: To call this story of survival and rescue a miracle, seems like an understatement. Pamela Hollingworth spent eight days in the White Mountains in early October. She had no food. She would later explain that she drank from the brook when she was thirsty or hungry. She said she slept in a hole that she covered up with leaves for a blanket. She'd lost about eight pounds, or close to 20% of her body weight. Her biggest medical concern was terribly frostbitten feet. However, after spending 19 days in the hospital, she made a full recovery.
RAY: New England rejoiced. Elected officials commented on how well the search team and community came together for the sake of one family and one little girl. Joe Hollingworth was a guest on multiple radio programs where he profusely thanked anyone and everyone who helps look for his lost little girl.
JEFF: Against all odds, an entire region came together for the sake of a single person. It kinda gives you some hope, doesn't it? A reason to be thankful that we live where neighbors know that neighbors matter.
[OUTTRO]
JEFF: And that brings us to After the Legend where we take a deeper dive into this week's story and sometimes veer off course right into the gravy boat.
RAY: After the Legend is brought to you by our Patreon Patrons! For just $3 bucks per month, our patrons get early access to new episodes plus bonus episodes and content that no one else gets to hear. Plus, they sleep a little better knowing they're directly supporting a show they enjoy. We're thankful to each and every one of our patrons.
We're so very thankful that you're with us on our adventures through time and space each week. Please help us out by spreading the word about what we do. Visit our Web site to see dates for Jeff's ongoing story tour and Ray's band schedule for the pub kings. Thank you to all of the great voice actors who have helped us over the past year. And thank you to everyone who has been supporting us and cheering for us. We appreciate it.
We'd like to thank our sponsor, Nuwati Herbals, thank you to our patreon patrons, and our theme music is by John Judd.
Until next time remember… the bizarre is closer than you think.