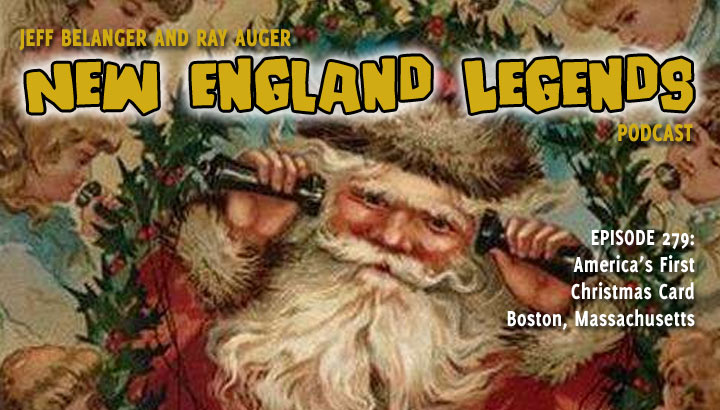 In Episode 279 Jeff Belanger and Ray Auger head to the Roxbury section of Boston, Massachusetts, searching for the factory that produced America's first Christmas cards. Back in 1875, Louis Prang took a chance that Americans might want to send Christmas cards like they do in Europe. His risk paid off. Within a few years 5 million cards per year were leaving his Roxbury factory, and sending holiday cards became an institution. Jeff and Ray wish you the happiest of holidays!
BECOME A LEGENDARY LISTENER PATRON:
https://www.patreon.com/NewEnglandLegends
CREDITS:
Produced and hosted by: Jeff Belanger and Ray Auger
Edited by: Ray Auger
Voice Actor: Michael Legge
Theme Music by: John Judd
SUBSCRIBE TO THE PODCAST FOR FREE:
Apple Podcasts/iTunes | Google Podcasts | Spotify | Pandora | Stitcher | Amazon Podcasts | TuneIn | iHeartRadio
JOIN OUR SUPER-SECRET:
New England Legends Facebook Group
EPISODE TRANSCRIPT:
*A note on the text: Please forgive punctuation, spelling, and grammar mistakes. Like us, the transcripts ain't perfect.
[HOLIDAY MUSIC]
JEFF: Hey Ray, whatcha up to?
RAY: I'm writing out some Christmas cards.
JEFF: Really? Writing actual cards to people?
RAY: Okay… I'm signing the family photo card we had printed in bulk online.
JEFF: I get it! Some people don't even do that. They let the online service print the card, stuff the envelope, print the address from a spreadsheet right onto the envelope, add the stamp, and mail it. Boom! Outsourced holiday cheer.
RAY: It's the thought that counts, right?
JEFF: For sure. If you can take a break from signing your autograph to that stack of cards, we need to take a road trip into Boston.
RAY: Where are we going?
JEFF: We're heading to the Roxbury section of Boston to find America's first Christmas card.
[INTRO]
JEFF: Hello, I'm Jeff Belanger and welcome to Episode 279 – the Christmas Special Episode of the New England Legends podcast.
RAY: And I'm Ray Auger. Thanks for joining us on our mission to chronicle every legend in New England one story at a time. We're a community of legend seekers who are always on the hunt for the weird and unusual. We're glad you're with us. If you'd like to send us a holiday gift, how about hitting the subscribe button wherever you get your podcasts, post a review for us, and tell your friends about our show.
JEFF: Before we go searching for America's first Christmas card, we want to take just a minute to tell you about our sponsor, Nuwati Herbals!
RAY: This week, Nuwati Herbals founder Rod Jackson has a message for us. Take it away, Rod.
ROD: As another year of successful partnership between Nuwati Herbals and New England Legeneds draws to a close, we want to wish everyone the gift of good health and happiness this holiday season. Merry Christmas from the Nuwati team to all the loyal New England podcast listeners and their loved ones.
RAY: We appreciate Rod, Kimberly, and the whole Nuwati Herbals team for all of their support. And we appreciate how their teas and products have made a difference in our lives and the lives of so many of our New England Legends family. So thank you too!
JEFF: Let Nuwati Herbals help support your healthy lifestyle. Check out the Nuwati Herbals Web site to see all of their great products AND you get 20% off your order when you use the promo code LEGENDS20 at checkout. Visit Nuwati Herbals dot com. That's N-U-W-A-T-I Herbals with an S dot com.
RAY: Okay, Jeff. We're going to Boston to find America's first Christmas card.
JEFF: We are. Hop in.
[DOORS CLOSE / DRIVING]
JEFF: We're heading to the corner of Roxbury and Gardner Streets.
RAY: Boston has a funny relationship with Christmas.
JEFF: What do you mean?
RAY: We've learned from a previous holiday special podcast that Boston banned Christmas back in the year 1659. They called the practice quote "Satanical!"
JEFF: That's true. They did.
RAY: And we know Boston brought Christmas back around 1867 when Charles Dickens came to town and started offering readings of his classic book A Christmas Carol. That story caught on in New England and America after that, and helped turn December 25th into the national holiday we know and love today.
JEFF: Right. All on the back of a ghost story. So maybe it's fitting that America's first Christmas Card also came from Boston. Okay… we're here.
[CAR STOPS DOORS CLOSE]
RAY: This is a handsome, three-story building.
JEFF: It is.
RAY: It has a brick façade, with a gorgeous cornice just below the top floor.
JEFF: Today this building houses a mixture of residential apartments and offices. But at one time this was a factory that produced not only New England's but our country's first Christmas cards. To find out how it happened, let's head back to 1875 and meet Louis Prang—the man who was Hallmark before Hallmark.
[TRANSITION]
RAY: It's December of 1875. And Boston Lithographer Louis Prang has an idea for the holidays.
[DING]
JEFF: Before we hear his idea, we should know a little more about the man. Prang was born in Prussia in 1824. Under his father he learned the art of dyeing, engraving, and printing. As a young man he traveled through Germany learning from other fabric printers, and he also worked as a chemist in a paper mill. In his mid-twenties, he got involved in the politics of the German Revolution of 1848, and when that didn't go well, he was forced to flee the country.
RAY: Prang spent a couple of years in New York working for various printers, before he moved to Boston and married the love of his life, Rosa Gerber. In 1856 he started a printing and lithography company with a partner, and eventually bought out his partner in 1860 and formed a company under his own name. Prang's prints were considered among the very best. His use of color, his attention to the finest detail. He earned a great reputation.
JEFF: In the 1860s, the Civil War was bubbling up. The United States was strongly divided. When there's a war, it's a time of confusion. People clamor for information. It was an opportunity for printers like Louis Prang. One of his earliest printing successes was a print of a map of Charleston Harbor illustrating the battle at Fort Sumter. The 1860s were a difficult time for America, but business was good for Louis Prang. When the war ended, Prang built a factory in Roxbury in 1867.
[SAWING HAMMERING]
JEFF: He spared no expense to house the best equipment and printers.
RAY: Prang's prints look like oil paintings. The colors are vibrant. They're truly works of art. And through his printing, Prang spreads art to countless people who wouldn't experience it otherwise.
JEFF: Sure. Not everyone can get to the museums that hold the great paintings. Many can't afford the time or the money. But Prang's prints are published in journals and magazines, or sold directly to hang in the homes of everyday people. Masterpieces at a fraction of the price. And a chance for new artists to get their work seen by more people, AND earn a better living by licensing their work.
RAY: It was at the Vienna World's Fair two years ago in 1873 where Prang was displaying some of his best work, that the wife of his London agent suggested he could turn some of his floral prints into Christmas Cards.
JEFF: Of course! About 30 years ago, Queen Victoria of England sent the first official Christmas card, and the printing of the first commercial Christmas card was commissioned in London in 1843. The idea caught on in England and then Europe.
RAY: So Prang sold some of his Christmas cards in Europe in 1874.
JEFF: Sure, but that's Europe. Nobody sends Christmas cards here in the United States.
RAY: No, they don't. But still, there are plenty of European immigrants in the United States. Maybe there could be a limited market for it?
JEFF: I guess, but wouldn't that be trying to create a tradition out of nothing?
RAY: Every tradition is born somewhere, Jeff. Plus, people in Europe like it. There's an opportunity here. So Louis Prang sets his sites on the late fall of 1875.
[STAMPING / PRINTING]
RAY: And releases the first Christmas card in 1875.
JEFF: We know how viruses work.
RAY: What do you mean?
JEFF: I mean one person has a cold, they can pass it to another person, who can pass it to another person, who can sneeze on a train and pass it on to multiple people.
RAY: Right….
JEFF: This first year, a bunch of people buy Prang's Christmas card. They're works of art already. And then those buyers send those cards to their family and friends.
RAY: Okay… I follow you. So a bunch of people receive this Christmas Card in the mail and think: What a great idea! Next year, I'm going to send these! Plus, the cards are so beautiful that the receivers display them for their friends and family to see.
JEFF: And the following year more people send them. Prang sells even more cards. Each year thereafter, the concept spreads and spreads. It catches on.
RAY: And we know how Christmas cards work… if you get a card from someone who was NOT on your list… you need to add them to your list next year.
JEFF: Exactly. Louis Prang has quickly created a new Christmas tradition. The art is stunning. The printing is top-quality, and the gesture of sending a friend a note around the holidays to say you're thinking of them, is touching. It's a gift, without buying a gift.
[PRINTING PRESS]
RAY: Prang's cards are flying out of his Roxbury factory as quickly as he can print them. His next challenge is new and innovative artwork for next year's cards.
JEFF: It's now 1884, and Lous Prang hires a group of artists and plans an exhibition of their work here in Boston. The four winners will have their work featured on this year's Christmas Cards. The Boston Evening Transcript covers the exhibit.
REPORTER 1: It may seem almost an absurdity in the face of such an exhibition as is now taking place at the gallery of Noyes and Blakeslee to speak of the possibilities of the Christmas card. Indeed, when we learned that a man of the experience and judgement of Mr. Louis Prang had personally selected twenty-two artists to furnish him with designs which should essentially express the idea of Christmas, paying each artist, if we were rightly informed, a reasonable sum for the time given to the work, and offering for the four best designs prices so large that not one of the men or women so chosen could be indifferent to the decision, we naturally looked for a result which should be in every way satisfactory. From every point of view the offer was a generous one, far too liberal to make it possible for any artist to let himself off from doing other than his best work.
RAY: That IS generous. Paying artists to submit to a contest. The critic continues…
REPORTER 2: Not that many, even most, of the designs are not interesting and charming in themselves, but few, very few realize what, it seems to us, a Christmas card should be.
Let us consider for a moment what constitutes the true Christmas card. In the first place, it is not a picture to be put in a frame. It is an object in itself, to be taken in the hand, examined closely if desired, while at the same time it should look well at a distance. Whatever space is used should be treated in an interesting manner, and above all, be so thoroughly imbued with the idea of Christmas, viewed either from its religious aspect or as the purely social present-giving season of festivity, that it cannot, by changing a bit of holly or mistletoe into a lily or a rose, answer equally well for an Easter offering or a birthday greeting.
JEFF: The critic goes on to the review the art by the men and women who submitted them. Almost all are religious in theme. Angels, the birth of Jesus. One piece, by W. St. John Harper, is described as exquisitely treated. Depicting a mother embroidering Merry Christmas in a long strip of fabric. But the critique is that instead of Merry Christmas, the words could have been Happy Birthday or Joyful Easter which means, by this critic's opinion, it can't make for a good Christmas Card. In fact, the critic believes we have yet to see the perfect Christmas Card.
REPORTER 23: When these two powers, the power of imagination and the power of execution, are perfectly united, the possibility of the Christmas card will be fully realized.
RAY: The winning artists are paid up to $1000 dollars for their design.
JEFF: So we're talking big bucks!
RAY: And rightfully so. Prang is now producing five million Christmas cards per year and shipping them all over the world. And that brings us back to today.
[TRANSITION]
JEFF: Louis Prang sold his company in 1897 to the Taber Company of Springfield, Massachusetts, and spent the rest of his days traveling and promoting his educational texts and art supplies. Prang wanted to bring more art into the world. His legacy still lives on. He invented the Artist's Color Wheel, and his company still lives on and even awards an annual Art Teacher of the year recognition.
RAY: According to the Greeting Card Association, Americans purchase about 6.5 Billion greeting cards each year. And retails sales of those cards are estimated between $7 and $8 billion dollars. Holiday cards account for about 1.6 billion of those cards.
JEFF: So Louis Prang was on to something…
RAY: That he was.
JEFF: As we close out this holiday season, we thought we'd leave you with our own audio holiday card. Meastro… if you please
[HOLIDAY MUSIC]
JEFF: It's the holidays, and we're grateful
That each week you listen.
RAY: In New England the snow is here.
And oh how it glistens.
JEFF: While we search for strange creatures,
Monsters, and ghosts.
RAY: You ride with us, We're Jeff and Ray
Your hosts.
JEFF: Wishing you bright tidings and joy,
And something good to drink…
RAY: Because you know too well
RAY/JEFF: The bizarre is closer than you think.
[OUTTRO]
RAY: Happy holidays and the coolest of Yules no matter what you celebrate. Which brings us to After the Legend!
JEFF: After the Legend is sponsored by our Patreon Patrons. These incredible folks help support their favorite podcast by voting with their wallets. For more than five years now we've brought you a new story each and every week. It takes a lot of money to cover our hosting, marketing, production, and travel costs. We appreciate our patrons keeping us going. It's just $3 bucks per month and for that they get early access to new episodes plus bonus episodes and content that no one else gets to hear. Just head over to Patreon.com/New England Legends to sign up.
Thank you for riding with us each week as we explore this strange land called New England. Did you know most of our story leads come from you? Please get more involved with us. We're a community of weirdoes always on the lookout for odd tales of ghosts, monsters, aliens, and strange history. Also, please share our podcast with a friend or two, or post it to your social media. The more people who listen, the more people who contribute, and we get to share even more weirdness.
We'd like to thank Michael Legge for lending his voice acting talents this week. Thanks to our sponsor, Nuwati Herbals, thank you to our patreon patrons, thank you to Ed Warren whenever you may be haunting these days, and our theme music is by John Judd.
Until next time remember… the bizarre is closer than you think.