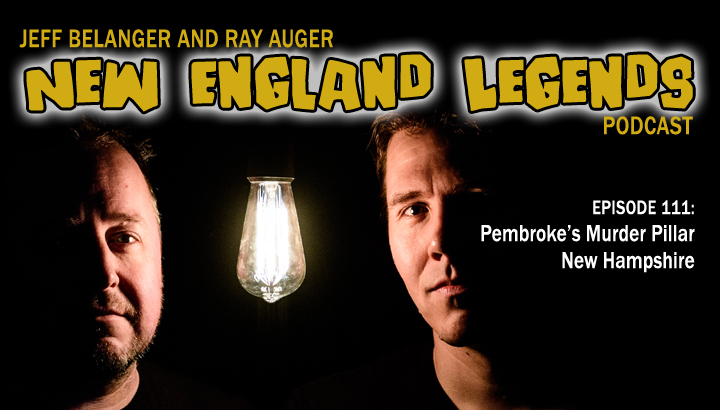 In Episode 111, Jeff Belanger and Ray Auger investigate the Pembroke, New Hampshire, Murder Pillar. This stone pillar sits far back from Academy Road, almost out of site at the tree line of the woods. The marker commemorates the life and death of 17-year-old Josie Langmaid. Her head was found almost 500 feet away. The murder shocked the community to the point where it's still mentioned in whispers today.
CALL (OR TEXT) OUR LEGEND LINE:
(617) 444-9683 – leave us a message with a question, experience, or story you want to share!
BECOME A LEGENDARY LISTENER PATRON:
https://www.patreon.com/NewEnglandLegends
CREDITS:
Produced and hosted by: Jeff Belanger and Ray Auger
Edited by: Ray Auger
Additional Voice Talent: Scott Markus.
Theme Music by: John Judd
SUBSCRIBE TO THE PODCAST FOR FREE:
iTunes | Google Podcasts | Spotify | Stitcher | TuneIn | iHeartRadio
JOIN OUR SUPER-SECRET:
New England Legends Facebook Group
EPISODE TRANSCRIPT:
*A note on the text: Please forgive punctuation, spelling, and grammar mistakes. Like us, the transcripts ain't perfect.
[SFX CHILDREN PLAYING/IN A GROUP]
RAY: (CALLING OUT) Have a good day at school, kids!
JEFF: Man, it's scary every time our kids leave our sides, isn't it?
RAY: I know what you mean, Jeff. You can hurt me, but not my kids.
JEFF: Today's road trip is going to be a rough one, Ray.
RAY: Why's that?
JEFF: Because we're heading to Pembroke, New Hampshire, to investigate the Pembroke Murder Pillar.
[INTRO]
JEFF: Hi, I'm Jeff Belanger, and welcome to episode 111 of the New England Legends podcast. If you give us about ten minutes, we'll give you something strange to talk about today.
RAY: And I'm Ray Auger. Thanks for joining us on our mission to chronicle every legend in New England one week and one story at a time. And a special thanks to our patreon patrons who are sponsoring this week's episode. If you go to patreon.com/newenglandlegends, for just $3 bucks per month you get early access to new episodes plus extra bonus episodes and content that no one else gets to hear.
JEFF: We also want to tell you guys about our Web site! It's ournewenglandlegends.com, that's O-U-R-NewEnglandLegends.com. Each episode has its own page, there are photos related to the stories, places to leave feedback and contact us, video clips from the New England Legends television series on PBS and Amazon Prime, dates for my ongoing story tour, a link to buy our new 2020 Haunted New England wall calendar, and now, each podcast episode page will include a transcript of the show, so our Deaf friends can also experience these stories.
RAY: Speaking of contacting us through our Web site, we got an email from Craig Hiltz who first told us about the Pembroke Murder Pillar, and that's why we're heading up here today. And just a quick note to people who may be listening with younger children, though all true, this episode deals with the darkest side of humanity. If you're sensitive, you might want to skip this one.
[SFX DRIVING CAR]
JEFF: So we'll just pull the car onto Academy Road here right by the Pembroke Academy. And it's supposed to be just up ahead right across the street from the entrance to the Three Rivers School.
(PAUSE)
RAY: I see the school on our right, there's the entrance, but I don't see any… wait a minute… there's something setback there just beyond the tree line.
JEFF: Man, that's easy to miss, isn't it? Let's pull over and take a look.
[SFX CAR STOPS, DOOR CLOSE]
RAY: I bet most people drive right by this place and never see it.
JEFF: Maybe 30 feet back from the road, just under some over-hanging branches there's a stone obelisk. Let's take a closer look.
[SFX WALKING ON GRASS GRAVEL]
JEFF: Go ahead and read the inscription, Ray.
RAY: Okay, it says: Erected by the citizens of Pemrboke and vicinity to commemorate the place of the tragic death and memory of Josie A. Langmaid. A student of Pembroke Academy who was murdered on her way to school on the 4th day of October 1875. Age 17 years, 10 months, and 27 days. (PAUSE) I can tell already this is going to be a heart-wrenching story.
JEFF: It gets worse. Read the inscription on this side of the obelisk.
RAY: It says: Body found 90 feet north at stone hub. Head found 82 rods north at stone hub.
JEFF: 82 rods would be about 450 feet.
RAY: That's really horrible.
JEFF: It is. There's one more inscription on the other side.
RAY: This one reads: Death lies on her like an untimely frost upon the sweetest plow of all the field.
JEFF: Though tons of people in town drive by here and don't even notice this pillar, or maybe they see it, they don't know what it's here for, I can tell you that just about every middle schooler across the street knows about Pembroke's Murder Pillar. Most parents hear about this thing from their kids.
RAY: Let's head back to October of 1875, and find out what happened.
[SFX TRANSITION]
RAY: It's October of 1875 here in Pembroke, New Hampshire. We're at the home of James Langmaid. He's a farmer, and a prominent man in the community. James and his wife Sarah, have had four children together, but sadly two of them died very young. Ella died in 1862 at the age of one, and Clarence died in 1863 also at the age of one. Their remaining children are Waldo, age 16, and Josie, age 17. Both kids attend the Pembroke Academy for their schooling.
JEFF: The morning of October 4th is brisk, but typical of a fall day in New Hampshire. Usually Josie and Waldo walk to school together, though sometimes Josie waits for a friend of hers and the girls walk together. Today, though, Waldo left for school a little early. And Josie's friend… she decided to take a carriage ride to school which explains why she hasn't shown up yet at the Langmaid house. Pretty soon, Josie realizes she's on her own and better get moving on her two-and-a-half mile walk or she'll be late. What Josie doesn't know is that there's a monster waiting for her in the woods along the path to school.
[SFX DOOR CLOSE WALKING IN THE WOODS]
RAY: From here we're going to jump back one month to September. There's this local guy named William Drew. He's 24-years-old, and Pemrboke locals consider him a ne'er-do-well. He's a creep. He's known to make inappropriate remarks at the young ladies who pass by. And one of those young ladies is Josie Langmaid.
JEFF: Except Josie doesn't put up with his remarks for one minute. She threatens to tell her father the awful things he just said, and that turns William Drew stone faced. He tells Josie if she tells her father, he'll kill her, and cut her into little pieces.
RAY: From here we're going to jump back about one year to St. Albans, Vermont, which is about 180 miles northwest of Pembroke. St. Albans is still in shock because recently a young school teacher named Marietta Ball has been raped and murdered. A homemade mask was found nearby. Locals believe a man named Joseph Lapage is behind the awful crime, but they lack the evidence to lock him up.
JEFF: Lapage is from Quebec. He speaks very little English, and moved to St. Albans with his wife and children looking for work. After locals suspected him of rape and murder, he couldn't take the dirty looks and whispers, so he left town. He had to get far away from St. Albans to a place where no one knows him.
RAY: So Lapage makes his way down to Suncook, just south of Pembroke, New Hampshire, and finds work as a woodcutter. He's employed by Joe Daniels.
JEFF: Okay, now we're jumping ahead to 9:00 AM on the morning of October 4th 1875. And Josie Langmaid hasn't shown up for school today. Nobody takes too much notice, after all, some kids miss school. But when school finishes that afternoon, Waldo notices his sister isn't there. He figures maybe she didn't feel well and stayed home. But when he returns from school and finds his sister isn't home, he informs his parents that Josie wasn't in school either. And now there's a moment of panic.
RAY: As we said before, the Langmaids are well-like and well-respected in these parts. When they put the word out to their nearest neighbors that Josie is missing, word spreads fast. And soon, almost one hundred men assemble to search the route from the Langmaid house to the Pembroke school.
JEFF: It's late afternoon when the search begins.
[SFX WALKING THROUGH WOODS]
JEFF: Soon, night falls, and the men continue their search by torch light.
[SFX MORE WALKING]
JEFF: The search party is covering all the ground on the way to the Pembroke school. (PAUSE) Around 9:00 PM that night the group is within a half mile of the school when their worst fears come true.
OFFICER: Over here!
JEFF: The body of Josie Langmaid has been found. Her clothes have been torn and bloodied. She's been cut to pieces. And her head is not nowhere to be found.
RAY: The scene is awful. A parent's worst nightmare. After a night of almost no sleep, and with the help of daylight, the search continues. Josie's head is soon discovered about a quarter of a mile from where her body was discovered. It was wrapped in Josie's blue cape. Her face had been cut, and the killer left a boot mark on her face. Nearby on the road, searchers find a three-foot long wooden club broken and bloodied. It's also been determined that Josie was raped.
[SFX PEOPLE/CROWD ARGUING]
JEFF: The town is outraged. They want justice. They want blood. And they want it now. One of Josie's teachers had heard a story circulating the previous month and was quick to mention the name William Drew to investigators. He'd threatened Josie directly.
RAY: And when Drew catches wind that the police are looking for him. He takes off.
JEFF: And now everyone thinks they have their man. If he's not guilty, why go running?
RAY: Police quickly catch up to William Drew on the road to Concord and arrest him. It doesn't take long for investigators to confirm he has a solid alibi. People can vouch he was with them the day of October 4th.
JEFF: That alibi does NOT satisfy the angry mob. No one likes this guy. And now a girl is dead.
RAY: The local police put William Drew in jail. Not for guilt, but to protect him from the lynch mob. The police in Pembroke are angry too, but they want to make damn sure they have the right man. Not just any man.
JEFF: Private investigators are hired as word of this heinous crime spreads through the newspapers. Then on October 8th, they get a break in the case. The Selectmen of St. Albans, Vermont, send a wire saying this case sounds eerily similar to the Marietta Ball case from a year ago. They warn that they might want to be on the lookout for Joseph Lapage.
RAY: On October 13th, the investigation team arrives at Joseph Lapage's house to arrest him. Inside, they find his coat stained with blood. They also discover that the heel of his boot matches the tracing of the boot mark on Josie Langmaid's face.
JEFF: Joe Daniels, Joseph's employer, is quick to tell police that Lapage had been with him the entire day at the woodlot working. But Lapage had already told police he was lost in the woods that morning on his way to work.
RAY: It's important to get a little context here. Over in Suncook, there's a large French community. Lapage and Daniels both live there. They're used to discrimination and harassment, so of course Daniels will look out for one of his own. His first assumption is this must be some kind of shake down.
JEFF: But the police are already convinced they have their man. On October 28th, Joseph Lapage is indicted for the murder, rape, and mutilation of Josie Langmaid.
RAY: For the Langmaids, the nightmare is far from over. Young Waldo sinks into a deep depression. He never stopped blaming himself for not being by his sister's side that morning. By November, Waldo gets ill. It's typhoid, which turns to pneumonia. On December 15, 1875, Waldo slips away and dies.
JEFF: This poor family. And they still have a murder trial to face.
RAY: The case goes to trial January 4th 1876. Though the evidence is mostly circumstantial, there's a lot of it. A witness claimed to see Lapage walking along Academy Road carrying a club on the morning of the murder. Then Lapage's sister-in-law came down from Canada to testify that five years earlier a man wearing a homemade mask had raped her in a field. She pulled the mask off to reveal Lapage.
JEFF: The jury is quick to deliver a guilty verdict. But Lapage's lawyer appeals the case claiming the testimony of his client's sister-in-law has nothing to do with this case. And the verdict is thrown out.
RAY: You're kidding! Come on. Lapage MUST be the guy!
JEFF: So Lapage is tried again. While waiting for the trial to begin, James Langmaid is waiting outside the courtroom speaking with two police officers when Joseph Lapage is brought toward the building wearing chains.
[SFX CHAINS]
JEFF: Josie's father is practically vibrating with rage. He's fighting every impulse coursing through his icy veins. That's when the officer next to him speaks up.
OFFICER: For God's sake, Cliff, give Langmaid your gun and let him end the business right here!
JEFF: The officer now has to fight every impulse he has to allow the grieving father to serve justice himself. Fortunately, cooler heads prevail, and the second trial also ends in a guilty verdict. On March 14, 1878, the day before his set execution in Concord, New Hampshire, Joseph Lapage speaks to French priests and confesses to the rape and murder of Josie Langmaid and Marietta Ball. He gives details where he hid some of Josie's possessions, which are found the following day, proving the man now hanging at the end of a rope in Concord was indeed the monster lurking in the woods.
RAY: The people of Pembroke erect this monument so they never forget what happened to one of their children. And that brings us back to today.
[SFX TRANSITION]
RAY: Jeff, this dark. As a dad, I can't even imagine what this horror must have been like for the Langmaid family. But are we moving into true crime here? How is this a legend?
JEFF: The legend takes over where the newspaper accounts stop back in the late 1870s. This monument sits here, often ignored, but once in a while a brave kid gingerly walks up to this stone that looks like so many in local cemeteries, and reads the details. That kid tells another and another. At recess and outdoor gym classes they point across the street, and it's in those moments that they understand that sometimes… monsters are real… and they lurk as close as your school yard.
[OUTTRO]
RAY: Rest in peace Josie Langmaid. May this never happen again here in Pembroke, or anywhere else.
JEFF: Sadly, it has happened again. And likely will in the future. Maybe talking about this story might help our kids be a little more cautious when they're out of our sight.
RAY: If you enjoy hearing our stories each week, please consider telling a friend or two, or posting a review on Apple Podcast, Google Podcast, Stitcher, iHeartRadio, Spotify, or wherever you listen to us. It's also free to subscribe, so if you don't already, do it.
JEFF: We'd like to thank Scott Markus of the brand-new Fantastic Story Society podcast for lending his voice acting talents this week. And our theme music is by John Judd.
RAY: And feel free to call or text our legend line anytime at 617-444-9683. And just like John… maybe you can leave our closing on a future episode.
VOICEMAILCLOSE: Hi, this is John Gately from Framingham, Massachusetts until next time remember the bizarre. It's closer than you think.
Copyright © 2019 New England Legends. All rights reserved.