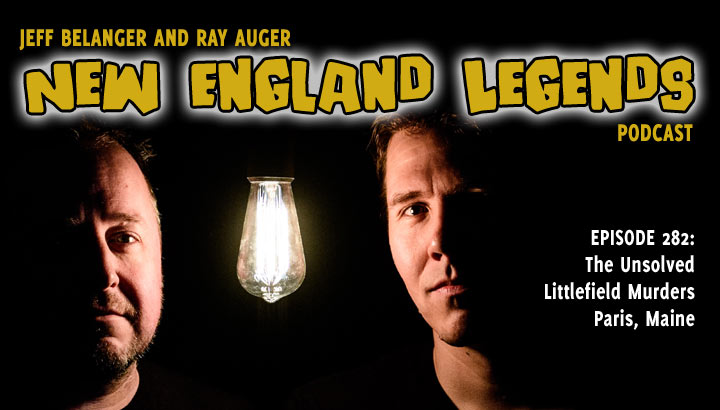 In Episode 282 Jeff Belanger and Ray Auger head to Paris, Maine, to investigate the unsolved murders of Dr. and Mrs. Littlefield who were killed in October of 1937. Two men were convicted of the heinous crime, one of them likely didn't do it. What seemed like an open-and-shut case turned into an event that rocked the otherwise small, peaceful town of Paris.
BECOME A LEGENDARY LISTENER PATRON:
https://www.patreon.com/NewEnglandLegends
CREDITS:
Produced and hosted by: Jeff Belanger and Ray Auger
Edited by: Ray Auger
Theme Music by: John Judd
SUBSCRIBE TO THE PODCAST FOR FREE:
Apple Podcasts/iTunes | Google Podcasts | Spotify | Pandora | Stitcher | Amazon Podcasts | TuneIn | iHeartRadio
JOIN OUR SUPER-SECRET:
New England Legends Facebook Group
EPISODE TRANSCRIPT:
*A note on the text: Please forgive punctuation, spelling, and grammar mistakes. Like us, the transcripts ain't perfect.
[DRIVING]
[FRENCH MUSIC]
JEFF What's with the music?
RAY: I figured we were driving into PARIS…
JEFF: I get it… Paris, MAINE. But yeah, Paris. And we're heading up Paris Hill Road, too. So sure… Ray, are you familiar with the term double jeopardy?
RAY: I assume you're not talking about the television quiz show that Alex Trebek made so famous.
JEFF: No, I'm referring to the legal term.
RAY: I'm pretty sure that's the law that states a person can't be tried twice for the same crime.
JEFF: You're right. But there's another legal dilemma – and that's when two people go to jail for one crime even though one of them is innocent and the other is guilty.
RAY: That doesn't seem right. Prosecutors would rather have one innocent person in jail than let a guilty person go free?
JEFF: That's exactly what happened right up this road. A double murder occurred here in Paris back in 1937. Two people went to jail for it. One may have been innocent. And to this day no one is certain exactly whodunit. We've come to Paris, Maine, to try and solve the Littlefield murders.
[INTRO]
JEFF: I'm Jeff Belanger.
RAY: And I'm Ray Auger. Welcome to Episode 282 of the New England Legends podcast. Thanks for joining us on our mission to chronicle every legend in New England one story at a time.
JEFF: Did you know that most our story leads come from you? This one did. Thanks to Jarrod Staples for reaching out to us with this one. We should point out to those of you listening with your kids, the themes this week are a little more touchy than usual because we are dealing with a true crime, murder, and the motives. You may want to preview this one first. Also, you can contact us anytime with your own tales of ghosts, monsters, aliens, roadside oddities, or true crime through our Web site. We love hearing from you.
RAY: Before we explore this whodunnit caper, we want to take just a minute to tell you about our sponsor, Nuwati Herbals!
JEFF: It's January… and that means every day that goes by you're getting more likely to lose your resolve to live healthy and feel great in the new year. We're here to remind you that being conscious of what you put into your body is the best place to start. When I get those sugar cravings, or want that afternoon treat, I'm reaching for See LessOMe tea from Nuwati Herbals.
RAY: If you're looking for a plan, drink three cups of all-natural See LessOMe tea for the first three days, then two cups per day for the next two days, and then one cup per day after that. You'll get a warm treat, you'll feel a natural energy boost, and it will help curb your appetite.
JEFF: And if you're still cleaning out from the holidays, check out Toxaway Tea from Nuwati Herbals.
RAY: Toxaway Tea helps get you back on track the healthy and natural way.
JEFF: Let Nuwati Herbals help support your healthy lifestyle. Check out the Nuwati Herbals Web site to see all of their great products AND you get 20% off your order when you use the promo code LEGENDS20 at checkout. Visit Nuwati Herbals dot com. That's N-U-W-A-T-I Herbals with an S dot com.
[DRIVING]
[CAR STOPS WE GET OUT]
RAY: Okay, Jeff. We've parked right across the street from the Paris Hill Country Club golf course here in Paris, Maine. There are a few houses lining each side of the street here. So this was the scene of the crime?
JEFF: This was close to the scene of the crime. Though we have some idea of where at least one of the murders took place—in a house right across the street. We're not exactly sure where the second took place or who committed the murders.
RAY: Got it. So a little more about Paris, Maine. The town was founded back in 1771 when this western section of Maine was still considered Massachusetts. The land was granted to Captain Joshua Fuller and his heirs as payment for their service during the French and Indian Wars. Back in the year 1800 the population was 844 people. Today the population is just over 5,000.
JEFF: It's a pretty, small, New England town.
RAY: It is. It had the reputation of being scenic and peaceful even back when it was founded, and it still is today.
JEFF: But this serenity was shattered back in 1937 when a brutal double murder grabbed the attention of everyone in town. And the trials that followed left everyone wondering who they could trust.
RAY: Then let's head back to 1937 and figure this out.
[TRANSITION]
JEFF: It's October 16, 1937. Franklin Roosevelt is president. The song "You Can't Stop Me from Dreaming" by Tedy Wilson is number one on the radio, and the Autumn quiet of Paris, Maine, is about to get disrupted.
[OLD POLICE SIREN]
RAY: A police car is pulling up to this small house on Paris Hill Road. Sheriff Fernando Francis is stepping out of the car. This is the Dwyer residence. The Sheriff is clearly in a hurry…
[POUNDING ON DOOR]
[BREAKING WOOD/DOOR]
JEFF/RAY: OOOO!
RAY: He obviously thinks he's found his guy… let's follow him.
[WALKING ON WOOD FLOORS]
JEFF: RAY, check out that chair in the corner.
RAY: It looks like it's got blood on it.
JEFF: The Sheriff's heading to the bathroom. Let's go…
JEFF/RAY: Oh man… this is awful.
RAY: I see blood splattered on the walls. There's a puddle of blood that's soaked into a cheap throw rug on the floor…
JEFF: Ugh… look there by the head of the tub?
RAY: Are those teeth? Oh man… it's a set of someone's false teeth. Clearly there's no one home. But something terrible happened in this room. Let's follow the sheriff outside.
[WALKING ON WOOD]
JEFF: I just heard from one of the officers that they now believe this was the scene of a murder… and I guess we just saw confirmation of that. The reason this raid went down today is because 17-year-old Paul Dwyer was just arrested in New Jersey.
RAY: Paul Dwyer is a student at the local high school. What happened?
JEFF: According to Dwyer's confession, three days ago, Paul called 65-year-old Dr. James Littlefield over to his house here on Paris Hill Road. It seems that Dwyer believed he may have contracted a venereal disease from his girlfriend, Barbara Carroll. Dr. Littlefield told him to be careful of the company he keeps. In a rage, Dwyer said he hit the doctor, who fell to the floor and tried to fight back. So Dwyer strangled the doctor and bludgeoned him with a hammer.
RAY: That's awful!
JEFF: At that point, Dwyer places Littlefield's body in the trunk of the doctor's car.
[CAR STARTS AND DRIVES OFF]
JEFF: And he drives the car over to the Littlefield house where the doctor's wife, Lydia, obviously knows nothing of what happened.
[KNOCK KNOCK KNOCK]
RAY: Paul Dwyer explained to Mrs. Littlefield that her husband had hit and killed two pedestrians with his car. He asked Paul to drive to his house, tell his wife to gather all of the cash they have in the home, and have Paul drive her to the train station to meet him in Boston. Lydia agrees, and hops in the car.
[CAR STARTS AND DRIVES OFF]
JEFF: At the train station, Paul claims he received further instructions to drive Lydia directly to Boston.
RAY: Near Boston, Paul claims Dr. Littlefield sent further instructions to drive her north to Concord, New Hampshire.
JEFF: Keep in mind, this entire time, her husband's body is in the trunk. So in Concord, Dwyer claims he was instructed to drive her back to Maine.
RAY: For two days this continues until the exhausted Dwyer pulls the car over just north of Portland to rest. There he made a comment that raised Lydia's suspicions. Lydia tries to flee the car, but Paul grabs her and strangles her to death. She had about $250 worth of cash and jewelry that Paul figures is enough to get him far away from Maine. He lays Lydia's body across the back seat, covers her with a blanket so it looked like she's sleeping…
[CAR STARTS AND DRIVES OFF]
RAY: Then heads south with two bodies in the Littlefield's car now.
JEFF: Dwyer makes it all the way to New Jersey. He even started running red lights in New York City. He wants to get caught. To have this nightmare end. Finally, around 4:00 AM, the exhausted kid pulls his car over near Newark, New Jersey, to get some sleep. He's dozing, when…
[KNOCK KNOCK ON GLASS]
JEFF: The police knock at the window. They find almost two hundred dollars on Dwyer which is suspicious. So they bring him in for questioning. While one officer is questioning Dwyer about the money, another examines the car and finds the corpse of Lydia Littleton in the back seat. The officer rushes inside, and that's when Dwyer suggests he also check the trunk. Dwyer then signs a confession to everything we just covered.
RAY: So that's it, then? Seems pretty open and shut to me.
JEFF: Yup. That's what a lot of people think. Phone calls are made to Paris, Maine, and here we are at what is clearly a crime scene.
RAY: Right. Open and shut.
JEFF: New Jersey police are working with Maine police to extradite Dwyer.
[COURT GAVEL BANGING]
JUDGE: Order! Order!
RAY: In court, Paul Dwyer initially pleads not guilty, but then soon changes his plea to guilty. Dwyer had no previous arrests, no record at all. But he's convicted and sentenced to life in prison.
[CELL DOOR SLAMS]
JEFF: The thing is, the motive seems so flimsy to the public. Those who knew Paul didn't think he was capable of such a crime. And once behind bars for life, Paul Dwyer starts writing a different confession. He claims he lied about killing the Littlefields.
RAY: In his letter, Dwyer claims that Dr. Littlefield had come to his house that day to examine his girlfriend, Barbara Carroll, NOT Paul Dwyer. Barbara had suspected she was pregnant, and the father was none other than her own father, Deputy Sheriff Francis Carroll.
JEFF: That's awful!
RAY: Accusing a deputy of incest is no small thing. Paul and Barbara turned to Dr. Littlefield for help. Dwyer claims Dr. Littlefield confronted Deputy Carroll, who then asked to meet at Dwyer's house where the Deputy murdered Dr. Littlefield. And then… according to Dwyer… Deputy Carroll murdered Lydia Littlefield in case her husband told her about what happened. He stuffed both bodies in the car, and told Paul Dwyer to drive far south or else he'd be next. The petrified Dwyer did as he was told and took the rap out of fear.
JEFF: This story doesn't hold much water with the Paris Police Department…. But one person, namely Deputy Carroll's boss, the sheriff of Oxford County, is suspicious enough to launch an investigation.
[COURT GAVEL BANGING]
JUDGE: Order! Order!
JEFF: Back in court, one witness claims to have seen Deputy Carroll at the murder scene, Carroll's alibi for the murder couldn't be confirmed, and he's accused of trying to bribe a witness. Plus, he refuses to deny the incest charges in court because then his daughter would have to take the witness stand which would make his legal case even worse.
[CELL DOOR SLAMS]
JEFF: Deputy Carroll is found guilty of the murder of Dr. Littlefield and is also sentenced to life in prison.
RAY: So that should mean that Paul Dwyer can go free now, right?
JEFF: Nope. No one is exactly sure who to believe. I guess they figure since Paul didn't drive the bodies directly to a police station, that he must have some guilt, so he's also left in jail. So two men, serving life sentences, convicted of the same crime. And that brings us back to today.
[TRANSITION]
JEFF: The post script to this story is that in 1950, after serving more than 10 years in jail, Deputy Carroll won his release and the state Legislature ordered the attorney general to reinvestigate the case. After so much time, they couldn't charge Carroll with incest, and they couldn't try him for the murder of Dr. James Littlefield, because of double jeopardy laws.
RAY: BUT… Carroll was never tried for the murder of Lydia Littlefield. However, there wasn't enough evidence there to convict him, and Dwyer had made parole for good behavior. In the end, no one is exactly sure whodunnit, who covered it up, or who was just scared of more trouble.
JEFF: So it turns out that though there are double jeopardy laws to keep people from being tried for the same crime twice, there is nothing to protect two people who both confess to a crime even if one of them is lying. The liar may still go to jail. The moral of the story: don't confess if you didn't do the crime!
[OUTTRO]
RAY: And stay away from murder scenes too! That brings us to After the Legend where we take a deeper dive into this week's story and sometimes veer off course.
JEFF: After the Legend is brought to you by our Patreon Patrons! For just $3 bucks per month, the price of a cheap beer at the bar that Ray and I would have to split… you can help us with our hosting, production, and marketing costs. Plus you'll get early access to new episodes, plus bonus episodes and content that no one else gets to hear. Just head over toe patreon.com/NewEnglandLegends to sign up. We appreciate it.
Please be sure to subscribe to our podcast because it's free and we don't want you to miss a thing. Find us wherever you get your podcasts. And then help us even more by posting a review for us on Apple podcasts and sharing our episodes on your social media. You are how we grow.
We'd like to thank our sponsor Nuwati Herbals, thank you to our patreon patrons, and our theme music is by John Judd.
Until next time remember… the bizarre is closer than you think.