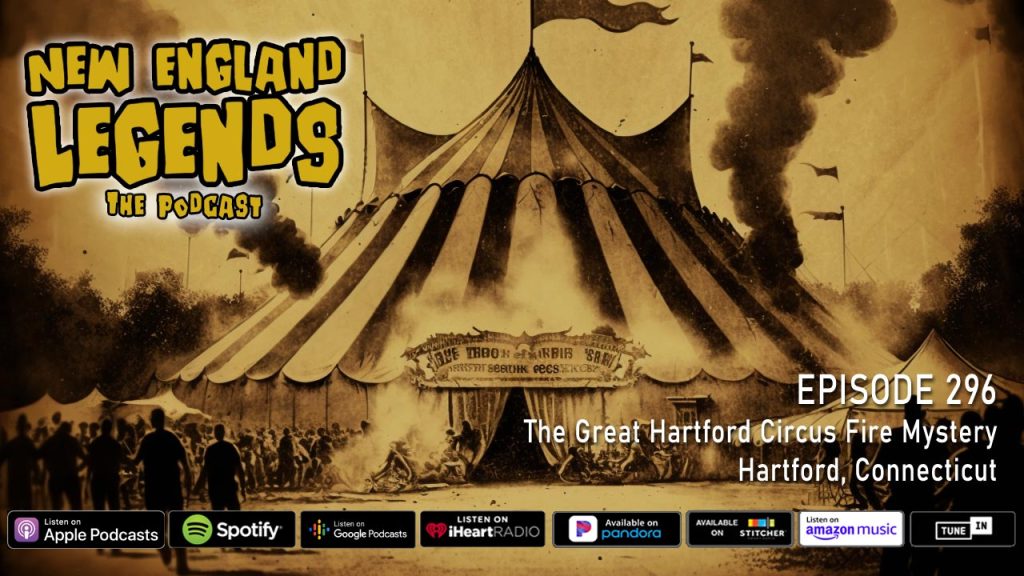 In Episode 296 Jeff Belanger and Ray Auger visit Hartford, Connecticut, to see the memorial to the July 6, 1944 circus fire that claimed 167 lives and launched a 50-year mystery as to the identity of a young victim they called Little Miss 1565. This tragic story changed state laws and left a permanent scar on the state's capital city.
BECOME A LEGENDARY PATRON:
https://www.patreon.com/NewEnglandLegends
CREDITS:
Produced and hosted by: Jeff Belanger and Ray Auger
Edited by: Ray Auger
Additional Voice Talent: Annie Auger
Theme Music by: John Judd
SUBSCRIBE TO THE PODCAST FOR FREE:
Apple Podcasts/iTunes | Google Podcasts | Spotify | Pandora | Stitcher | Amazon Podcasts | TuneIn | iHeartRadio
JOIN OUR SUPER-SECRET:
New England Legends Facebook Group
EPISODE TRANSCRIPT:
*A note on the text: Please forgive punctuation, spelling, and grammar mistakes. Like us, the transcripts ain't perfect.
[BIG TOP CIRCUS MUSIC]
JEFF: Ray, when I was a kid growing up in Sandy Hook, Connecticut. I remember going to see a traveling circus that came through town.
RAY: Sure! I remember stuff like that coming through my town as well.
JEFF: This circus was so small it was held in the parking lot of the Sandy Hook Volunteer Fire Department.
RAY: That does sound like a small circus.
JEFF: There was a big top, petting zoo area, clowns, and things like that. But I remember the animal show under the tent. At one point they had a tiger that was going to jump through a hoop. The ringmaster said Connecticut state law forbids the circus from having any open flames under the tent, so he asked us to imagine the hoop was on fire as the tiger jumped through.
RAY: Yeah, I can imagine that's not as exciting.
JEFF: It wasn't. But it turns out the ringmaster wasn't kidding about that Connecticut state law. A law that was put in place after a horrible circus tragedy left 167 people dead including a young girl who would go on start a mystery that lasted half a century. Today we're heading to Hartford, Connecticut, to explore the Great Circus Fire mystery.
[INTRO]
JEFF: I'm Jeff Belanger.
RAY: And I'm Ray Auger. Welcome to Episode 296 of the New England Legends podcast. Thanks for joining us on our mission to chronicle every legend in New England one story at a time. Most of our story leads come from you! So please reach out to us anytime through our Web site.
JEFF: Also, if you subscribe to our podcast—and you should because it's free wherever you get your podcasts—we're now twice per week! On Mondays we have a new episode called From the Vault where we replay a classic episode from our archives and add some new commentary, and we may add interviews or other updates as well. If you've never gone back hundreds of episodes, then the stories will be new to you, and if you've been with us a long time, you can enjoy a classic episode again. (BEAT) Also, this week's episode deals with some tragic themes including the death of children. If you're sensitive to that, you may want to skip this one.
RAY: Before we get to the Hartford Circus Fire Mystery, we want to take just a minute to tell you about our sponsor Nuwati Herbals!
JEFF: Ray, I'm busier than ever with work, our podcast, and of course family and home and all of the details that go with that.
RAY: I get it. Life moves pretty fast. We can't afford to get sick. And dealing with spring allergies can't slow us down either.
JEFF: We've talked before about the Healer Tea from Nuwati Herbals.
RAY: We have. It's their best-seller for a good reason! It works.
JEFF: The Healer Tea has all-natural ingredients like Elderberries, Echinacea, Juniper Berries, slippery elm, marshmallow root, white willow bark AND Cayenne pepper. I know that sounds a little odd when you first hear it.
RAY: It does. But then you learn there's two steps to Healer Tea from Nuwati Herbals. After you shake the jar, you open it up and give it a sniff. I promise you won't forget that! The cayenne instantly opens you up. Then you drink the tea to help boost your immune system. I drink it whenever I feel like I'm fighting a cold, dealing with allergies, or if I'm just feeling run-down.
JEFF: Let Nuwati Herbals help support your healthy lifestyle. Check out the Nuwati Herbals Web site to see all of their great products AND you get 20% off your order when you use the promo code LEGENDS20 at checkout. Visit Nuwati Herbals dot com. That's N-U-W-A-T-I Herbals with an S dot com.
[CAR DOORS CLOSING / ENGINE STARTS]
[DRIVING]
RAY: Okay, Jeff. Let's make our way to Hartford—Connecticut's capital city. (BEAT) So Hartford has the nickname of the Insurance Capital of the World.
JEFF: If there was ever a thing to NOT brag about…
RAY: I know, right?! On a good day insurance isn't exciting. On a bad day, you want to sue them because you pay them tons of money in case something goes wrong, and when something does go wrong their job becomes to find a way not to pay you.
JEFF: Hartford became the insurance capital because way back in 1810, merchants had a growing concern related to warehouse fires. With all of the shipping ports in New England, shipping of goods going in and out of those ports, and the American Industrial Revolution in full swing, warehouses held enough goods that a fire could bankrupt a region. So the Hartford Fire Insurance Company was formed. Then other companies moved in to compete. Companies like Aetna, Travelers, and Connecticut Mutual Life.
RAY: How fitting that a fear of fire lead to Hartford becoming the insurance capital.
JEFF: Right, because we're here because of a tragic fire. An awful event that left 167 people dead, more than 700 injured, and the identity of a child who perished in question for decades launching a mystery. (BEAT) Make a right here on Barbour Street.
[BLINKAH]
RAY: Got it.
JEFF: And we can park here in the parking lot of the Fred Wish School.
[CAR STOPS] [DOORS CLOSE]
JEFF: We're heading behind the school to that circular brick patio-looking section in the middle of the field.
[WALKING]
RAY: Okay, in the middle of the bricked area there's a dome memorial and in the middle is an oval that shows the layout of The Big Top with bleacher sections, and three rings and two squares in the middle of it all. On the next ring it reads: The Hartford Circus Fire Memorial, July 6, 1944 and July 6, 2005 – that's when this memorial was dedicated. And in the next ring is the list of 167 names of the victims.
JEFF: This was ground zero, Ray. The story is brutal, but lessons were learned. To find out what happened, let's head back to July of 1944.
[TRANSITION]
[CIRCUS MUSIC]
RAY: It's Thursday, July 6, 1944 here in Hartford, Connecticut. And it's a hot one too. World War II has been raging for five years now, and the people of Hartford are looking for something to take their minds off of worrying about loved ones, friends, and neighbors fighting overseas.
JEFF: A circus is just the distraction Hartford needs right now. And there's none bigger than the Ringling Brothers and Barnum & Bailey Circus.
RAY: The Greatest Show on Earth pulled into Hartford yesterday with some of the train cars running late. The crew had to scramble to get everything set up in time. The grass had already been freshly mowed. And woodchips and hay were laid down to cover the dirt patches. The elephants helped hoist the Big Top yesterday, and everyone pitched in to get the bleachers and all of the side shows setup.
JEFF: Still, they were late enough to miss the matinee show yesterday. Ask anyone in the circus. Missing a show is considered bad luck.
RAY: But that was yesterday. And as they say… the show must go on. Today's matinee performance is much more promising. Everything is in place now and the performers and workers got a good night's sleep after last night's show.
JEFF: The Big Top tent is impressive!
RAY: It is. It's 200 feet wide, 450 feet long with 15-foot-high sidewalls. The tent comes to a peak 48 feet up. Almost five stories tall. The big top tent is kept waterproofed by a coating of paraffin wax thinned with gasoline so it coats evenly. With all the bleachers in place, this tent can seat 9,000 spectators.
JEFF: That's a lot of people!
RAY: And there's a ton of people here today. I'm sure a lot of folks have taken off the whole week for the Fourth of July holiday, plus the kids are all out of school. What could be better than going to the circus?
[CIRCUS MUSIC]
[LION ROAR]
JEFF: Thousands of people are filing in to the Big Top for the first show of the day. French lion tamer Alfred Court is dazzling audiences with his lions.
[LION ROAR] [CRACK OF WHIP]
[CROWD CHEERS]
RAY: People are pouring in and out of the main entrance. There are also eight smaller entrances around the tent but some of those are blocked by rolling animal cages and other props that get wheeled in for the show.
[CROWD FADES]
JEFF: Look up above, Ray. The Great Wallendas are taking their position on the flying trapeze.
RAY: Wow! This is exciting. The crowd is hushed in anticipation… (PAUSE) And there they go!
[CROWD CHEERS!]
JEFF: What a show!
[MUFFLED YELLING]
[BAND MUSIC: STARS AND STRIPES FOREVER]
JEFF: The band just started playing Stars and Stripes Forever. That's odd.
RAY: Is that smoke?!
[FIRE SOUNDS]
RAY: Oh man… the tent is on fire over there! We gotta get out of here!
[CROWD SCREAMS/PANIC]
JEFF: This is terrible! The Big Top is quickly turning into a ball of fire. Some of the exits are blocked by animal cages. People are trampling each other.
RAY: People are running everywhere. The screams are awful.
[CROWD/FIRE/SCREAMS SLOW FADE]
JEFF: Eight minutes. That's all it took. Just eight minutes for the entire Big Top tent to burn up to nothing.
RAY: It's clear from the black, smoldering ashes, that many people have died inside the tent today. Children, families, old people, young people, and even some of the circus animals. Dozens couldn't make it out in time.
JEFF: Police, fire, and other emergency workers are arriving at the scene and rushing in to help the injured. People have been burned badly. Others are choking from the smoke. This is a horrific scene. Parents have lost children in there, and children have lost parents. What should have been a fun day at the circus has turned into the worst nightmare the state has ever seen.
RAY: Soon, some of the tales of the survivors begin to emerge. First of all, it turns out when the band was told to play "Stars and Stripes Forever," that was a code to all circus employees that something has gone horribly wrong. So the performers and workers acted as fast as they could. But there were many other survivor stories too. Like 11-year-old Maureen Krekian. She was supposed to go to the circus with a neighbor and her daughter, but when she went to the house they had already gone. So Maureen went to the circus alone and sat by herself in the bleachers.
MAUREEN: I remember somebody yelling and seeing a big ball of fire near the top of the tent. And this ball of fire just got bigger and bigger and bigger. By that time, everybody was panicking. The exit was blocked with the cages that the animals were brought in and out with. And there was a man taking kids and flinging them up and over that cage to get them out. I was sitting up in the bleachers and jumped down — I was three-quarters of the way up. You jump down and it was all straw underneath. There was a young man, a kid, and he had a pocketknife. And he slit the tent, took my arm and pulled me out.
JEFF: Maureen was able to grab the arm of another little girl and pull her out as well. There are many stories of heroism coming from the tragedy. Strangers helping strangers out of the tent. Children being thrown to safety, everyone doing all they could to get people out alive.
RAY: The best investigators can figure is that someone carelessly flicked a cigarette near the men's toilets. The cigarette ignited the hay near the tent, and the paraffin and gasoline-covered Big Top burst into flames. The paraffin and gasoline kept the tent waterproof, but also made it highly flammable.
JEFF: And now comes the horrible job of removing the dead and identifying the bodies.
RAY: 167 people are believed to have perished. Hundreds more were injured. The exact number won't ever be known, because those who could treat their own wounds went home and not to the hospital.
JEFF: One of the injured is a young blond girl in a white dress, who was badly trampled in the rush to get out of the burning tent. The young girl suffered only minor burns, but she didn't survive her internal injuries more than a few hours.
RAY: Others also died from their injuries. It takes days to sift through the ashes. And the actual number is uncertain because as you can imagine not everyone was easily identifiable. And if someone wasn't reported missing, then it's unknown who was who.
JEFF: As days pass, no parent comes forward to claim the young girl in the white dress who died in the hospital. She soon becomes known as Little Miss 1565. 1565 being the number assigned by morgue.
RAY: Investigators are broken-hearted and baffled by this young girl. How could days go by with no frantic parent looking for answers? The girl is fingerprinted and photographed by police investigators, Sgts. Thomas Barber and Edward Lowe. As more time passes, the decision is made to publish the girl's photograph in the newspapers in the hopes of finding answers as to the girl's identity.
JEFF: The photograph is hard to look at. Especially for parents. Her eyelids are sewn shut. There are some blackened burn marks on the far side of her face. But for the most part she looks mostly whole. It's gut-wrenching.
RAY: The picture circulates in newspapers nationally, and even in some magazines. Little Miss 1565 has become the face of this horrible circus fire tragedy.
JEFF: As more time goes by, the girl is buried in Northwood Cemetery in Hartford with no way to know her name. Each Christmas, Memorial Day, and July 4th, Sgts. Barber and Lowe lay flowers on the girl's grave. They never close Little Miss 1565's case. Year after year they continue searching for answers.
RAY: From here we jump ahead 43 years into the future. It's 1987. One day someone discovers a note on Little Miss 1565's grave. It reads: "Sarah Graham is her name! July 6, 1938 Date of Birth, 6 years, Twin."
JEFF: Graham's alleged twin and other relatives would be buried close by. But that's only one person's opinion as to who the girl may be. Still, the note causes a stir.
RAY: And now we jump ahead four more years to 1991. Little Miss 1565's body is exhumed. Investigators determine through DNA that the girl was eight-year-old Eleanor Emily Cook. Her aunt and uncle were able to make the match. And this begs the question: how could this happen? How could it take almost 50 years to identify her?
JEFF: That mystery begins to unravel. According to a March 9th 1991 Hartford Courant newspaper article, in the aftermath of the fire, Eleanor's maternal aunt, Emily Gill tried to identify the body. She said she was sure her niece had eight upper secondary teeth, and this girl only had four upper and lower secondary teeth. There's also a question as to whether Gill was shown the right body at the time.
RAY: According to the article, the Cook family assumed Eleanor had died in the fire and was among the remains that were unidentifiable. They placed a headstone next to her brother who also died in the fire. Her headstone reads: Eleanor Emily Cook. March 17, 1936 to July 6, 1944. There was no body underneath the memorial stone. Not until 1991 when Little Miss 1565 was exhumed and reinterred next to her brother.
JEFF: According to Eleanor's aunt, the young girl loved flowers and had her own garden that she took care of. She took piano lessons, and was diligent about practicing. Her nickname from when she was a baby was "Honey." And that brings us back to today.
[TRANSITION]
RAY: And that brings us back to this memorial behind the Wish School. Such a tragic story. It's easy to look back and be furious. Coating a tent with wax and gasoline?! That's begging for a disaster.
JEFF: It's easy to say that now. And laws changed after this event. Charges of involuntary manslaughter were filed against officials of the Ringling Brothers and Barnum and Bailey Circus. The company was forced to pay out $5 million dollars to the victims' families. And Connecticut passed a law saying you can no longer have fires inside of tents.
RAY: It's terrible that it takes a tragedy like this to make big changes. But at least those changes mean all of those people didn't die in vain.
JEFF: The other thing about this event is that the numbers are too staggering. When you have estimates of 500 to 700 injured, and 167 dead. They become faceless. A statistic. A cold number that doesn't mean anything. But Little Miss Eleanor was one child. One face. One story that can make us say: never again. Not on my watch. The power of one story is always the most compelling.
[OUTTRO]
RAY: And that takes us to After the Legend where we explore this week's story a little deeper and sometimes veer off course.
JEFF: After the Legend is brought to you by our Patreon patrons. This epic group of people support everything we do. They know great content isn't free so they help us out and become a bigger part of our community. It's just $3 bucks per month and you'll get early access to new episodes plus bonus episodes and content that no one else gets to hear. Just head over to Patreon.com/NewEnglandLegends to sign up.
We love when you get involved with us. So many of our story leads come from you! So please reach out to us anytime through our Web site. Also, we deeply appreciate it when you take the time to post a review for us, and when you share these stories with your friends or on your social media. That's how we grow. The more listeners, the more stories that come in. We appreciate your help.
Thanks to Annie Auger for lending her voice acting talent this week. Thank you to our sponsor Nuwati Herbals, thanks to our patreon patrons. And our theme music is by John Judd.
Until next time remember… the bizarre is closer than you think.