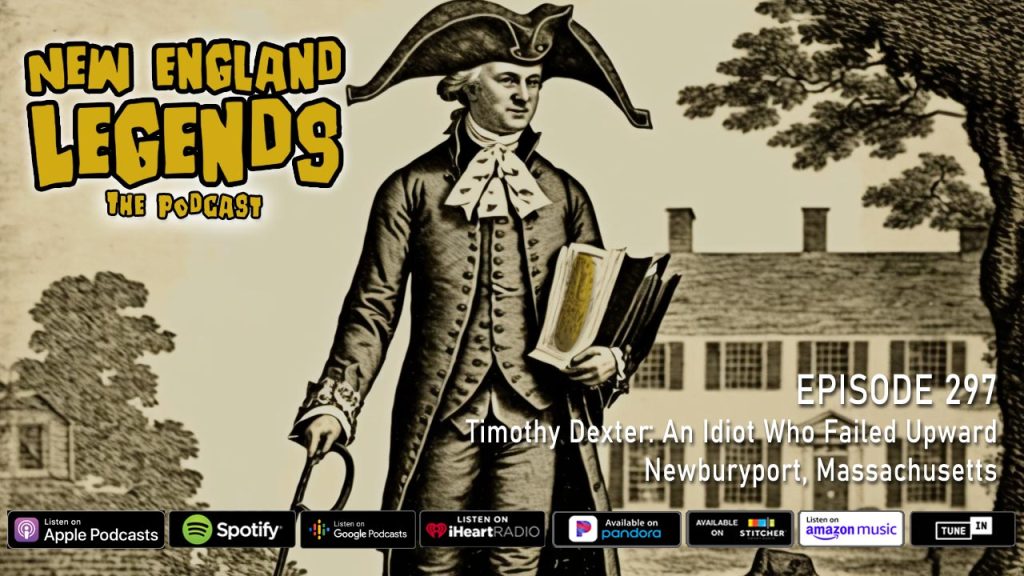 In Episode 297 Jeff Belanger and Ray Auger head to Newburyport, Massachusetts, to visit a mansion once owned by an idiot named Lord Timothy Dexter. An idiot, who no matter how many stupid business moves he made continued to fail upward, getting richer by the misstep, which makes us wonder if maybe he wasn't an idiot at all. In 1802, Dexter published his memoir A Pickle for the Knowing Ones without a single bit of punctuation.
Read Lord Timothy Dexter's memoir A Pickle for the Knowing Ones online.
BECOME A LEGENDARY PATRON:
https://www.patreon.com/NewEnglandLegends
CREDITS:
Produced and hosted by: Jeff Belanger and Ray Auger
Edited by: Ray Auger
Theme Music by: John Judd
SUBSCRIBE TO THE PODCAST FOR FREE:
Apple Podcasts/iTunes | Google Podcasts | Spotify | Pandora | Stitcher | Amazon Podcasts | TuneIn | iHeartRadio
JOIN OUR SUPER-SECRET:
New England Legends Facebook Group
EPISODE TRANSCRIPT:
*A note on the text: Please forgive punctuation, spelling, and grammar mistakes. Like us, the transcripts ain't perfect.
JEFF: Ray, have you ever worked with… or for someone who isn't very bright?
RAY: Ohhhh I can think of a few… at least a few DOZEN people I've worked with over the years who fall into that category.
JEFF: How about someone so incompetent that they continue to get promotions and raises… maybe just to keep them away from the work that actually needs to get done?
RAY: Yeah. I know the type. I've been in meetings where we try to keep some senior executives out of the room so they don't mess anything up. I do the work, they get the credit, and the raises.
JEFF: I've been there. Then we scratch our heads and meet at the bar to commiserate.
RAY: At least we have the bar to drown our sorrows.
JEFF: Ray, today we're heading to Newburyport, Massachusetts, to visit the former home of Lord Timothy Dexter. In 1802 he published a book you've never heard of called A Pickle for the Knowing Ones, but more importantly, he's an idiot of a man who continued to fail upward.
[INTRO]
JEFF: I'm Jeff Belanger and welcome to Episode 297 of the New England Legends podcast.
RAY: And I'm Ray Auger. Thanks for joining us on our mission to chronicle every legend in New England one story at a time. Whether odd history, roadside oddities, ghosts, monsters, UFOs, twice each week our podcast explores the bizarre.
JEFF: Did you know most of our story leads come from you? This one did. Thanks to Alycia Hamilton from Salem, Massachusetts, for tipping us off. If you've got a story you think we should check out please reach out to us anytime through our Web site. Our Web site is where you can access our entire show archive plus see upcoming dates for Ray's band the Pub Kings, and dates for my ongoing story tour.
RAY: Before we go looking for a Newburyport man who failed upward, we want to take just a minute to tell you about our sponsor Nuwati Herbals!
JEFF: Ray, Mother's Day is coming up.
RAY: It is!
JEFF: Pampering mom for the day and beyond is always a good idea.
RAY: Our friends at Nuwati Herbals have just the things for that. You already know about their many all-natural teas, but Nuwati Herbals also offers a line of bath salts, soaps, bath oils, and balms to create that spa treatment at home and at a fraction of the cost.
JEFF: There's Breath of Life bath salts, Bear Foot Soak for your feet, Healthy Skin, and my favorite: Wash My Pain Away. If you're not sure which one to get, try the assortment of Bath Salts. And balms and oils from Nuwati Herbals are perfect for after the bath or shower. They have Indian Blanket balm, share my blanket, four directions, and more. If you can't decide, try the assortment package. Be sure to take time to thank and honor the moms in your life.
RAY: Let Nuwati Herbals help support your healthy lifestyle. Check out the Nuwati Herbals Web site to see all of their great products AND you get 20% off your order when you use the promo code LEGENDS20 at checkout. Visit Nuwati Herbals dot com. That's N-U-W-A-T-I Herbals with an S dot com.
JEFF: Okay, Ray. Remember that book I told you about that you've never heard of?
RAY: A Pickle for the Knowing Ones?
JEFF: Right, well you've heard of it now, I guess. The book has 8,847 words in it over 32 pages. 33,864 letters in the book. It has NO punctuation, the spelling and grammar are a mess, and he randomly capitalizes words. Here, give this section of his book a read. Do your best.
RAY: Okay. It says: To mankind at Large the time is Com at Last the grat day of Regoising what is that why I will tell you thous three kings is Rased Rased you meane should know Rased on the first Royal Arch in the world
JEFF: Not really a page-turner, is it?
RAY: No! It's a mess. I'm not sure what he meant at all.
JEFF: Dexter self-published the book in 1802. In the book he complains about his wife, politicians, clergy, and anything else that came across his mind. And as messy and disjointed as the book was, it somehow became a hit.
RAY: This mess of a book was a hit, huh?
JEFF: Par for the course, if you're Lord Timothy Dexter, really.
[WALKING]
JEFF: Let's head over to Dexter's Newburyport house. It's right up here at the corner of High Street and… Dexter Lane.
RAY: The street is named after him?
JEFF: It is.
RAY: Okay… this isn't a home… it's a palace! It's clearly the biggest house on the street. It's three stories tall with a hipped roof. The house has columns, masonry blocks at the corners, and a fancy cupola at the top. The guy who wrote that mess of a book owned this mansion?
JEFF: He did. He's an eccentric who failed his way all the way up the socio-economic ladder. To find out how, let's head back to 1769 and meet the young buck.
[TRANSITION]
[BIRDS TWEETING SPRING SOUNDS]
RAY: It's April of 1769 here in Newburyport, Massachusetts, and love is in the air. Well… love AND ambition are in the air. 22-year-old Timothy Dexter has just moved here from Malden, Massachusetts, where he worked as a tanner's apprentice. Young Timothy isn't the sharpest spoon in the drawer, and he's not very educated. He dropped out of school when he was only eight to work on a farm, but he knows there are two ways to make money when you don't have a lot. You can work hard, scrimp, and save… OR… you can marry rich!
JEFF: Dexter sees no reason to break his back unnecessarily, so he sets his sights on the wealthy widow Elizabeth Frothingham. She's 10 years his senior, but more importantly, she's rich.
RAY: Timothy and Elizabeth are soon married, and the two buy a mansion with her money.
JEFF: It takes money to make money. It's always been true. And now Timothy has some money to invest for an even brighter future. But his days of big investments will have to wait because…
[CANNONS AND MUSKET FIRE SLOWLY FADES]
JEFF: The colonies are at war with England! A revolt is underway.
[AFTER FADE OUT]
RAY: After years of fighting, a new nation is born. Though the war officially ended with the treaty of Paris in 1783, it was clear a few years earlier that England had little hope of holding on to the colonies.
JEFF: When you break free from a nation, it presents a lot of problems.
RAY: Sure! You need to set up a new government that people can agree on, you need tax dollars to pay for those services, and taxes will make everyone upset, you need a new flag. Songs need to be written. It's exhausting.
JEFF: You also need your own money. Here's the funny thing about paper bank notes. For the last century or so, everyone around these parts used Continental currency. It was backed by the King of England, and you could use those bank notes to buy the things you need.
RAY: Like beer.
JEFF: Like beer.
RAY: But when you break away from the government backing those notes…
JEFF: They become worthless… almost overnight. But before they fall to zero value… Inflation explodes. On Monday a loaf of bread may cost one Continental dollar. By Wednesday that same loaf of bread may cost three Continental dollars. By Friday it could be ten. And by the following week it doesn't matter how many Continental dollars you have. No one wants it because there's nothing they can do with it.
RAY: Yeah, that's a big problem for sure.
JEFF: So our friend Timothy Dexter is going around buying Continental currency with gold. He's buying it up at a fraction of the value.
RAY: Is he stupid?!
JEFF: That's what everyone thinks as they trade their worthless paper for gold. But maybe Dexter believes England will prevail and this will be worth a fortune again?
RAY: Someone needs to tell him he's backing the wrong horse.
JEFF: When the war officially ends, this new nation called the United States knows people out there need some new kind of currency. They offer to buy back Continental currency at roughly 1% of its face value. But… not Massachusetts. Massachusetts offers to buy Continental currency on par… which means a face value exchange. So…
RAY: So Timothy Dexter just made a fortune! Maybe he's a genius!
JEFF: Maybe he's that smart. Or maybe it was dumb luck. Anyway, with even more money, Dexter can continue investing in his ideas. So he has some ships built…
[SAWING AND HAMMERING]
JEFF: And launches his new export business to the West Indies.
[SPLASH / OCEAN SOUNDS]
RAY: Meanwhile, the local Newburyport nobility can't stand him. He's uneducated, he's rough around the edges, he's not one of them. But there he is, as wealthy as they are AND attending the same parties. It's awful. Pretty soon, the local gentry begin to conspire against Dexter.
[MEN MUMMBLING TO EACH OTHER]
RAY: Ohhhhh… This is brutal…
JEFF: What did they say?
RAY: Some of the local nobility have convinced Dexter that he should export as many bed warmers as he can to the West Indies.
JEFF: Bed warmers? You mean those covered metal pans you warm on your hearth and then put them in your bed to warm them up on cold winter nights?
RAY: Yes. Those are the ones.
JEFF: To the West Indies?!
RAY: Yup.
JEFF: The West Indies are tropical. Jamaica, Cuba, and places like that. Why would they ever need bed warmers?
RAY: They wouldn't. But Timothy Dexter falls for it anyway. He loads his ships with bed warmers…
[SAILING ON THE OCEAN]
RAY: And sends them south to ports in the West Indies.
JEFF: Dexter isn't very bright is he?
RAY: No he's not. But the strangest thing happens when his ships arrive in the West Indies…
JEFF: What's that?
RAY: As anyone can guess, the locals have no use for a bed warmer. BUT… some locals take one look at these strange contraptions and realize they'd be PERFECT as a ladle for the molasses industry. The inventory sells out, and Dexter's ships sail back to Newburyport flush with money.
JEFF: What dumb luck! And now Timothy Dexter is slightly richer.
[MEN MUMMBLING TO EACH OTHER]
RAY: But the local Newburyport gentry, are NOT deterred. This time, they tell Dexter all about coal. Coal! Coal is the thing people need right now, and he should load his ships and sail them to Newcastle in northeastern England.
JEFF: Ship coal to Newcastle?! Dexter MUST be an idiot. Newcastle is a HUGE producer of coal. It's their biggest export. They would have no need to import it. Pretty much ever.
[SAILING ON THE OCEAN]
RAY: Timothy Dexter never got that memo. So he loads his ships and sails them to Newcastle full of coal to the delight of the Newburyport nobility who are ready to watch him fail and fall into financial ruin.
[SAILING ON THE OCEAN]
RAY: When Dexter's ships full of coal arrive in Newcastle, the captain learns there's been a recent strike by the local coal miners. The captain is able to unload the coal from Dexter's ships into the waiting cargo holds of other ships who pay a huge premium for the cargo.
JEFF: Come onnnn. What are the odds of arriving during a coal strike? And now Dexter is even more wealthy. He's either some kind of business savant, or he has the kind of luck the likes of which I've never seen before.
[MEN MUMMBLING TO EACH OTHER]
RAY: This time Dexter's detractors in Newburyport suggest he ship a cargo of gloves to the South Sea Islands.
JEFF: Those are also the tropics! They wouldn't need gloves.
RAY: I know. I know. Still, Dexter sends his ships full of gloves to the South Sea Islands just in time for his captain to sell the cargo to ships bound for colder waters in China. And Dexter wins again.
JEFF: Dexter ships Bibles to the East Indies where waiting missionaries snatch them up, and he ships a boat full of stray cats to the Caribbean where they help solve the local rat problem.
RAY: By now, some are starting to suspect that Timothy Dexter acts the fool because no one sees him coming. He's cornering markets others didn't know were there. Maybe there's more to this fool than people previously thought.
JEFF: Timothy Dexter is only growing more wealthy and eccentric by the day. It's 1798, and Dexter buys a Newburyport palace from Captain Thomas who owned the house for only a short time before his death. Dexter gets to work making some changes.
[CHISELING ON STONE]
JEFF: He adds a golden eagle to the top of the cupola on the house. He builds a mausoleum for himself. And he has wooden statues of famous and great men placed around the property. Some of these statues are obvious.
RAY: Yeah, I can see George Washington over there. Thomas Jefferson next to us. I guess that short guy is Napoleon Bonaparte.
JEFF: Here's William Pitt over here…. And yes, of course… this collection wouldn't be complete without a statue of Timothy Dexter as well. Go ahead and read the inscription underneath.
RAY: Okay, it says: "I am the first in the East, the first in the West, and the greatest philosopher in the Western World."
JEFF: Humble guy.
RAY: Definitely.
JEFF: A humble guy who is starting to believe his own legend. Dexter would tell locals that his wife died, and the woman they see around his property is merely her ghost.
RAY: Speaking of ghosts… at one point Dexter fakes his own death so he can hold a wake to see how the community would react to his passing. Thousands attend, but Dexter is furious when he doesn't see his wife crying at his fake funeral.
JEFF: Eccentric.
RAY: That's one word for it.
JEFF: In 1802, Timothy Dexter, the quote "Greatest Philosopher is the Western World" publishes his book, A Pickle for the Knowing Ones, full of spelling and grammar errors, and not a bit of punctuation to be found. What should have been a commercial flop, went on to eight editions and printings. In the fourth edition he answered his critics complaining about no punctuation by adding an appendix with a page full of punctuation marks. Commas, periods, exclamation points, and so on. He tells the reader to quote "peper and solt as they please." Pepper and salt are both spelled wrong. Either way, this book earns Lord Timothy Dexter even more money. And that brings us back to today.
[TRANSITION]
RAY: Lord Timothy Dexter died October 23, 1806. He was 59 years old and is buried in a family plot in Old Hill Burying Ground in Newburyport.
JEFF: And his mansion can still be seen here on High Street. The statues are all long gone, but it's still a stately building.
RAY: It is for sure.
JEFF: Ray, I've made this point before in the past. Do you know the difference between eccentric and crazy?
RAY: Tell me.
JEFF: It's money. If you have a lot of it and act weird. You're eccentric. If you're poor and act weird, you're crazy.
RAY: That checks out.
JEFF: Right?!
RAY: Lord Timothy Dexter feels like one part Forest Gump, and one part Elon Musk.
JEFF: That may be the perfect comparison. I love how eccentrics become croutons in the salad that is New England. They leave a mark. We remember them. We still talk about them. They march to their own drummer, and leave behind a legacy… even if that legacy is really weird.
[OUTTRO]
RAY: And weird is our specialty. And that brings us to After the Legend where we take a deeper dive into this week's story and sometimes veer into unchartered waters.
JEFF: After the Legend is brought to you by our patreon patrons. Our mission to bring you two podcasts per week full of the oddities you love takes a lot of time and money. We want to keep going and keep getting bigger, but we can't do it without you. Our patrons know great content isn't free. They kick in just $3 bucks per month and get early access to new episodes plus bonus episodes and content that no one else gets to hear. Just go to patreon.com/NewEnglandLegends to sign up.
Please be sure to share this episode with your friends. And consider posting a review for us online. That's how we grow. The more people who listen and share these stories, the more leads that come in, and everything grows on itself. It takes a community to do this, and we're glad you're part of ours.
We'd like to thank our sponsor Nuwati Herbals. Thank you to our patreon patrons, and our theme music is by John Judd.
Until next time remember… the bizarre is closer than you think.