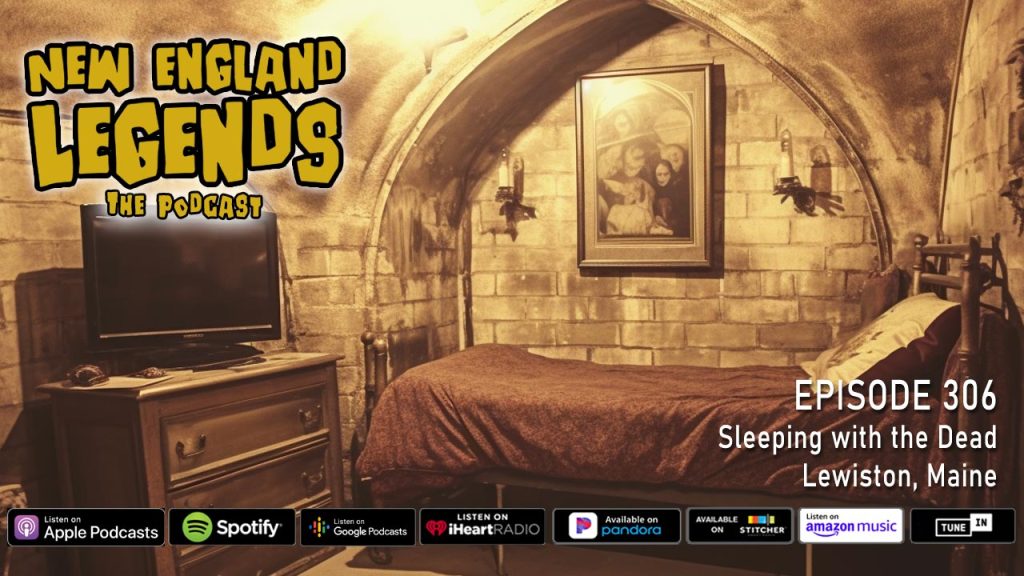 In Episode 306 Jeff Belanger and Ray Auger explore a Bed and Breakfast in Lewiston, Maine, where you could rent a room that served as a crypt for a priest for over a century. This former Catholic church and rectory turned event hall and B&B looks every bit the part, but there was a time when the basement crypt room could be rented to watch horror movies and lie in a bed designed to look like a coffin within the former crypt. How did it get there? And where did it go?
BECOME A LEGENDARY PATRON:
https://www.patreon.com/NewEnglandLegends
CREDITS:
Produced and hosted by: Jeff Belanger and Ray Auger
Edited by: Ray Auger
Theme Music by: John Judd
SUBSCRIBE TO THE PODCAST FOR FREE:
Apple Podcasts/iTunes | Google Podcasts | Spotify | Pandora | Amazon Podcasts | TuneIn | iHeartRadio
JOIN OUR SUPER-SECRET:
New England Legends Facebook Group
EPISODE TRANSCRIPT:
*A note on the text: Please forgive punctuation, spelling, and grammar mistakes. Like us, the transcripts ain't perfect.
[DOWNTOWN NOISE]
RAY: It's a great day for a stroll in downtown Lewiston, Maine.
JEFF: It is. We're right by Kennedy Park in the heart of downtown. The late afternoon sun is setting to the west… I'm thinking we should probably make some plans for overnight lodging.
RAY: Yeah, it's a long drive home. We probably should stay the night.
JEFF: How about here?
RAY: That's a church. A big, high-steepled church.
JEFF: It used to be a church. But today the church is an event hall, and the former rectory next to it is a Bed and Breakfast called the Inn at the Agora.
RAY: That may be the perfect place for two recovering Catholic boys like us.
JEFF: So inside the old rectory down in the basement, they used to rent out a room that once served as a crypt. Ray we've come to Lewiston, Maine, to sleep with the dead.
[INTRO]
JEFF: Hi, I'm Jeff Belanger.
RAY: And I'm Ray Auger. Welcome to Episode 306 of the New England Legends podcast. Thanks for joining your townie buddies as we explore all the weirdness that makes New England like no other place.
JEFF: From haunts to roadside oddities, to UFOs and monsters, and odd history, we love exploring the strange and unusual throughout the region. Most of our story leads come from you! If you've got an odd tale we simply must check out, please reach out to us anytime through our Web site. Also, Ray… we recently hit a milestone with the podcast.
RAY: What milestone?
JEFF: We just passed 5 million downloads!
RAY: That's amazing! Though if you think about it, we didn't do all of the downloading. So thank YOU to everyone whose been joining us each week. Whether this is your first ride with us, or your 306th… we appreciate having you here.
JEFF: We do. We'll go searching for this underground crypt in Maine, right after this word from this sponsor.
SPONSOR
RAY: Okay, Jeff. This Bed and Breakfast has a former crypt in the basement?
JEFF: It does. And you used to be able to rent the room, which is just our kind of weirdness. The Catholic church decommissioned this church back in 2009. And then it was sold to a developer who turned the rectory into a bed and breakfast and the church into a hall you can rent for events. But there was a room in the B&B that made international news back in 2015.
RAY: A room with a crypt.
JEFF: A room with a crypt. You could sleep with the dead… or at least where the dead were.
RAY: Would YOU be willing to sleep in a room like that?
JEFF: Absolutely. I once slept in a room where Abby Borden was murdered. This was just a crypt.
RAY: That's fair. Like sleeping in a graveyard.
JEFF: Sure! To find out how this went from the final resting place of a dead man to a place where you could rest for the night, let's head back to 1907.
[TRANSITION]
[CHURCH BEELS RINGING]
RAY: It's November First, 1907, here at St. Patrick's Church, in Lewiston, Maine. It's All Souls Day. A holy Day, about 8:00 in the evening. The church bells have just tolled to mark the passing of one of their own… Monsignor Thomas Wallace has just passed away inside the rectory.
JEFF: The 61-year-old priest had been struggling with illness since this past summer, so his passing isn't a shock. But still, he was well-loved in the community and many parishioners are heartbroken. Wallace was born in Somersworth, New Hampshire. He was one of five children, and the first person from his town to become a priest.
RAY: Monsignor Wallace wasn't just a beloved priest, he was a shrewd investor. He owned stocks in Maine Central Railroad, the First National Bank of Lewiston, and there's rumors he also owned Bell Telephone stock. When he took over his first church assignment in Lewiston at Saint Joseph's, they were in debt. He got them out of debt, and then managed to get the funds together to build this beautiful rectory on the corner of Bates and Walnut Street and turn St. Patrick's into a successful church community. He purchased land and a building for a convent, and he was also able to get the Wallace School built that was named after him.
JEFF: Considering his life and work are so intertwined with this church and community, it's only fitting that Monsignor Wallace would remain part of the church he loved so much in life.
[FUNERAL ORGAN MUSIC]
RAY: His funeral is packed!
JEFF: Shhhhhh!
RAY: (WHISPERING) Sorry. His funeral is packed. It looks like the whole town is here to pay their respects.
JEFF: (WHISPERING) Yeah, there's no doubt he was well-liked. But the plan is to keep him close.
[ORGAN MUSIC FADES]
[DIG DIG DIG]
JEFF: A crypt is built below the church and connected to the rectory.
[SLIDING STONES ON STONES]
JEFF: And the body of Monsignor Wallace is laid to eternal rest beneath the rectory he built.
RAY: From here we're going to leap ahead just over a century…
[TRANSITION]
RAY: Welcome to July of 2015 here in Lewiston, Maine! "Good for You" by Selena Gomez is the number one song, and the Minions movie is killing it at the box office. But at Saint Patrick's church, things are busy.
[MODERN CONSTRUCTION NOISE]
JEFF: St. Patrick's was decommissioned by the Catholic church back in 2009 and the buildings and property were put up for sale. Obviously you can't leave the dead behind, so Monsignor Wallace's body, which spent 102 years decomposing beneath the rectory and church, was moved to nearby Mt. Hope Cemetery.
RAY: In 2013, developer Andrew Knight purchased the property, the rectory, and the church to turn it into the Inn at the Agora Bed and Breakfast, and the church into an event center. Where others saw the crypt below the rectory and got the willies… Knight sees an opportunity.
JEFF: Knight converts the crypt into a horror-themed room.
[CONSTRUCTION FADES OUT]
JEFF: Let's go check it out.
[WALKING DOWN STAIRS]
RAY: Woah! Check this place out! It's not very big, but I see a small table and two chairs in a little brick alcove over there. There's a big TV mounted on one wall in front of a couch. There's shelves filled with horror movies you can watch on the TV.
JEFF: And look over there.
RAY: Yikes! There's a tiled wall with some exposed bricks that leads to the crypt chamber. And inside of that is a pine coffin box with handles and a mattress inside… I'm not sure I could actually sleep in there.
JEFF: Knight doesn't intend you to sleep in there. In fact, the room isn't going to be rentable for overnight guests. You need to rent it in connection with another room and you need to be out by 2:30AM. Because there's no running water or toilet on this level, I'm pretty sure there's some building or town code that won't allow it for overnight. But the plan is to make ghost tour packages for those who love the macabre.
RAY: On July First Andrew Knight put the first night in the crypt room up for auction on eBay. The lucky winner can stay here August first…. And that brings us back to today.
[TRANSITION]
RAY: The Crypt Room at the Inn at Agora made a lot of headlines both in Maine and even internationally. CNN did a story on it, as did many New England news outlets.
JEFF: Andrew Knight wasn't without his critics who thought the room was disrespectful or at least in poor taste.
RAY: I can imagine there would be some blowback. But at the same time, Monsignor Wallace died over a century ago. No one is around anymore who knew him.
JEFF: I get that. But this is a former Catholic church and rectory. St. Patrick's was an active church up until it closed in 2009. While no one is around anymore who knew Monsignor Wallace, plenty are around who attended that church. And offending that church is like offending its members. Some people take their religion pretty seriously.
RAY: In the May 28, 2015 Sun-Journal newspaper, Andrew Knight penned a short editorial addressing his critics. He mentioned how Monsignor Wallace would have been saddened by the closing of his church, but even more saddened had it been razed to the ground. He wrote, and I quote, "I, too, love this building and am doing everything in my power to save it. The costs of converting the former rectory and church are immense. Every possible revenue source must be tapped to save these historic masterpieces."
JEFF: I get that too. Still, communities get possessive about their buildings, even if those locals don't actually own the property. A church is literally sacred, and then it became a place to watch horror movies where a beloved priest laid for over a century. I personally think it's kind of awesome. But I also recognize I may not be the best judge of what appropriate here given my line of work.
RAY: I'm with you. I also vote awesome.
JEFF: So Andrew Knight eventually put the Inn at the Agora up for sale in 2018 and now the facility is under new ownership. However, there's no mention of the crypt room on their Web site. So I'm guessing the current owners never brought it back after they took ownership.
RAY: While they maybe didn't want to make any waves in the community, I love the fact that for a little while the whole world was buzzing about a Bed and Breakfast in Lewiston, Maine, where you could sleep like the dead… with the dead.
[OUTTRO]
JEFF: Can you imagine how messed up our B&B would be if we ever opened one?
RAY: I can only imagine… maybe it's time to call a realtor?
JEFF: Only if we can get a few more Patreon patrons! Our patreon patrons are the lifeblood of everything we do. Without them… we'd be… dead. Our patrons understand great content isn't free. It's a huge undertaking bringing you new stories each week. And the costs for hosting, marketing, travel, and everything else continues to climb. So we truly appreciate the help. Plus, patrons get early AD-free access to all of our episodes, plus bonus episodes and content that no one else gets to hear. It's just $3 bucks per month. If you can help the cause, please head over to patreon.com/newenglandlegends to sign up.
If you'd like to see some pictures of the former crypt room in Lewiston, Maine, click on the link in our episode description, or go to our web site and click on Episode 306.
We need your help. First, if you don't already subscribe to our podcast please do because it's free. Then take a minute right now to post a review for us. Those reviews go a long way in helping others find us. And then, be a townie with us! Tell your friends about our show. The more people listening, the more who send in their own weird local stories and this community continues to grow. Also, if you're on Facebook you may be able to find our super-secret New England Legends Facebook group. There's thousands of people there waiting to talk about these subjects with you.
We'd like to thank our sponsors, thank you to our patreon patrons, and our theme music is by John Judd.
Until next time remember… the bizarre is closer than you think!