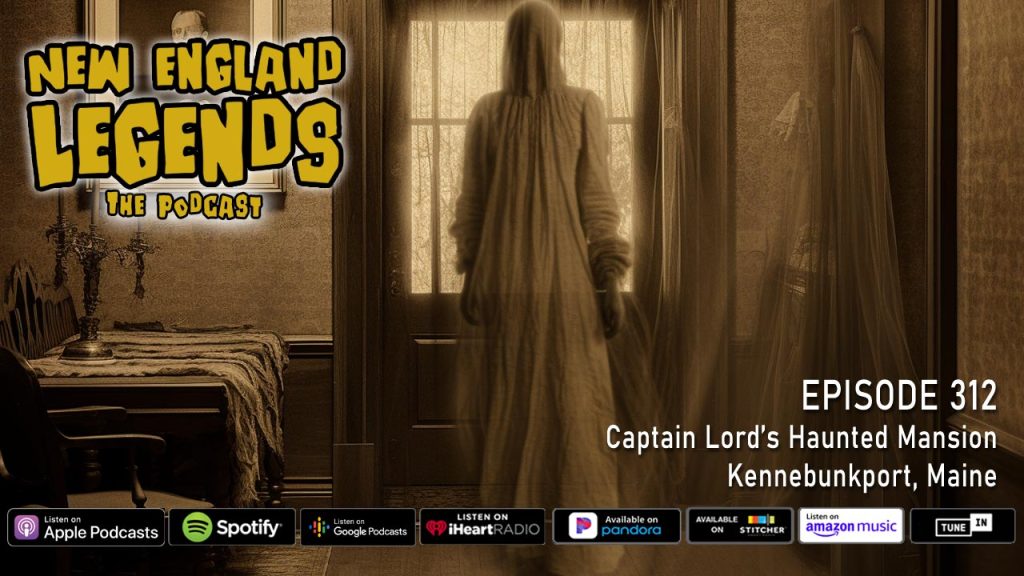 In Episode 312 Jeff Belanger and Ray Auger investigate Captain Nathaniel Lord's mansion in Kennebunkport, Maine. Built during the War of 1812, Lord had his shipbuilders construct the finest mansion in town. Lord died young, just three years after the mansion was built, leaving his wife Phoebe to raise the family alone. The mansion remained in the Lord family up until 1972. Today this mansion is an opulent and haunted Bed and Breakfast. But who is haunting this stately mansion?
BECOME A LEGENDARY PATRON:
https://www.patreon.com/NewEnglandLegends
CREDITS:
Produced and hosted by: Jeff Belanger and Ray Auger
Edited by: Ray Auger
Theme Music by: John Judd
SUBSCRIBE TO THE PODCAST FOR FREE:
Apple Podcasts/iTunes | Google Podcasts | Spotify | Pandora | Amazon Podcasts | TuneIn | iHeartRadio
JOIN OUR SUPER-SECRET:
New England Legends Facebook Group
EPISODE TRANSCRIPT:
*A note on the text: Please forgive punctuation, spelling, and grammar mistakes. Like us, the transcripts ain't perfect.
[KIDS CRYING]
JEFF: Look at that mom sitting on that bench struggling with three young kids.
RAY: It's not easy managing kids with two people, but doing it alone is a huge task. But at least she's sitting in a pretty spot here on Pleasant Street in Kennebunkport, Maine.
JEFF: Still, she's got that look, you know. At her wits' end, just trying to hold it together.
RAY: Yup. I remember when my kids were young like that. It can be a handful!
JEFF: Pleasant Street is well-named. The homes here are gorgeous, the landscaping is amazing, but there is one home that sticks out beyond the other handsome homes.
RAY: It sure does. This yellow house on the corner of Pleasant and Green Streets is incredible.
JEFF: It is!
RAY: It's three-stories with a cupola and widow's walk at the top. The home has black shutters and gorgeous grounds with benches and walkways. The mansion is huge too. It takes up a lot of room on the street.
JEFF: It does. Built by Captain Nathaniel Lord in 1812, it's the finest mansion around… and if we're to believe the stories, Captain Lord's mansion… is haunted.
[INTRO]
JEFF: Hello, I'm Jeff Belanger and welcome to Episode 312 of the New England Legends podcast.
RAY: And I'm Ray Auger. Thank you for joining us on our mission to chronicle every legend in New England one story at a time. Be sure to click that subscribe button wherever you get your podcasts. And if you posted a review for us on Apple podcasts, we'd be most grateful. That's how we grow and how others find us. The more people who listen, the more story leads we get from you. New legends each Thursday and a From the Vault episode each Monday.
JEFF: We'll start exploring this haunted Kennebunkport mansion right after this word from this sponsor.
SPONSOR
RAY: So Captain Lord's mansion is haunted.
JEFF: That's what they say.
RAY: I don't doubt it. It's got the look, you know? Old, like it's seen some stuff over the centuries.
JEFF: It IS old. Over 200 years old. And it remained in the Lord family for most of its life. Today it's a quaint and haunted Bed and Breakfast, but two centuries ago it was a castle built for a King…
RAY: Or at the very least a Lord…
JEFF: That's fair. Let's head inside.
[WALKING]
[DOOR OPENS / CLOSES]
RAY: Wow! This place is gorgeous! The décor, the details. This place looks like an 1800s mansion for sure.
JEFF: It does. An 1800s haunted mansion. No expense was spared when it was built. And it looks like that tradition carries on today. To find out how this mansion got here, and who haunts it, let's bead back to 1812.
[TRANSITION]
RAY: It's August of 1812 here in Kennebunkport, and once again…
[CANNONS / MUSKETS]
RAY: America is at war with England.
JEFF: British war ships have established a blockade in the harbor, so life in and around the port is kind of stuck.
RAY: It's a difficult time for local people who make their living with the sea. People like Captain Nathaniel Lord. He runs a local shipyard in Kennebunkport. With the British blockade firmly in place, his workers can't build ships. Rather than furlough his crew, he gives them a new building project.
[HAMMERING AND SAWING]
RAY: To build him a mansion worthy of his status.
JEFF: His crew are grateful to have the work. Besides, they're among the best builders around. To build a sailing ship it needs to be watertight and true, or it will never sail correctly. Lord's mansion is built like a ship. By the time it's completed, there's no finer house in town. Captain Lord and his wife Phoebe Walker move in with their nine children.
RAY: It's worth pointing out that the couple have eight children together. The ninth is from an affair Nathaniel had with the maid. Phoebe forgave him and agreed to raise the child as their own.
JEFF: Life in the new mansion is fantastic for the Lords for the first year or so. It's a stark contrast to the war waging in different parts of this young country. Especially down in the Washington area.
RAY: And with the Kennebunkport blockade still in place, Captain Lord still has to bide his time until he can get his shipyards back to work.
JEFF: The War of 1812 drags on for another two-and-a-half years before the British move out.
(PAUSE)
RAY: It's now February of 1815 here at Captain Lord's mansion.
[MAN SNEEZES]
JEFF/RAY: Bless you.
RAY: And Nathaniel seems to be sick with a cold.
[MAN COUGH COUGH]
RAY: But as days go by, Nathaniel isn't getting better. Now his doctor believes he has the flu.
[WORSE COUGHING]
RAY: It's February 21st when Captain Nathaniel Lord…
[LAST BREATH]
RAY: Draws his last breath. He was only 39 years old.
JEFF: The Lord family is devastated. Especially Phoebe who has her hands full with nine children, including the couple's youngest, Lucy Jane who is only five months old.
[MULTIPLE KIDS CRYING AND SCREAMING]
JEFF: Sure, Phoebe inherited everything and has plenty of money, but eight is a LOT of children to look after even with help.
RAY: Still, Phoebe does her best to raise the children and look after the house.
[SPRING SOUNDS]
JEFF: It's June now. Just five months since Nathaniel died from the flu, when young Lucy Jane also dies. The poor girl was only eight months old. That's two funerals in less than half a year.
RAY: Still, Phoebe presses on. She has to for her children.
[WALKING ON WOODEN FLOORS]
JEFF: Sometimes late at night when all of the children are in bed… Phoebe walks the halls of her stately mansion. She gazes out of the cupola at the sea and the surrounding town of Kennebunkport. She misses her husband. And she questions if she has what it takes to do this alone. It's lonely and exhausting.
RAY: It's January of 1818 when Phoebe's 19 year old daughter Mehitable gets ill and dies.
[DIG DIG DIG]
RAY: It's her second child she's had to bury along with her husband. Phoebe's heart is broken… but still she presses on. Her other children still need her.
JEFF: Phoebe carries on until her children are off on their own and she's left inside her Kennebunkport mansion. Though it's spacious and comfortable, it's filled with so many memories. Many good ones like laughter and celebrations, but also heart-breaking losses. And that brings us back to today.
[TRANSITION]
RAY: Phoebe Lord lived until the ripe old age of 83. Additions were made to the house over the years making it an even more imposing structure in town. This mansion remained in the Lord family right up until 1972. By that time the last descendant fell on hard financial times and had to start selling some of the furnishings and eventually the house. But then it was reborn again into this B&B.
JEFF: A house they say is haunted.
RAY: Has anyone identified the ghost? Is it Captain Lord?
JEFF: You'd think given his young death in a mansion he didn't get to enjoy for very long. But most people suspect the ghost is that of Phoebe who devoted her life to this home and the family she raised here. She suffered the hardship of her husband's affair and the child that produced, she suffered the loss of her husband and three of her children who died young – her daughter Elizabeth died at age 23. And she arguably left the biggest emotional impression on this building. Should we take a look around the house?
[WALKING IN BUILDING]
RAY: Check it out. There's two paintings on the wall. One depicts Captain Nathaniel Lord, and the other is Phoebe Lord…. Not really the most flattering paintings.
JEFF: No. Not really. Nathaniel has his hand tucked into his shirt like Napoleon. And that hair…
RAY: The hair looks a little like Jim Carey in Dumb and Dumber.
JEFF: It does! Anyway, with a haircut like that it's no wonder Captain Lord has moved on. But Phoebe…. She's the one they say still haunts the place. They see her apparition roaming the hallways. She'll perch herself on the spiral staircase, and check on her former bedroom. Though this painting isn't perfect, it's enough that people recognize the ghostly figure as the same woman from the painting.
RAY: I think it's kind of comforting in a way.
JEFF: How so?
RAY: Phoebe devoted her life to her family and this house. She held it all together even in the darkest hours. And she did it alone. I like the idea that she still might be here watching over things… Just not while I'm getting out of the shower…
[OUTTRO]
JEFF: Right. One would hope the ghosts would respect our privacy.
RAY: And that takes us to After the Legend where we dive deeper into this week's story and sometimes get distracted.
JEFF: After the Legend is brought to you by our Patreon Patrons. If you're not already a patron, we need your help. Our patrons show us how much they love being part of this adventure by financially supporting us. Most people won't do it, so we're grateful to those who step up and help. It's only $3 bucks per month and for that you get early ad-free access to new episodes plus bonus episodes and content that no one else gets to hear. Just head over to Partreon.com/NewEnglandLegends to sign up.
If you'd like to see some pictures of the Lord Mansion in Kennebunkport, click on the link in our Episode description, or head over to our Web site and click on Episode 312.
Be sure to check out our Web site to find upcoming dates to see my band The Pub Kings, plus Jeff's fall story tour. Our Web site also has an interactive map with over 300 pins in it! Click on a pin to see the story we covered so you can plan your own legendary adventures. And check out our super-secret Facebook group. There are thousands of people in there sharing weird tales.
We'd like to thank our sponsors, thank you to our Patreon patrons, and our theme music is by John Judd.
Until next time remember… the bizarre is closer than you think.