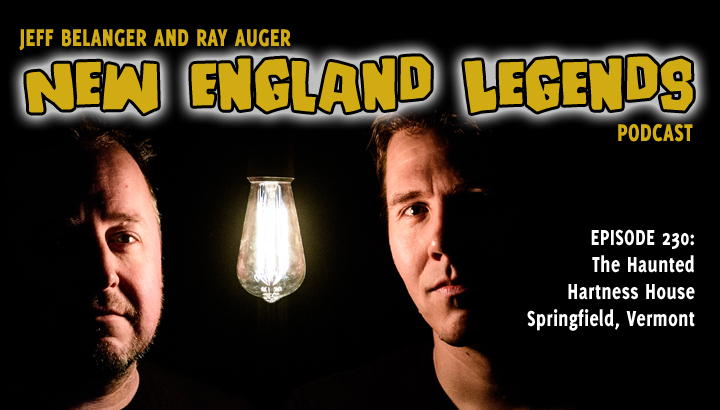 In Episode 230, Jeff Belanger and Ray Auger explore the haunted Hartness House Inn in Springfield, Vermont. Built in 1904 by inventor, captain of industry, and one-time Vermont governor, James Hartness, this mansion holds many mysteries. From secret underground tunnels, to objects moving in the guest rooms, to a ghostly presence roaming the tunnels and halls of the old stately house, it's no wonder this house is haunted.
CALL (OR TEXT) OUR LEGEND LINE:
(617) 444-9683 – leave us a message with a question, experience, or story you want to share!
BECOME A LEGENDARY LISTENER PATRON:
https://www.patreon.com/NewEnglandLegends
CREDITS:
Produced and hosted by: Jeff Belanger and Ray Auger
Edited by: Ray Auger
Theme Music by: John Judd
SUBSCRIBE TO THE PODCAST FOR FREE:
Apple Podcasts/iTunes | Google Podcasts | Spotify | Pandora | Stitcher | Amazon Podcasts | TuneIn | iHeartRadio
JOIN OUR SUPER-SECRET:
New England Legends Facebook Group
EPISODE TRANSCRIPT:
*A note on the text: Please forgive punctuation, spelling, and grammar mistakes. Like us, the transcripts ain't perfect.
[CAR DOOR CLOSING]
RAY: Wow… this is a gorgeous mansion here in Springfield, Vermont.
JEFF: That it is, Ray! Built in 1904 by inventor, captain of industry, and one-time Vermont governor, James Hartness, this mansion holds many secrets.
RAY: He must have done well for himself. This place is huge! There's a stone façade on the first floor, and multiple gables on the second and third floors. The mansion is perched on a hill overlooking Springfield. It's really something to see.
JEFF: In 1954, the building was converted into an Inn that's served guests ever since.
RAY: It looks empty now.
JEFF: Yeah, the Hartness House Inn shut down in 2020 and is for sale again. Though there are no cars here… that doesn't mean this place is completely empty inside.
RAY: No?
JEFF: Between the mysterious and hidden maze of tunnels, and the old stately rooms, they say there's still a presence roaming around the building. The Hartness House… is haunted.
[INTRO]
JEFF: Hi, I'm Jeff Belanger.
RAY: And I'm Ray Auger, and welcome to Episode 230 of the New England Legends podcast.
JEFF: This is the podcast that's as New England as a guy standing on Main Street in winter wearing shorts and a winter coat.
RAY: If you give us about ten minutes, we'll give you something strange to talk about today.
JEFF: We're so glad you're with us on our mission to chronicle every legend in New England one story at a time. We're a community of legend seekers who love to connect with our communities and our past. Did you know most of our story leads come from you? This one did. Thanks to Tony Dunne, who's also my producer partner on the New England Legends television series on PBS and Amazon Prime. If you know of a strange tale in our region, please don't assume we've heard of it. Connect with us through our Web site, through social media, or through our Super Secret Facebook group anytime.
RAY: Before we go looking for ghosts in this Springfield, Vermont, mansion, we want to take just a minute to tell you about our sponsor Nuwati Herbals!
JEFF: It's a new year, and a I know I'm still trying to shed those holiday pounds and take better care of myself in 2022. Plus, I'm tightening my financial belt as well.
RAY: I get it, Jeff. It's so easy to hit those chain coffee shops for overpriced and over-sugared treats, especially around the holidays.
JEFF: With Nuwati Herbals, I still get my hot tea treat on these cold New England days, but I make it myself, I save money, AND I save a bunch of calories.
RAY: I've been sipping Nuwati Herbals SeeLeeO'Me tea this past week. It tastes great, and helps keep me from snacking in the afternoon.
JEFF: I don't know about you, Ray, but I know a lot of people who are getting sick. A nasty cold made its way through my house over the holidays. We all go it. But we all drank Healer Tea from Nuwati Herbals. Though nothing cures a cold, the Healer Tea helps boost my body's natural immune system with their unique blend of all-natural ingredients, and the pepper in tea opens up my sinuses and relieves some of that awful head cold pressure.
RAY: Let Nuwati Herbals help support your healthy lifestyle. Check out the Nuwati Herbals Web site to see all of their great products AND you legendary listeners get 20% off your order when you use the promo code LEGENDS20 at checkout. Visit Nuwati Herbals dot com. That's N-U-W-A-T-I Herbals with an S dot com.
JEFF: Okay, Ray. Are you ready to go looking for the ghosts of the Hartness House?
RAY: I am. First, a quick bio on the house's namesake: James Hartness. Hartness's father was a foreman in a machine shop, which is where James first began molding his mechanical mind. He first worked in machine shops in Connecticut, before moving here to Springfield, Vermont. Hartness was awarded various patents for lathes, sundials, and even telescopes. He was an inventor. A natural problem-solver, and forever curious.
JEFF: Hartness was also an early aviator. He flew to Germany in 1913 in a hydrogen-filled airship designed by Ferdinand von Zeppelin…
RAY: No relation to Led Zeppelin.
JEFF: I think they were cousins. Then in 1914, Hartness learned to fly a 35 horsepower Wright Flyer. He was one of the first 100 certified pilots in the United States. He donated land to build Vermont's first aerodrome.
RAY: So this guy was a real renaissance man. He did a little bit of everything, and lived life to the fullest.
JEFF: Do you ever wonder how people like Hartness do it? He was kind of like the Elon Musk of his time.
RAY: I assume people like that are smarter than us, Jeff.
JEFF: I'm sure that's part of it. But they manage to run successful companies, create new inventions, and enjoy spectacular hobbies. I mean, they have the same 24 hours in a day to work with that you and I do, but they seem to squeeze more out of the day.
RAY: I see what you mean.
JEFF: In the case of James Hartness… maybe this unique mansion has something to do with his success which is why… they say he may still be here. So let's go back to 1921, and meet this iconic man.
[TRANSITION]
[MACHINE SHOP SOUNDS]
RAY: It's the winter of 1921, and the Jones and Lamson Machine Company here in Springfield is celebrating. James Hartness is not only running the place, but he's inventing new machines like the flat-turret lathe.
JEFF: The flat turret lathe is a metal-working machine. It spins the metal around and around so a metal worker can duplicate metal items and tools. It speeds up production in a big way.
RAY: The flat-turret lathe is a big innovation and a huge hit for the company. Holding the patent on it, James Hartness negotiates a royalty on every sale, and pretty soon, this lathe is the only machine being produced by the Jones and Lamson company because the demand is so high. James Hartness is getting rich!
JEFF: In the winter of 1921, there's another reason to celebrate. Hartness can now add Governor of Vermont to his already-impressive resume. He's just been elected the state's 58th governor. So he's running the state, running companies, and still inventing new things. In order to keep innovating, Hartness needs his quiet alone time so he can study and work on various problems. So…
[SAWING HAMMERING]
JEFF: He has a small cabin built in the woods behind his house.
RAY: This cabin becomes a private retreat for Hartness. He can be alone out here. He can think. He can create.
[SLOWLY SWELL NATURE SOUNDS, BIRDS]
RAY: But pretty soon… (PAUSE) even the sounds of nature start to distract him. It's almost deafening! This cabin isn't working.
[JACK HAMMER, BANGING]
JEFF: So James Hartness gets back to work on his house. This time he builds an underground tunnel… 240 feet long and seven feet tall that leads to his telescope observatory that he built himself back in 1910, and he also constructs an underground apartment with a workshop, a library, a study, and a lounge. This suite of rooms is quiet no matter what time of day you're down there. It's the kind of place James Hartness can concentrate with no distractions.
RAY: In the isolation of his underground bunker, Hartness patents more inventions. He'll go on to have 119 patents to his name.
JEFF: And upstairs, he entertains the biggest celebrities of his time inside his mansion. In 1927, after Charles Lindbergh becomes the first pilot to cross the Atlantic Ocean by plane, he tours aerodromes around the United States. One of his stops is right here in Springfield, Vermont, by invitation of James Hartness. After giving a speech at the aerodome, Lindburgh stayed here at the Hartness house as a guest of the owner.
RAY: James dies February 2nd, 1934. He was 72 years old.
JEFF: After his death, the mansion becomes the property of three of the machine shops in town, who use it to entertain and house distinguished guests. After a ballroom is added in 1954, the house becomes an inn… and that brings us back to today.
[TRANSITION]
JEFF: Over time the inn would continue to expand. In 1968 they added a restaurant, and in 1971, they added a new wing behind the mansion, bringing the total number of guest rooms to 40. But… strange events lead some people to believe that the old mansion may be haunted.
RAY: What are people experiencing inside?
JEFF: It's an old building, people have all kinds of experiences throughout the guest rooms. Check out this Trip Advisor review from February of 2018.
RAY: Okay… wow! Part of it reads: "We went to our room around 10:00 pm not knowing the events that what would transpire. At around 1 am we awoke to the antique rocking chair rocking loudly back and forth! A few minutes later the faucet in the bathroom sink starting running! I'm not talking about a few drips, the water was pouring out! My fiance reluctantly got out of bed and turned it off. Needless to say, I was terrified and didn't sleep well the rest of the night." I guess that would get my attention too!
JEFF: And that's just from one of the guest rooms. It's the underground tunnels and rooms that seem to have the most activity.
RAY: And considering this was James Hartness's most sacred and private area, I'm sure everyone thinks the ghost must be him.
JEFF: Exactly. This is where he came to get away from it all. And some believe he's still down there somewhere, maybe furious that his place of solitude has become a hotel bar and lounge. People here footsteps, they see darting shadows, and objects moving around the bar area.
RAY: So I guess technically there ARE spirits here…
JEFF: Ahhhh I get it. Jack Daniels, Jose Cuervo, Johnny Walker… spirits.
RAY: That joke never gets old.
JEFF: Being down in the tunnels is where we connect most with James Hartness. It's easy to imagine him pacing the halls, thinking up some new invention or new innovation far away from distractions of day-to-day life. I kind of get it.
RAY: Would you rather work that way, Jeff?
JEFF: The isolation and solitude would be difficult too, but I think about when I'm working on a writing project and an email comes in…. I check and see what it is. My phone lights up with a text message, and I see what meme a friend just sent me. My social media dings with an alert, and I check if it's something I should respond to right now. That's a lot of distractions pulling away my attention. Maybe what sets apart the Elon Musks and the James Hartnesses of the world is recognizing that need for focus and isolation, and using their time better than the rest of us.
RAY: And maybe James Hartness is still down in those tunnels somewhere. Still trying to innovate and invent even though his time… has passed him by.
[OUTRO]
JEFF: We appreciate you spending your time with us each week. If you don't already subscribe to us please do it. And be sure to like, share, and post a review for us as well. It helps our community grow.
RAY: Someone else who helps our community grow is our patreon patrons! For just $3 bucks per month, they get early access to new episodes, plus bonus episodes and content that no one else gets to hear. If you can help us in our mission, please head over to patreon.com/newenglandlegends to sign up.
JEFF: We'd like to thank our sponsor, Nuwati Herbals, and our theme music is by John Judd.
RAY: Until next time remember… the bizarre is closer than you think.